Travel Safe with FlipBelt
Monday, 13 March 2017 | Eugene
Life doesn't get much better than when you're travelling abroad. The new experiences, landmarks, people and food that you encounter on your journey can both excite and broaden the mind like few other things can, so it's important for everyone to get out into the world and explore.
Conversely, while few people would dismiss the benefits that travel can have, we're all aware of its perils as well. We've all heard the horror stories from friends and relatives of perfect vacations gone awry due to dishonest tour guides and pocket-picking locals. Vacations are great, but there aren't many things worse than being stranded in an unfamiliar country after your passport's been nicked. Over the years, plenty of products and strategies have been developed to combat these dangers, but most of them are difficult, inconvenient or impractical in practice.
How Can I Travel Safely?
With all the joys and dangers of travel considered, it's time to find a solution. With summer coming around, everyone is booking trips and planning outings, so finding a practical and effective safety solution is crucial. That's where the FlipBelt comes in. This storage belt is a revolutionary new alternative to traditional bum bags and hip pouches that looks stylish and is extremely comfortable to wear. Your important items won't bounce around, fall out or move around, letting you enjoy your holiday danger-free.
So Much Better than a Bum Bag
While safe storage while you travel probably conjures up images of your less-than-fashionable aunt fishing coins out of her bum bag, the FlipBelt offers more in every way. With a stylish, sleek design that hugs your body, this storage solution can be placed under your clothes with plenty of storage space for your phone, wallet, ID, keys and passport. The FlipBelt is made with materials that are breathable and stretchy, meaning that it can hold any type of smart phone, wallet or other small item, without making you sweat or causing discomfort in the process. For trickier items like keys to your house or hotel room, this handy belt also includes an internally secured hook, allowing you to clip on and get moving.
Don't Look Like a Tourist
Any local of a heavily visited area will tell you: you put yourself at risk when you walk around looking like a tourist. When you appear as if you're out of place in a new country or city, you can attract attention from the wrong type of people. For pickpockets and criminals, a big bum bag or camera around the neck can be like a dinnerbell, making the wearer a target. That's why the sleek design of the FlipBelt is so important. It fits right under your clothes, no matter the outfit, remaining discreet while keeping your valuables accessible to you - and only you.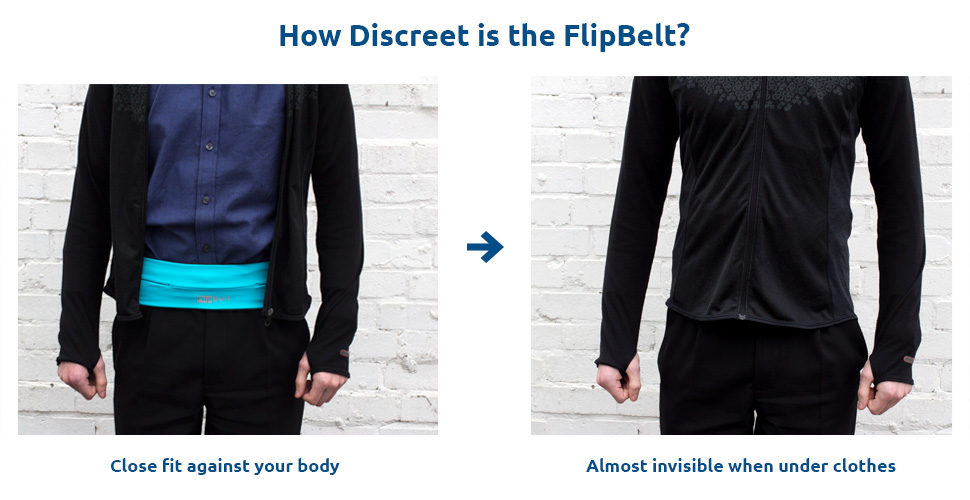 Flippable and Versatile
The FlipBelt isn't just a catchy name on a comfortable running belt, its versatile layout allows it to be the safest option around as well. Since the belt can flip its openings towards you once your valuables are inside, the risk of things dropping out is virtually eliminated. Your items will be safely secured against your body through all your activities, taking your mind off of security and letting you enjoy your day, whatever you get up to. Whether you're on a casual walk around a new city, a demanding hike up a mountain or a night out on the town, FlipBelt will stay working to make you as safe and content as possible.
Why Not Try One?
If you're still reading at this point, you've no doubt been impressed by what the FlipBelt can offer. Those who've used bum bags or hip pouches in the past know how cumbersome they can be, but also how important it is to stay safe while travelling. Naturally then, these people will be salivating over the prospect of ditching their bulky bag without sacrificing security or peace of mind.
Here at Health and Care, we love the FlipBelt and use it ourselves, and we're confident you'll love it too once you try it for yourself. Buy your FlipBelt today, available in a range of colours to suit any outfit, and find out first hand how it can revolutionise the way you travel!
Have anything to add? Tell us in the comments below!