Top 5 Best Haemorrhoid Cushions
Tuesday, 16 March 2021 | Paul
Approximately three out of every four adults will suffer from haemorrhoids, or piles, at some point in their lifetime. Yet despite being so widespread many people never realise how much a simple ring cushion can help.
How Can a Cushion Help with Haemorrhoids?
Haemorrhoids are painful, swollen veins in the rectum which can be caused by a pushing during bowel movements, pregnancy, lack of fibre, or obesity amongst other things. The donut shape of haemorrhoid cushions allow you to sit comfortable without any pressure around the sensitive area. This can help to reduce pain and swelling.
Looking For Something In Particular?
If you're looking for a particular feature in a haemorrhoid cushion then see our list below:
The Best All-Round Haemorrhoids Cushion
Harley Designer Memory Foam Ring Cushion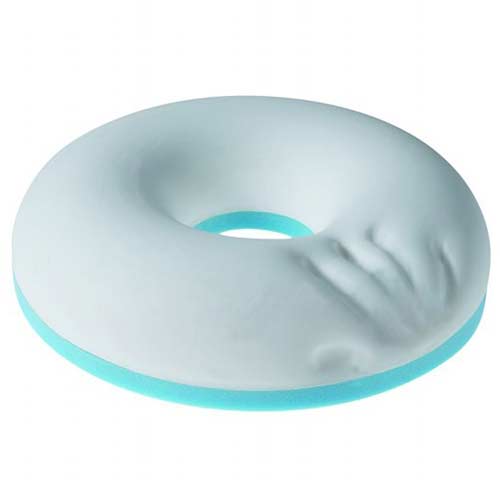 The viscoelastic memory foam construction of the Harley Designer Memory Foam Ring Cushion is one of the best materials available for pressure relief, as it moulds to your body as you sit. This means that the cushion comes into contact with the maximum surface area of your body, preventing any one area from becoming overly pressured. The firm construction of memory foam provides a stable base for sitting for a long period of time whether you're at work or home.
Editor's Verdict: The Harley Cushion is the best all-rounder haemorrhoids cushion available, relieving pain while providing a firm, breathable surface for sitting.
The Best Discreet Haemorrhoids Cushion
Nodular Ring Cushion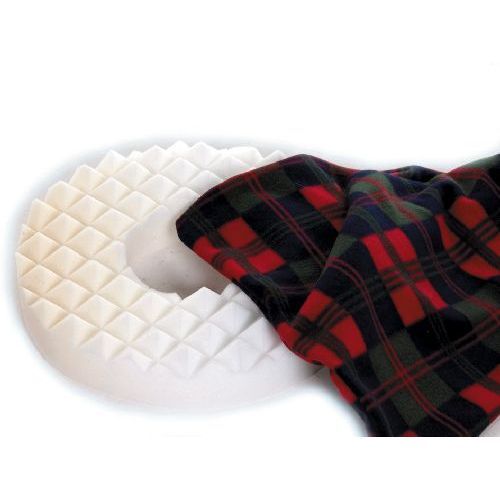 The provided tartan cover of the Nodular Ring Cushion helps to disguise its purpose as a haemorrhoids cushion and fit seamlessly into your household. Nodular shaped polyurethane foam allows for air to circulate freely and prevents a build-up of moisture. The ring indent reduces pressure on sensitive areas.
Editor's Verdict: The unobtrusive size and included tartan cover of this cushion will not draw unwanted attention to itself.
The Best Inflatable Haemorrhoids Cushion
Inflatable PVC Ring Cushion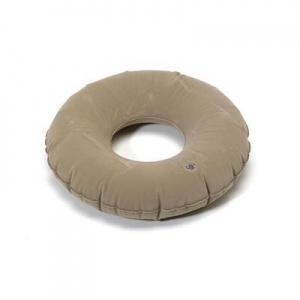 As you inflate the Inflatable PVC Ring Cushion you can adjust the degree of pressure relief and comfort you require. The PVC construction is highly durable, resistant to temperature sunlight, drying out or cracking. This cushion is the best for travelling as it can be deflated when you wish to transport it.
Editor's Verdict: This inflatable cushion allows for customised comfort as well as easy travel
The Best Luxury Foam Haemorrhoids Cushion
Putnams Foam Ring Cushion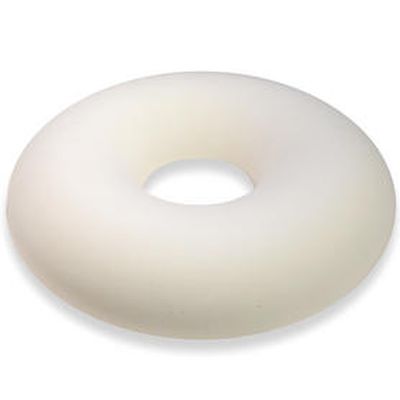 The Putnams Foam Ring Cushion is constructed from luxury Putnam foam to offer support and comfort for those in pain. The donut design relieves pressure on the sensitive inner region, redistributing pressure to the seating contact area. The rounded shape and smooth finish of the cushion leaves a smart, high-quality result.
Editor's Verdict: Luxury Putnam foam promises maximum comfort and relief from pain.
The Best Breathable Haemorrhoid Cushion
Putnams Sero Polo Haemorrhoid Pressure Relief Cushion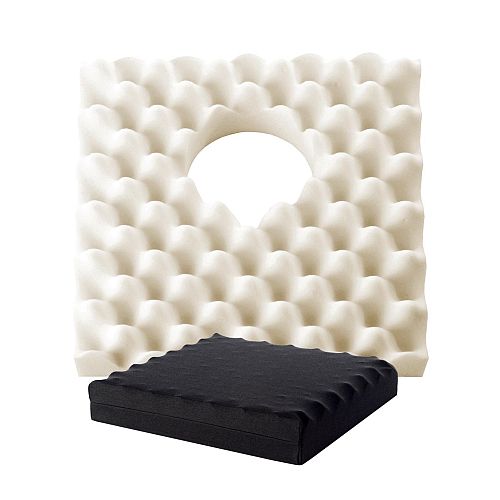 The Putnams Sero Polo Haemorrhoid Pressure Relief Cushion features integral air pockets to allow for optimum air circulation and heat dispersal. Haemorrhoid cushions can easily become hot and sweaty, and so it is a relief to find one which will prevent you from over-heating. The cushion is constructed from top-grade foam for high performance, and the circular cut-out relieves pressure on the most painful area.
Editor's Verdict: This cushion is highly breathable, and thus suited for use in the summer or in other hot environments.
Why Not Just Use a Regular Cushion?
The longer you sit down, the worse haemorrhoid pain can grow. At work or home, sitting on the most sensitive area will increase pressure and therefore increase the swelling that leads to the pain. Unlike a regular cushion, a haemorrhoid cushion is designed to avoid putting pressure on sensitive areas, thereby allowing swelling and pain to reduce.
What Else Can Help with Haemorrhoids?
Haemorrhoid cushions are a great way of reducing pain, however simple lifestyle changes can also make a huge difference:
Eat more fibre such as fruit vegetables and grains
Avoid straining during bowel movements
Drink more water
Warm sitz baths
Ice packs
Get the Most Out of Your Support
Hopefully this guide has given you a good idea of the options available when searching for a haemorrhoids cushion. There are far more worthwhile options then we could cover in this article; we recommend looking at our Pressure Relief category for the full picture.
If you have any thoughts or questions about Haemorrhoids Cushions please leave a question in the comments below. Alternatively, you can find us on Facebook and Twitter!
Tags: Aids for Daily Living, Pressure Relief, Elderly Care, Post Surgery