Top 10 Products to Stop Snoring
Monday, 30 November 2015 | Paul
While it isn't the most life-threatening of conditions, heavy snoring is something that can affect the quality and quantity of your precious sleep, not to mention the annoyance it may cause to anyone sharing a bed with you! Snoring can lead to a poor quality of sleep, daytime fatigue, irritability and more. Snoring could even be an indication of Sleep Apnoea, a potentially serious condition that causes an obstruction of your breathing, causing you to wake up from sleep.
The good news is that, no matter what the extent of your snoring is, there is certainly a solution, and here at Health and Care we've got a range of options. With a wide range of products targeted specifically at this problem, we've got everything you need to get a good night's sleep, and to give your loved ones some overdue relief. So don't snooze on it, check out the top 10 products to stop snoring, all available from Health and Care.
Therastore Stop Snoring Mouth Guard
With a simple design and easy, comfortable fit, the Therasnore Stop Snoring Mouth Guard is one of the most effective and trusted products for stopping snoring. Fitting to the top set of teeth only, the Therasnore prevents the lower jaw from falling back, thus preventing snoring. The Mouth Guard is suitable for heavy snorers and can even be used to prevent mild to moderate sleep apnoea.
Due to its heat-moulded fit and design that only connects to the top set of teeth, the Therasnore Mouth Guard is much more comfortable than comparative products. This makes it ideal for people who can't drop off if they're feeling even the slightest discomfort. Simply heat the guard and make an impression of your upper teeth and you'll be well on the way to a better night's sleep.
Snore Calm Elite Foam Ear Plugs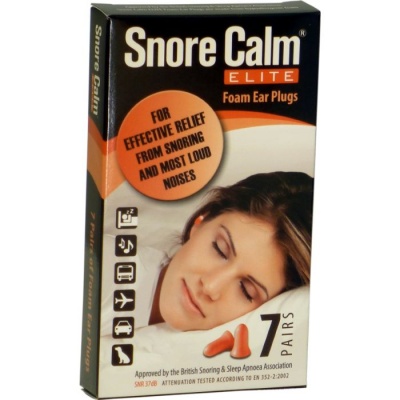 With the Snore Calm Elite Foam Ear Plugs, you might not be able to target the root cause of snoring, but you'll certainly be able to minimise its effects. While there are a great number of ear plugs out there on the market, Snore Calm distinguish themselves by reducing up to 37 decibels of noise, allowing even the loudest snores to go unnoticed.
With a contoured design and hypoallergenic foam, the ear plugs are designed to be as comfortable as possible, leaving no reason why you can't finally get that great night's sleep you deserve. Use them again and again or throw them away after each use, the choice is yours.
Dreamate Sleeping Aid Wristband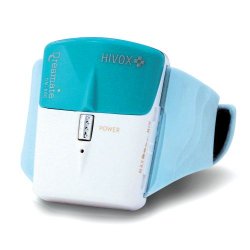 The Dreamate Sleeping Aid Wristband differs to a lot of products aimed at snorers since it helps to ensure a good night's sleep despite snoring. If you snore regularly, you may notice that you are not feeling as rested as you ought to, regardless of how much sleep you are getting. The Dreamate Sleeping Aid helps to counter this, providing you with good quality sleep that leaves you revitalised and refreshed.
The Dreamate targets a "golden triangle" of sleep aid points on the body and gently massages them to encourage relaxation and relief from stress. Using ancient Chinese medical knowledge, the Dreamate provides tried-and-tested solutions that help you to unwind before bed.
NeilMed Sinus Rinse Starter Kit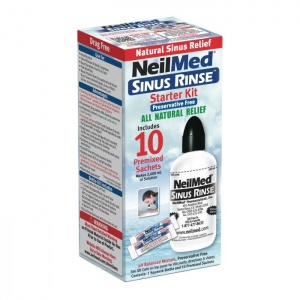 The NeilMed Sinus Rinse Starter Kit combats one of the most common causes of snoring - stuffed sinuses.When you can't breathe through your nose, you breathe through your mouth, and this is bad news as mouth breathing is one of the most common causes of snoring, leading to some of the loudest nocturnal noises.
This product uses a saline solution to reduce irritation and blockage of your sinuses, allowing you to breathe through your nose with greater comfort and ease so you can say goodbye to stuffiness and congestion and say hello to silent sleeping bliss.
Rhynil Stop Snoring Spray (3 Pack)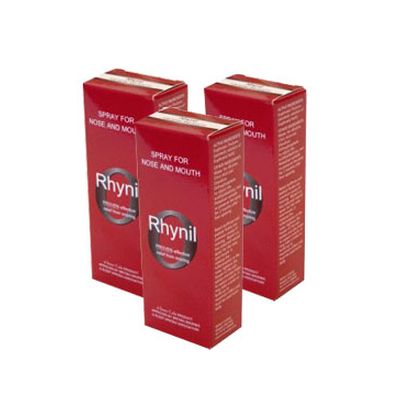 Rhynil utilises a completely natural formula that uses astringent properties to prevent your snoring and also prevents catarrh (the excessive build-up of phlegm or mucus in your airways). By keeping your airways as clear as possible, Rhynil Spray makes breathing easier, especially at night. By clearing your sinuses, Rhynil will not only make a big difference to the quality of your sleep, but it will improve the quality of your life as well.
Salitair Salt Therapy Salt Pipe
The Salitair Salt Therapy Salt Pipe gives all the benefits of the crisp sea air, all from the comfort of your own bedroom. Harnessing the natural benefits of salt, the Salitair Salt Therapy Pipe provides a natural and time-tested solution to the problem of snoring. By opening up your sinuses and clearing your airways, the Salitair encourages you to breathe naturally and freely. And the fewer obstacles you have to breathing, the less likely you are to suffer from snoring.
As a natural solution, there are very few downsides to using the Salitair – it is suitable for people with asthma, respiratory problems caused by smoking, and a whole host of other factors that can contribute to snoring. A simple and inexpensive solution, what's there to lose by trying it out yourself?
Therapeutica Spinal Alignment Sleeping Pillow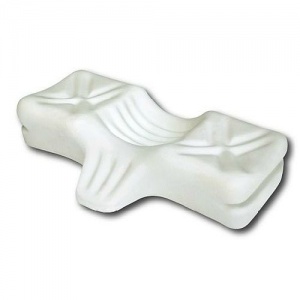 The Therapeutica Spinal Alignment Sleeping Pillow deals with one of the most overlooked causes of snoring - posture. Many snoring aids focus on encouraging you to breathe through your nose rather than your mouth, but this only addresses one possible cause of snoring. The Sleeping Pillow ensures that your head does not tilt forward when you are lying on your back. This means that your airways are kept open and makes your breathing a lot easier, reducing the chances of snoring. The ergonomic design encourages a natural curve of the spine, and ensures that, even if your snoring doesn't reduce as you would like, you'll still get a more refreshing night's sleep.
Snore Calm Chin Up Strips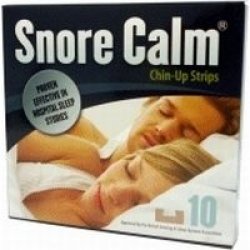 The Snore Calm Chin Up Strips are a simple and affordable, yet effective, product to improve both the quality and the quantity of your sleep. Mouth breathing is one of the most common causes for snoring, yet Snore Calm Strips gently encourage you to keep your mouth closed while you are asleep, increasing the chance of nasal breathing and reducing snoring.
With a simple and comfortable design, you can apply the Chin-Up Strip easily before going to bed. To remove the strip when you wake up, simply place a damp cloth over the strip for approximately 30 seconds and peel slowly. Over time you may even start to breath through your nose naturally.
Nozovent Nasal Dilator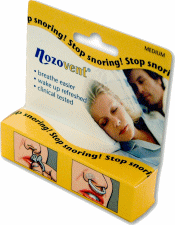 By reducing the amount of effort and energy it takes to breathe through your nose, the Nozovent Nasal Dilator is perfect for people that snore. One of the main causes of snoring can be mouth breathing. Breathing through your mouth encourages the air to hit the soft palate directly, which causes the vibrations that are the root cause of snoring. By clearing the airways, the Nozovent encourages nasal breathing, which is less likely to cause snoring.
The Nozovent is as simple to use as it is effective. Simply apply the dilator to your nose and reap the benefits of free, open airways, that will make mouth breathing a thing of the past.
Chuut Stop Snoring Mouth Guard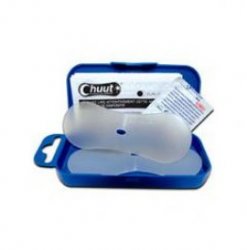 Studies have shown that breathing through your mouth in your sleep dramatically increases your chances of snoring, yet with the Chuut Stop Snoring Mouth Guard, you can avoid this annoyance, and train yourself to breath through your nose instead.
Fitting between your teeth and lips, the mouth guard is as discreet and comfortable to wear as possible, ensuring that you're not kept up by discomfort. Just pop it in, fall asleep and forget about it. As this Mouth Guard actually trains you to change your behaviour, it is possible that after a short period of use, you will even be able to breathe through your nose without using the guard!
Now that you've seen the top 10 products, what are you waiting for? Say goodbye to restless nights, and make sure you don't drive your partner crazy with your night time noises. Browse the whole range of snoring aids now on Health and Care.