The Best Wound Moulages For First Aid Simulations
Friday, 23 October 2020 | Paul
Casualty simulations are quickly becoming a highly sought after method of training emergency and medical staff, as trainees can practise vital care skills in a controlled environment without the risk of a real patient being present. But what is the secret to creating a convincing care scenario?
Erler Zimmer are a well-known producer of medical training equipment, and have been working in this field for nearly four generations. Their new wound moulage series is particularly impressive, and has certainly caught our eye in terms of quality and utility. Read on to find out how these products can help you create valuable training exercises for your students.
What Makes the Erler Zimmer Moulages So Effective?
Erler Zimmer are leading the world of moulages in terms of look, feel and ease of use. They are pre-painted, hyper-realistic, and feature their own sticky backing for direct application to a model before a simulation. Safe for use on human skin, they can certainly be used to create a convincing emergency scenario with live actors.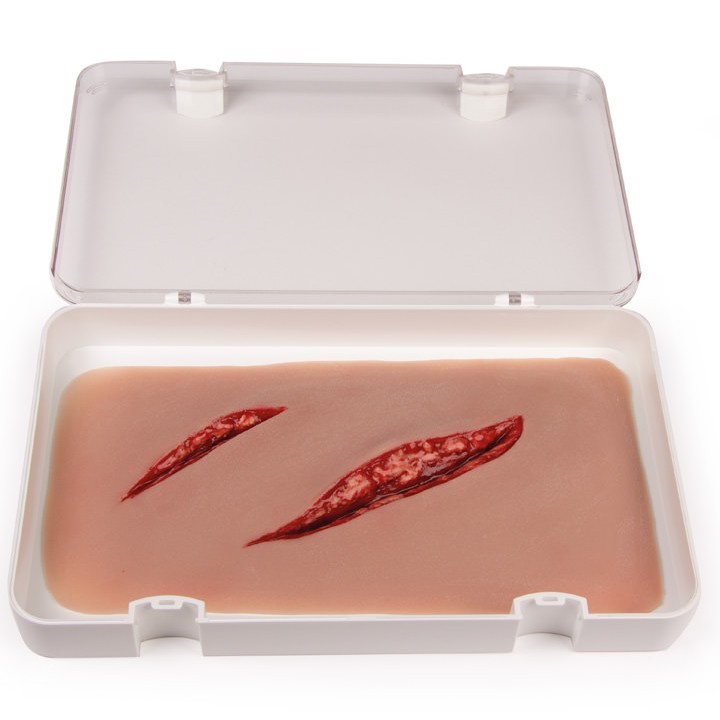 Wounds are incredibly detailed and realistic
Feature their own sticky backing for immediate use
Made from skin-safe materials
Sized to fit body parts commonly affected by relevant injury
Erler Zimmer also produce artificial blood and glass for added realism
Many of these moulages feature a bleeding function
Practise Bleeding Control
A number of the Erler Zimmer moulages come with a 'bleeding function' that consists of a fusion bag connected to a clear tube. If this bag is filled with artificial blood, it can be used to create a 'bleeding effect' so trainees can practise stemming an actively bleeding wound.
Their wound moulage series also features a training kit and moulage specifically designed to simulate heavy bleeding, which is ideal for wound packing training. For convenience and more realistic care, hemostatic dressings typically used to control bleeding are suitable for use with these products.
Easy to Use
With these moulages, you won't have to waste any time on preparations like make-up. They are painted in a highly realistic manner, and are made from materials that help the moulages replicate a genuine injury as closely as possible.
They are already self-adhesive and suitable for repeated use, and simply need to be fixed onto the model before each session. Erler Zimmer also produce additional skin glue which can be applied if the model will be moving a lot during the simulation.
Safe for Use on Skin
In addition to being detailed, realistic and ready for immediate use, these moulages are safe for use on live models. They can therefore help to create immersive patient simulations, which are fantastic for training students as they encourage them to participate in patient-doctor discourse in addition to wound care.
What Moulages Are Available?
The following wound moulages and training kits are available in the Erler Zimmer Wound moulage series:
Moulages for Bullet Wound Care
Moulages for Burn Management
Moulages for Cut and Laceration Wound Management
Moulages for Open Fracture Care
Moulages for Bite Wound Care
Moulages for Abrasion Care
Moulages for Organ Protrusion Wound Care
Packable Moulages and Bleeding Control Trainers
Accessories for the Erler Zimmer Moulages
Upgrade Your First Aid Simulations with Erler Zimmer
As these moulages offer a high level of realism, value to trainees and are incredibly easy to use and maintain, we hope you are as impressed by them as we are. If you'd like to continue browsing for other medical training materials, have a look at our full range of Moulage and Casualty Kits.
Any thoughts on these moulages? Let us know in the comments below.
Tags: Brand Focus, Medical Supplies