Stroke Awareness: What You Can Do About it
Tuesday, 9 May 2017
May is stroke month here in the UK, where communities come together to raise awareness about heart health, the relevant risks, and what we can do about it. Throughout the UK, stroke affects millions of people every year, and that number is set to rise. Whether you're someone who's suffered a stroke yourself, or know someone who has, the odds are you've been touched by this condition in some way.
We at Health and Care aim to help this cause, as the more awareness we spread, the better poised we are to tackle this problem as a community. We've compiled some important information about stroke and its causes, as well as some great products to help you keep track of your blood pressure to track your risks before they get worse.
What Is Stroke?
The first step to making a difference is to know what we're up against. To put it simply: stroke is an attack to the brain. It happens when the blood that carries nutrients and oxygen to your brain is cut off, leading to a violent reaction from your body. When the blood supply to your brain is cut off, whether from high blood pressure, cholesterol or any other reason, cells can be damaged or even die, leading to an array of possible different effects. These effects depend on exactly where the attack happens in your brain, and can affect nearly any part of your body. A stroke can affect the way you move, as well as the way you think, feel and communicate.
Types of Stroke
All strokes are not the same, and can show themselves in many different ways, with a range of different side effects. The types of stroke are divided into two distinct categories: ischaemic and haemorrhagic.
Ischemic Stroke
This most common type of stroke is cause by a blockage cutting off the blood supply to the brain. This blockage can be caused by a blood clot forming in an artery leading to your brain, or inside one of the blood vessels inside the brain itself. This is known as cerebral thrombosis. It can also be caused by a blood clot or air bubble moving through the blood stream in another part of the body. This is known as a cerebral embolism.
Haemorrhagic Stroke
The second, less common form of stroke is caused by bleeding in or around the brain. These strokes, although more rare, can be much more serious and far more difficult to treat than strokes caused by blockage. This type of stroke is often caused by high blood pressure or an aneurysm, which is a weak spot in the artery prone to bursting.
How to Reduce Risk of Stroke
The good news is that these strokes can be prevented with a mixture of healthy living and keeping up to date with your blood pressure and vital health. Here's a handy list of things you can do to reduce your risk of stroke.
Stay in control of your conditions: Many medical conditions can increase your risk of stroke. If you have a condition, talk with your physician about how it affects your risk of stroke, and what you can do about it.
Stop smoking: We all know that smoking is bad for you, and it can also increase your risk of stroke. Healthy lungs mean healthy blood, and therefore a reduced risk of stroke.
Drink less alcohol: Drinking alcohol can raise your blood pressure, a key cause of stroke. Drinking less will lower your blood pressure, making you more resistant to stroke.
Manage your weight: Again, being heavy increases your blood pressure, which is a key risk factor. Carrying weight around your waist is even more dangerous, further increasing risk.
Exercise: Like most health-related issues, high stroke risk can be helped with exercise. Studies show regular exercise lowers blood pressure, reducing your risk by 27%.
Eat healthy: As with most other points on this list, eating healthily lowers your blood pressure. Less fat = less cholesterol in the blood, which means a lower risk of stroke.
Keep track of your blood pressure: Since so many risks of stroke revolve around blood pressure, it's vital that you know where you stand. Once you know improvement is needed, you can take the steps to get back where you need to be.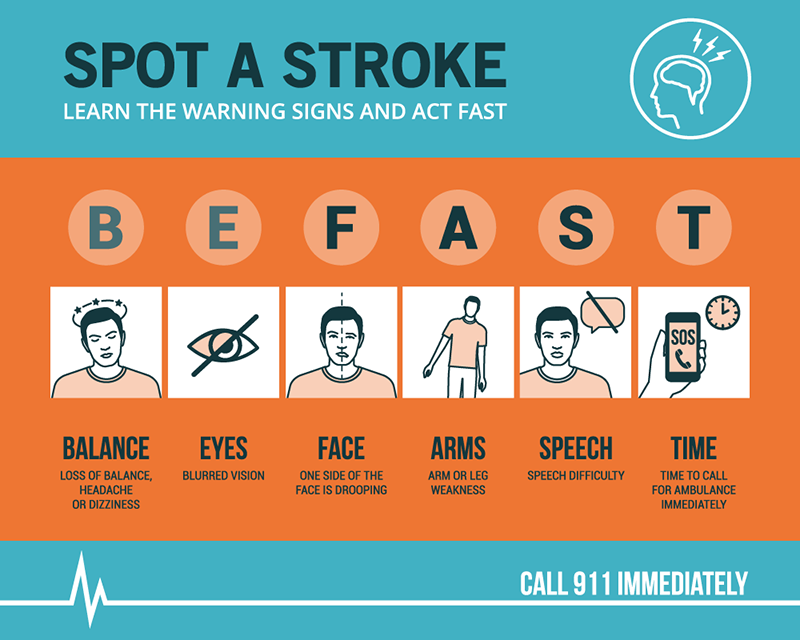 Monitor your Blood Pressure
Uncontrolled high blood pressure will damage and weaken the blood vessels in your brain, causing them to narrow and become prone to burst. This pressure can also lead to a risk of blood clots, making high blood pressure a leading cause of both ischaemic and haemorrhagic stoke. High blood pressure can increase one's risk of stroke by four to six times, so it's important to stay on top of it to keep yourself and your family healthy.
Here are some products that we hope you'll try out, allowing you to keep track of your blood pressure and catch any warning signs before it's too late. All are available from Health and Care with free UK delivery on all orders.
This blood pressure monitor has the benefits of being compact and discreet, ready to take with you wherever you need it. With the ability to connect to the iHealth MyVitals app for easy to read charts, graphs and results, this monitor has everything needed to track your blood pressure in an intelligent and modern way. With a systolic range of 60 - 260 mmHg, a diastolic range of 40 - 199mmHg and a pulse monitoring range of 40 - 180BPM, this monitor is suitable for all users, with meaningful, easy to use controls and results.
Kinetik Upper Arm Blood Pressure Monitor - £19.99
Approved and tested by the British Hypertension Society, this monitor is both affordable and sleekly designed. With a tiny and portable design, this blood pressure monitor is designed for use at home or in the office, letting you stay on top of your vital information when you need to be. Large buttons and an easy to read display screen make this device simple to use by any user, taking the guess work out of blood monitoring. This monitor gauges your average heart rate, and features a 60-memory function, a record card, storage bag and high quality cuff (22 - 30cm).
Microlife WatchBP Home Night Blood Pressure Monitor - £124.99
Since your blood pressure doesn't take a break at night, it's important to keep track of your vitals 24 hours a day. Specifically designed for use at night, this monitor provides a completely accurate reading of your blood pressure, taking measurements into account that other monitors cannot. Studies have shown that Nocturnal Blood Pressure monitoring is most reliable for predicting cardiovascular events, providing more data than standard testing. This means that self-monitoring of blood pressure is quickly becoming the gold standard of blood pressure monitoring, allowing for a more complete view of your health throughout the night. Providing oscillometric readings from 30 - 280 mmHg, and heart rate readings from 30 to 200BPM, this monitor provides a uniquely accurate and reliable testing of your overall blood pressure.
Bottom Line
These monitors can provide you with an excellent picture of your blood pressure and stroke risk, but can't solve all your problems alone. Once you know your heart rate, and have a complete picture of your risks, it's up to you to take the steps to prevent stroke and high blood pressure. By following the six steps above, you'll drastically decrease your chances of suffering a stroke, and you'll feel better too. That's why you should not only take these steps on yourself, you should encourage your friends, family and community to do so as well. Only once we give this issue the respect it deserves can we begin to decrease its prevalence in our lives, and gain back the time it can so often take away.
Do you have any questions, or anything to add? Why not let us know in the comments below, or find us on Facebook and Twitter!