Stay Supported in Style: National Gallery Walking Canes
Thursday, 5 October 2017 | Paul
Have you always wanted to take a piece of your favourite painting with you wherever you go? If so, we have a solution for you that won't land you in prison. Our new National Gallery walking sticks showcase some of the most famous pieces of art found in London's National Gallery.
Fashionable and Supportive Accessory
If you often suffer from falls or instability, using a mobility aid can help you walk around with ease. We know what you're thinking; "but using a walking stick means I'm old." But not necessarily; in the Victorian times, fashionistas would never have been seen leaving the house without a cane that had been carefully selected for the occasion.
We're looking to bring the cane back as we feel the various designs and styles on offer not only provide you with excellent support but they also showcase your personality and act as the perfect accessory to your outfit. So whether you're visiting the National Gallery and want to be dressed for the occasion or you're walking around your town, the National Gallery range of sticks are perfect for you.
Exquisite Designs
Created in association with the gallery itself, the supports feature real details from various paintings by the likes of Bosschaert, van Gogh and Stubbs. Each sale makes a small contribution to the conservation of some of the nation's favourite paintings so that, when you go back to the gallery (with your support in tow!), you'll be able to see all the paintings you love again! Each of the sticks is available in either a folding or non-folding design and with a Derby or petite handle, allowing you to choose your perfect style.
Derby Support
All the National Gallery walking canes have been created with either a Derby handle or the smaller petite handle. The Derby handle is elegantly shaped so it not only looks the part but is also extremely supportive. Its curved edges ensure your hand won't slip while it's in use and allow it to be hooked over your arm or on a table.
The petite version is a variation of the Derby handle. It has all the same features but is smaller in size so those with more petite hands remain comfortable throughout.
Van Gogh's 'Sunflowers'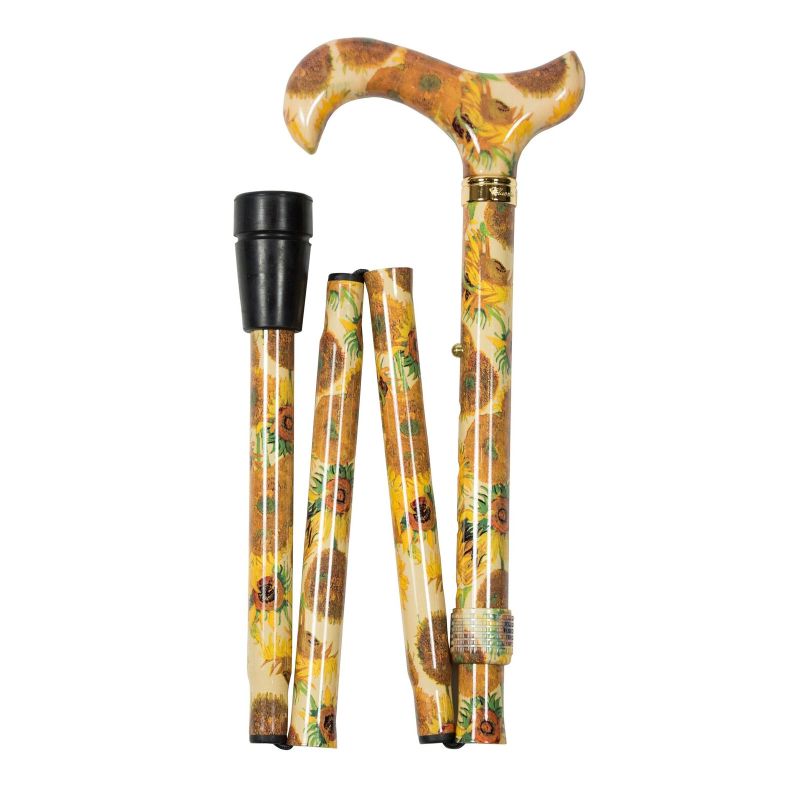 Vincent van Gogh's iconic 'Sunflowers' painting has been recreated on several types of walking sticks. As 'Sunflowers' is one of van Gogh's most instantly-recognisable masterpieces and a great favourite worldwide, this walking stick will make you the envy of town to anyone who knows anything about art. Created in 1888 when van Gogh was staying in the south of France, the National Gallery Sunflowers Walking Canes allow you to take a cheerful part of Provence with you wherever you go.
Bosschaert's 'A Still Life of Flowers in a Wan-Li Vase'
This work combines all the beautiful elements that are normally found in Bosschaert's paintings into one of his most well-known pieces. 'A Still Life of Flowers in a Wan-Li Vase' is one of the National Gallery's best-loved paintings and was created in 1609 to 1610. While attempting to steal this unusually large art piece from the gallery would be near impossible, and definitely frowned upon, the National Gallery Bosschaert Walking Canes allow you to take a bit of the artwork with you wherever you go as it's been designed with features of the actual painting.
Stubbs' 'Whistlejacket'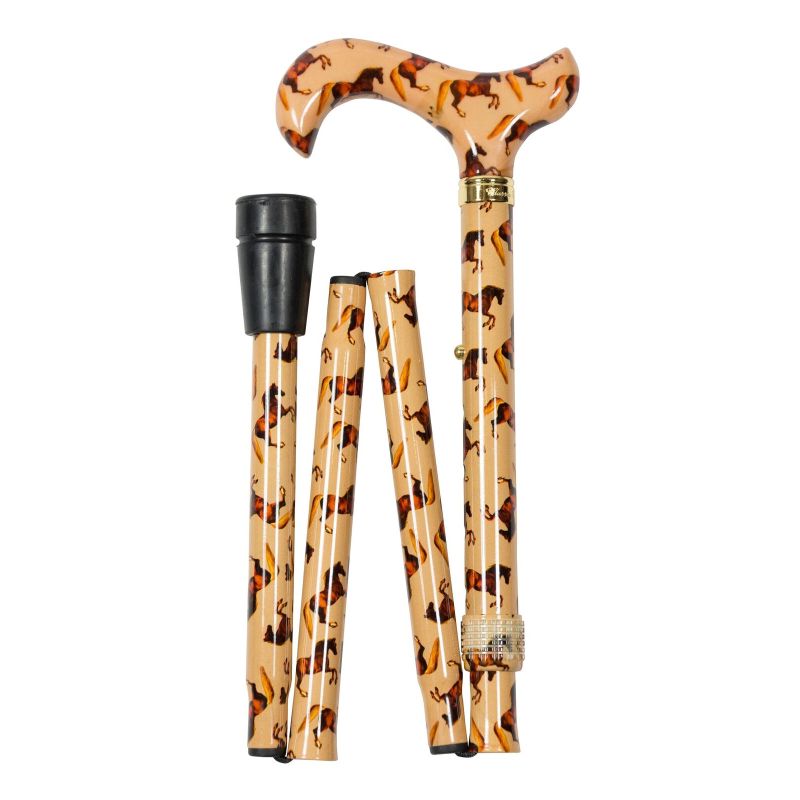 The National Gallery's 'Whistlejacket' portrait is difficult to forget and, although masses of people crowd around this painting, its large design allows everyone to see the life-like equestrian portrait. Whistlejacket was actually a real thoroughbred horse who won many races from 1752. The wild eyes pictured in the painting actually seem to capture his personality as he was notoriously temperamental and difficult.
The National Gallery Whistlejacket Walking Canes feature a repeating design of George Stubbs' 'Whistlejacket' on a yellow-cream background. This mobility aid would be a perfect addition to any outfit whether you're attending the races or a semi-formal event and it'll be sure to be a conversation starter for those with a discerning eye.
National Gallery Paintings at Health and Care
If you'd like to see the full range of National Gallery mobility aids, type "National Gallery" into the search bar or click here. Each support has an aluminium shaft to provide you with sturdy support without the added weight that comes with traditional canes.
Which design do you like best? Leave your response in a comment below or reach out to us on Facebook and Twitter.
Tags: Aids for Daily Living, Best Christmas Gifts, Christmas, Great Gifts, Mobility, Walking Sticks