Six Hidden Advantages of Plyometric Exercise
Wednesday, 22 December 2021 | Rob
Since its development in the 1970s, the plyometric technique has quickly become a staple in most high-level training regimens. Scientifically proven to boost speed, strength and stamina, it's no wonder the most advanced competitors turn to plyometrics to enhance their athletic performance.
But what exactly are plyometrics? Essentially, plyometric exercise involves quick, explosive movements such as jumping, hopping, running or skipping. These highly intense, intermittent routines are well known to improve the performance of athletes from a wide variety of sporting disciplines. But there are many hidden benefits to plyometrics for the average person that aren't often discussed.
The six hidden benefits found in plyometric exercise include:
Time-Efficient Training
Strengthens Muscle Tendons
Opens Neural Pathways
Maintains Bone Density
Improves Coordination
More Exciting Workouts
Where Can I Find Plyometric Jump Boxes?
To get the most out of plyometric exercise, you're going to want to invest in a jump box. A jump box significantly increases the challenge of plyometric movements and emphasises all of the advantages detailed in this guide. Below are three of our most innovative jump boxes that will make perfect additions to your home or club gym. Alternatively, you can browse our full jump box range by clicking the "Shop Now" button.
Time-Efficient Training
Fitting exercise into our busy schedules can often be tricky, which often leads to inconsistency and a lack of motivation. Thankfully, plyometrics are the solution to this problem. Frequently performed as HIIT (High-Intensity Interval Training), a thorough plyometric circuit can be completed in as little as five minutes. In addition, depending on what combination of exercises you perform, you can effectively work the entire body in one go.
Strengthens Muscle Tendons
Tendons connect our bones to our muscles and are essentially what allows our body to move. Explosive plyometric movements such as box jumps strengthen the tendons through a process of eccentric and concentric contraction. Strong tendons result in stronger muscles, as well as improved flexibility and an increased range of motion.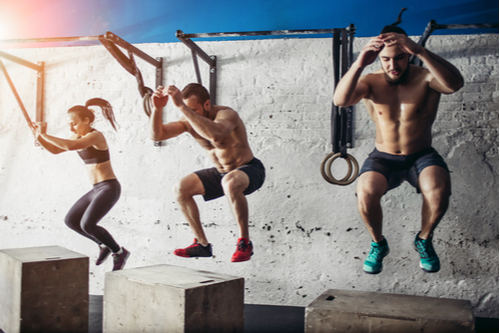 Opens Neural Pathways
The muscle contractions caused by plyometric exercise also help to open up neural pathways throughout the body. This means that brain signals will travel faster to the muscles resulting in quicker reflexes and faster movement. Faster brain signals also means that more muscle fibres are activated at once, which is hugely beneficial to strength and power.
Maintains Bone Density
When talking about exercise, most people tend to focus on the effects on the muscles and leave out how it can benefit bone structure. Plyometric movements place a healthy level of stress on the bones, which helps them maintain their density as they rebuild. This prevents the bones from thinning as you get older and reduces the likelihood of conditions such as osteoporosis.
More Exciting Workouts
The key to staying motivated is to make sure your workouts are always fun, varied and exciting. When it comes to entertainment value, there are few exercises more engaging than plyometrics. The coordinated movements gamify your workouts, and you can continually ramp up the challenge by adding extra exercises or introducing jump boxes.
Improves Coordination
Plyometric exercise is not just good for the body, but the mind too. Test yourself by performing step or jump patterns accurately to reap more reward from your workout and stimulate your brain. Many of our plyometric boxes and platforms feature anatomic markings (example below) to give you something to aim for when performing these movements.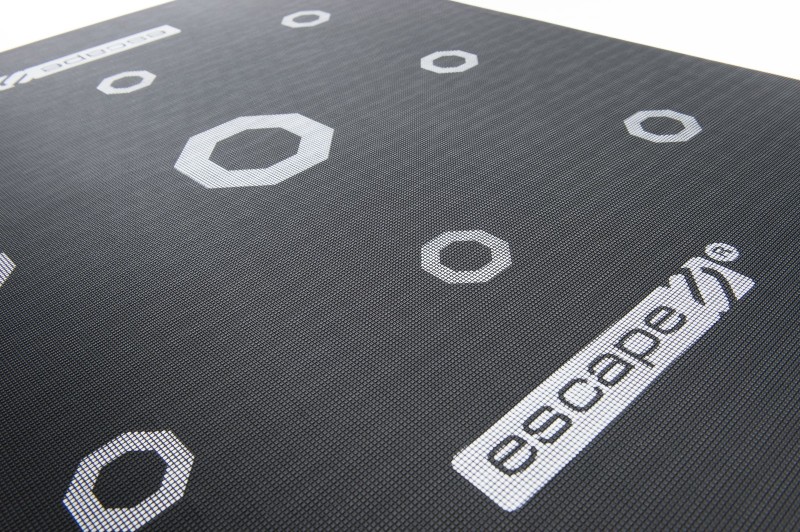 Which Jump Box Should I Buy?
Escape Fitness have dedicated a lot of care and research into their range of jump box products for plyometric exercise. From this range, two products stand out above the rest for their simple design and practical innovations. See how they fair against each other below to find out which one is right for you.
Best All-Round Jump Box
Escape Fitness Plyosoft Plyometric Jump Box (Set of Three)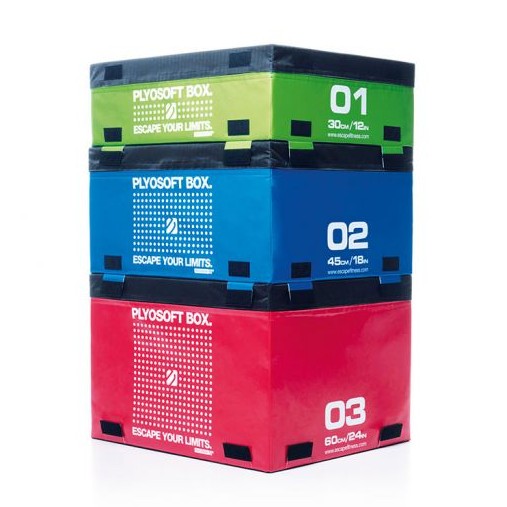 Featuring three different levels of height, the Escape Fitness Plyosoft Plyometric Jump Box Set is the perfect starting block for plyometrics. Learn the basic plyometric movements first using the green 30cm box to get your muscles used to these intense exercises. When you're ready, move on to the taller boxes to shock you muscles even further. After mastering each box, you can add them together using the Velcro straps to take on a real challenge.
Key Features and Benefits:
Three different sized box heights (300mm, 450mm, 600mm)
Honeycomb foam design to help new users build confidence
Target markings for improved precision
Anti-slip cover to prevent accidental injury
Best Jump Box for CrossFit
Escape Fitness Multiplyo Plyometric Jump Box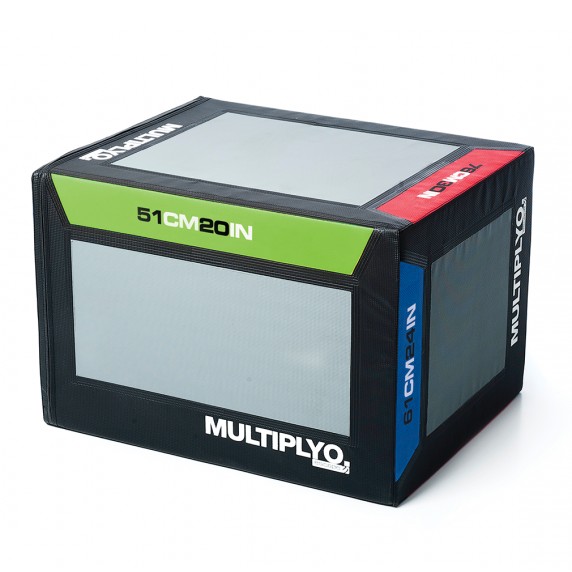 If you're into CrossFit or are thinking about starting, then the Escape Fitness Multiplyo Plyometric Jump Box is perfect for you. Ingeniously designed to provide three jump heights in one, this unique plyometric box is ideal for CrossFitters. The three heights are the same as the ones used in CrossFit tournaments worldwide, making it useful for competition training. Featuring an elegant design with clear visual aids, the Multiplyo is accessible for everyone.
Key Features and Benefits:
Alternates between three tournament CrossFit sizes (510mm, 610mm, 760mm)
Sandwich foam design provides both softness and stability
Colour-coded markings to make things clear and simple
Compactly sized for easy transport and storage
Have any thoughts or anything to add? Why not let us know in the comments, or reach out on Twitter and Facebook!