Sensory Room Ideas and Furniture
Tuesday, 2 October 2018 | Eugene
As children and adults develop, the relationships we form with our senses are crucial to the way we view and interact with the world around us. While going through our day will provide some stimulation, providing some extra opportunities for sensory interaction through the use of sensory toys and furniture can go a long way to aiding development, particularly for those with sensory issues, autism or developmental disabilities. The best strategy for providing targeted sensory stimulation is often to tailor a specially designed sensory room, equipped with all sorts of sensory equipment to challenge everything from tactile and visual tracking skills to communication and problem-solving ability.
Sensory Room Ideas
Since a sensory room can be made up of virtually anything, finding the best strategy to deliver the most complete sensory experience can be a challenge. First, you should think about what you want to accomplish with your sensory space; is your priority to provide a relaxing a calming space, a stimulating and exciting space, or one that can achieve both with a small amount of adjustment? You may want a different set of toys and furniture for each set of space, but there are some pieces that are versatile enough to work equally well in both.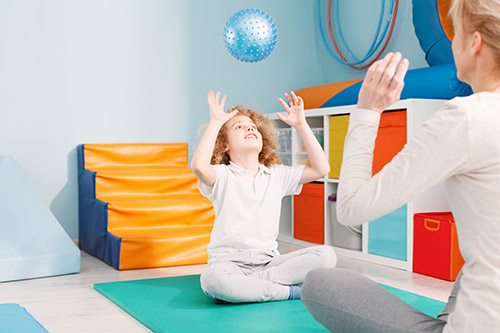 A sensory room can be a powerful tool for helping a child learn how to interact with the world around them
A well-designed sensory room can provide a unique space for interaction, providing learning opportunities that may otherwise be daunting or unavailable. They can provide immersion from one's senses, while also representing a safe space from the pressure an intimidation found in the outside world. A sensory room provides an opportunity to boost a child's development like nothing else, fascinating and educating by stimulating a child's own ability to respond to the sensory information around them.
Outfitting a Calming Sensory Room
A calming sensory room is an excellent choice for those who are over-sensitive to sensory information and may have a tendency to become overwhelmed. These rooms are useful for providing de-escalation from an agitated emotional state, and can calm while encouraging tactile, visual and communication skills. Sensory products like bubble tubes and light projectors are perfect choices for these types of spaces, and can be improved with the use of wall mirrors to create the illusion of an endless array of sensory stimulation.
SpaceKraft Standard Bubble Tube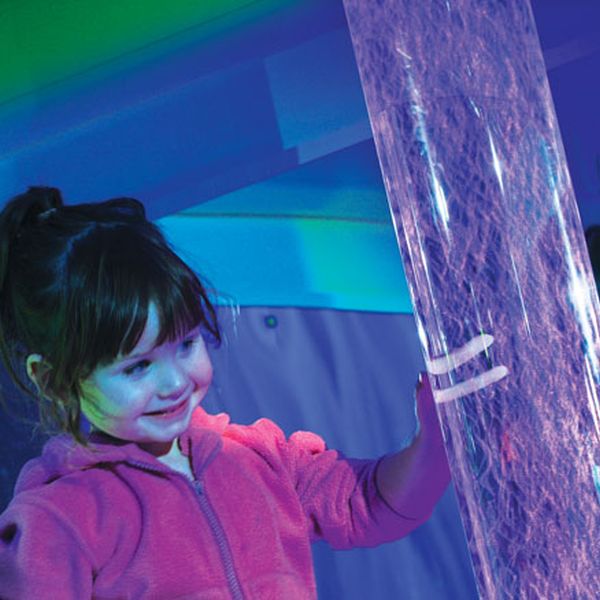 There are few sensory products that can provide the level of tranquility and calm that a water feature can, making bubble tubes a natural choice. The SpaceKraft Standard Bubble Tube is a perfect example, providing gentle colour changes coupled with bubbling water to create an immersive calming experience.
This tube also allows the opportunity for touch interaction, creating a small interaction for an all-round sensory boost. Helping to develop visual tracking, colour identification and tactile engagement, this bubble tube is one of the most dynamic sensory options available.
SpaceKraft Sensory Galaxy Star Projector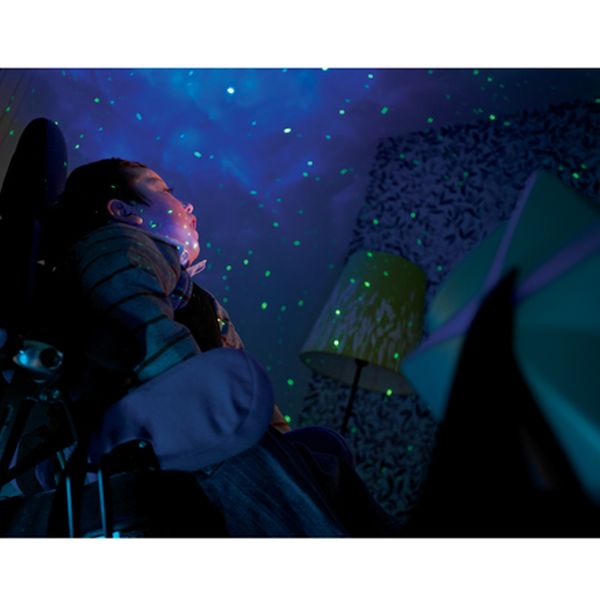 Finding the right balance between sensory stimulation and relaxation is key to a good sensory room, and projectors provide an easy way to improve the entire room without being overwhelming. The SpaceKraft Sensory Galaxy Star Projector lets you bring the natural sensory experience of the night sky into your sensory room, equipped with laser and holographic technology to project thousands of stars and different cloud formation indoors.
With a simple plug-and-play design, this projector provides maximum benefit with minimal effort, making it an ideal addition to any room. Instantly creating an engaging yet calming light show, the Galaxy Star Projector can be set to provide the perfect visual experience for your room.
Padding for Safety and Fun
Padded furniture and walls are a perfect option for any sensory room, and can be particularly beneficial for calming and safe rooms. Equipping a room with padding can serve three main purposes:
Help to boost safety – ideal for calming rooms and de-escalation spaces
Encourage energetic play with minimal risk of injury
Provide an opportunity to bring extra colour into your sensory space
Sensory Soft Play Tumble Rocker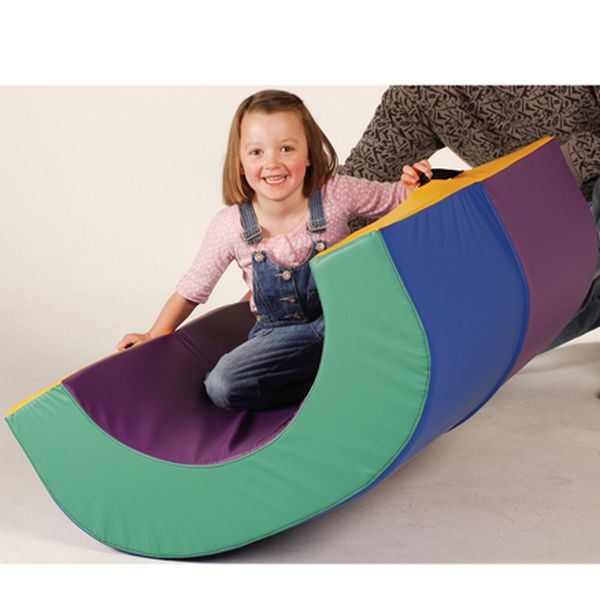 It's important to incorporate opportunities for fun and active play into your sensory room, as while learning is important, nothing is more engaging than play. The Sensory Soft Play Tumble Rocker is useful for a number of reasons, as it promotes balance and motor skills in a soft, colourful and fun way.
It includes handles for stability and extra safety, and provides a calming and smooth rocking motion that is as therapeutic as it is enjoyable. Ideal for calming, fun or stimulating areas, this rocker is an ideal addition to any sensory space.
Sensory Soft Play Jungle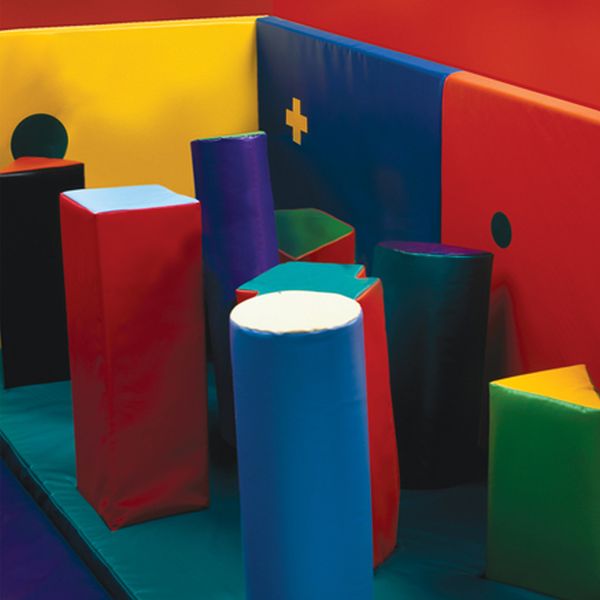 Padded toys and furniture are particularly useful for promoting active play that would otherwise be too dangerous to encourage. The Sensory Soft Play Jungle provides a colourful and cushioned obstacle course, complete with ten soft shapes set in shallow wells for stability.
These shapes are extremely versatile, as they can be removed from their wells to provide rollers or different shapes for dynamic play. Soft, active, engaging and fun, the Soft Play Jungle ticks all of the boxes for a sensory room.
Sensory Soft Play Walls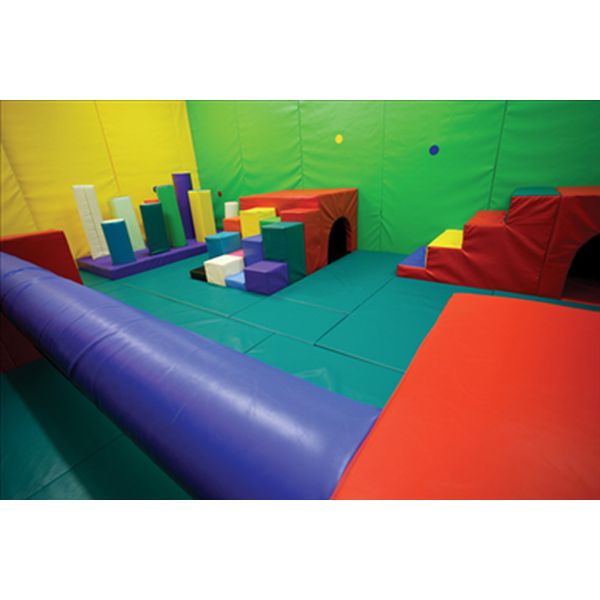 If you'd like to combine a number of different sensory experiences into an active sensory space, the ability to place soft walls where you need them provides a great deal of freedom. Sensory soft walls are available in a multitude of colours, and can work together with your other padded sensory equipment to make your room fun, colourful and safe.
There are plenty of options available, including the Sensory High Soft Play Wall, the Sensory Long Low Soft Play Wall, or the Sensory Short Low Soft Play Wall, providing you with everything you need to outfit all sorts of spaces. Soft, squishy and easy to clean, these walls are free from sharp edges and corners to make your room as safe and soft as possible.
Interactive Sensory Experiences
Reinforcing the cause-and-effect relationships of children with the sensory world around them is especially key to helping them in their development. To target these relationships, it's important to provide them with activities that encourage an interaction with sensory experiences, which is an area specially designed sensory equipment can prove to be a massive help.
Sensory Acoustic Tactile Wall Panel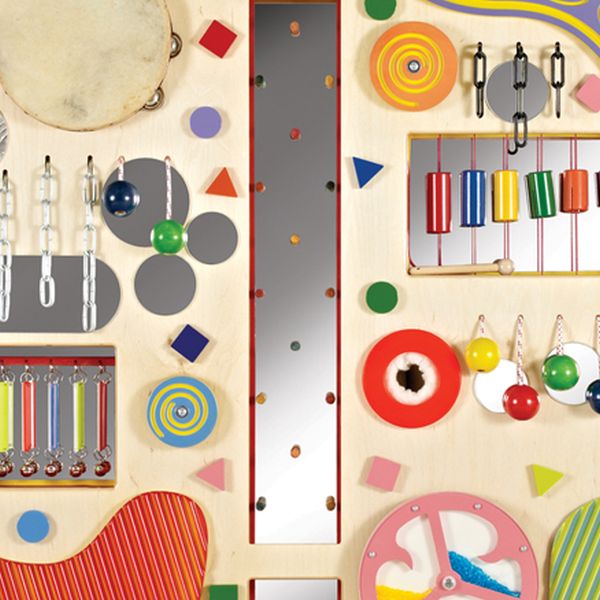 Tactile panels are a popular addition to all sorts of sensory rooms, and a panel that provides an opportunity for stimulation of multiple senses can be a powerful addition. The Sensory Acoustic Tactile Wall Panel includes an almost endless array of interaction for the child, allowing them to interact with tactile, acoustic and visual stimuli.
This multifunctional wall panel includes wooden chimes, fluorescent mirror bells, rattles, sorting holes and mirrors among others, helping to stimulate just about every sense possible. As this is a wall panel, it naturally maximises your use of space, making it excellent for sensory rooms with a limited area to work with.
Sensory Education Through Sensory Stimulation
When choosing the design of your sensory room, the possibilities are really only limited by your imagination. The more dynamic you can make your room, the more rewarding it will be for the child, and adding more sensory experiences will usually only boost your benefits. Considering your end goals is crucial, and keeping your room open for adaptation for different needs is a must.
We hope these suggestions have given you a better idea of the kind of experiences and equipment you can add to your sensory space. If you'd like to see what else you can add to your sensory room, you can take a look at our range of Sensory Interaction equipment, or browse our range of Sensory Calming Toys for Autism and Hyperactivity.
Do you have any questions about our sensory rooms, or something to add? Share your thoughts below or find us on Facebook and Twitter!
Tags: Autism, Education and Development, Sensory Furniture, Sensory Toys
Shop Related Products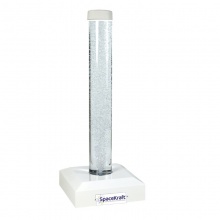 Colour changing effervescent bubble tube
Ideal for sensory interaction and touch play
Provides a beautiful visual spectacle
Available in a range of different sizes
---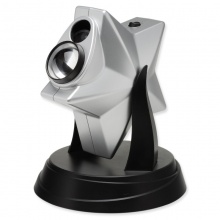 Animated galaxy projector for sensory rooms
Ideal for people with sensory impairments
Easy to set up, just plug it in and it's ready to go
Creates a truly breathtaking light show experience
---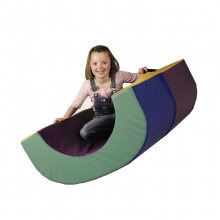 Soft play crescent-shaped cushion designed for rocking
Ideal for use in a wide variety of different sensory spaces
Bright colours are appealing to children and help visual tracking
Nylon-reinforced vinyl surface is easy to keep clean and hygienic
---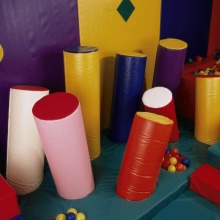 A fun, soft-play jungle gym for kids
Ideal for any nurseries, schools and sensory spaces
Made from durable, reinforced nylon that's easy to clean
Available in two different styles
---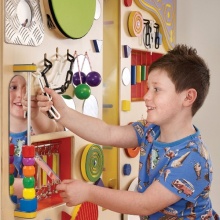 Tactile and acoustic sensory wall panel
Ideal for sensory play areas and schools
Produces a myriad of textures and sounds
Designed for children with ASD or SPD