Save a Life in a Choking Emergency with LifeVac
Thursday, 15 August 2019 | Paul
If you choke for over six minutes, then it's possible that you will receive brain damage. If you choke for above ten minutes, then it's probable that you will suffer from brain death from which there is no recovery at all. Considering the target for ambulance response times is eight minutes, it's shocking to consider that many homes, offices, schools and public spaces aren't adequately equipped to deal with a choking.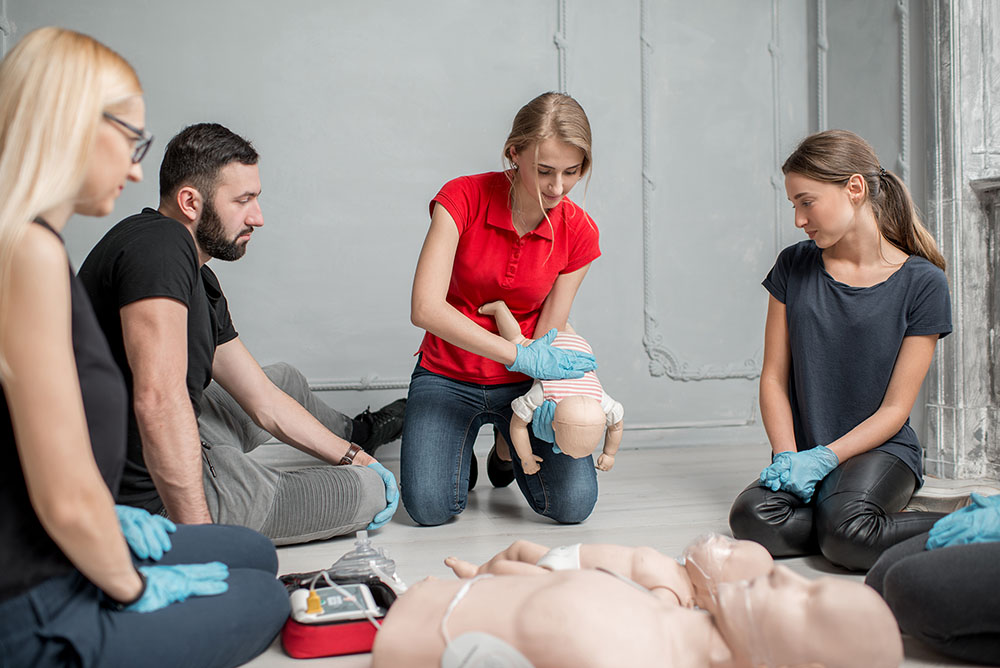 LifeVac has saved lives across the world
The Heimlich manoeuvre isn't always the way out, and it's far too common for people using the technique to not provide the right amount of thrust to clear an airway. In fact, the news has been inundated with stories the last few months of people using an alternative choking prevention, something that parents have been forced to use after the Heimlich manoeuvre didn't work. The product is called LifeVac, and it has saved lives in the UK, in Ireland and in the US.
Who Are LifeVac?
LifeVac's goal is to save as many lives as possible. The company was founded by Arthur Lih, the now-CEO of LifeVac in Springfield Gardens, New York City. He witnessed a couple of distraught parents in hospital who were crying over their child who had choked to death on a grape.
The grape hadn't been dislodged by the Heimlich manoeuvre, which led Lih and friends to question why an airway clearance device that did the job for you hadn't been invented. After spending time researching and developing their concept, Lih and LifeVac created their brand new, Class 1 CE-accredited medical device, LifeVac. Their goal of saving lives was complete, and at the time of writing the life saved count report on their website claims that LifeVac has already saved 31 lives worldwide.
How Does LifeVac Work?
LifeVac is designed with a one way valve system, meaning that no air can be forced through the mask when it is depressed. This creates a one-way suction to safely and effectively remove the lodged food or object. The device is non-invasive, meaning that it won't damage the airways.
How Do I Buy LifeVac?
All of our LifeVac products come with at least one LifeVac Airway Clearance Device. However, they are supplied with different features which make them better suited to different places. You can find them below.
LifeVac Wall-Mounted Airway Clearance Device Kit - For Busy Environments like Restaurants, Care Homes and Schools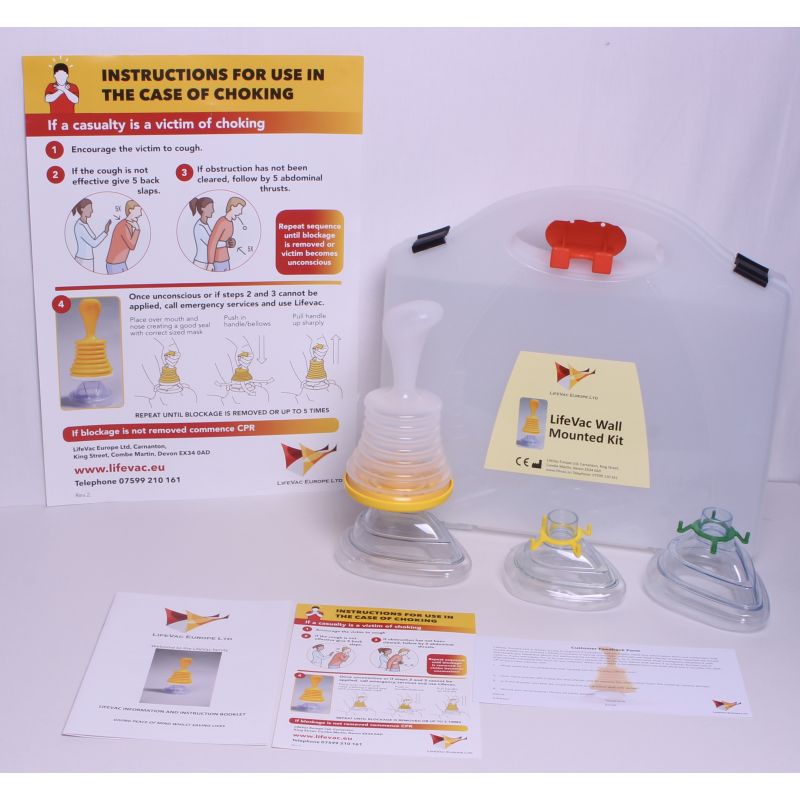 Second is the LifeVac Wall-Mounted Airway Clearance Device Kit, which is best suited to areas with an increased choking risk which includes eating areas, dining rooms, schools, care homes and other care facilities. Designed to be at hand for situations with a higher choking risk, this device doesn't require a professional to use it. A range of mask sizes and a storage box mean that it can cater to people of all ages and sizes.
Includes: 1 x LifeVac Airway Clearance Device; 1 x Wall Mounted Storage Box; 2 x Medium Masks; 1 x Small Mask; 1 Paediatric Mask; 1 x A3 Laminated Basic Life Support Poster; 1 x Instruction Booklet; 1 x Feedback Form.
LiveVac Standard Portable Airway Clearance Device - For Homes, Businesses, Cafe's and More.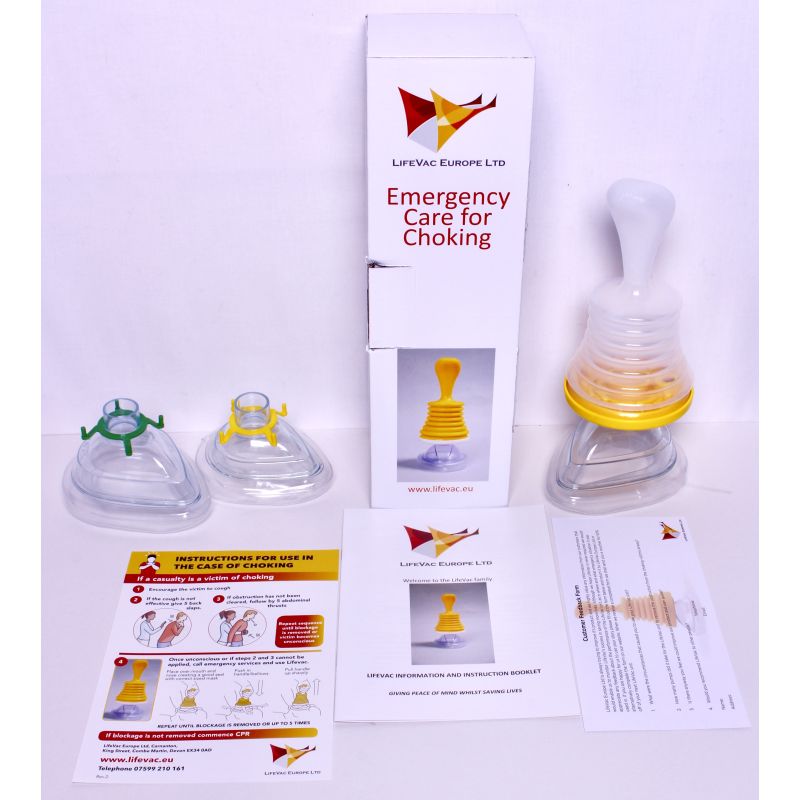 Finally, we have the LifeVac Standard Portable Airway Clearance Device. This is the device to use in your everyday home, business, care home or school, with its small range of sizes proving suitable for protecting most people. Small and discreet, this LifeVac can be stored easily in the kitchen or near dining areas.
Includes: 1 x LifeVac Emergency Airway Clearance Device; 2 x Medium Masks; 1 x Small Mask; 1 x Storage Box; 1 x Instruction Booklet; 1 x A5 Basic Life Support Leaflet; 1 x Feedback Form.
Make Sure You're Equipped in an Emergency
LifeVac ensures that you are fully equipped should the worst happen. Choking can quickly lead to serious injuries, brain damage and worse, so having help at hand before the ambulance arrives could be the difference between life and death. To browse more airway clearance products please see our Airway Clearance Devices category.
Have you used LifeVac or do you have any questions? If so leave a comment below, or visit us on Facebook and Twitter.
Tags: Airway Clearance, Brand Focus, Health and Care Expert Series
Shop Related Products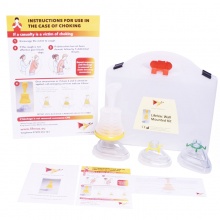 Crucial tool designed to be used in a choking crisis
For use by trained professionals a care environment
Non-intrusive design allows safe and effective use
Includes three different adult masks
---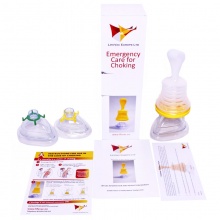 Easy solution to clearing blocked airways
For use by those trained in life support
Non-intrusive design allows safer use
Includes three masks and instructions for use