What Is Nordic Walking and Why Should You Be Doing It?
Monday, 21 October 2019 | Paul
Initially a summer training regime for cross-country skiers, Nordic Walking has taken off into a league of its own for fitness freaks and health hunters alike. Now, thousands of people take part in Nordic Walking. But what's that I hear you ask? "What on earth is Nordic Walking?"
Not to worry. Here at Health and Care, we've looked into it and we've got the information you need to get going. What is Nordic Walking and moreover, why should you be doing it?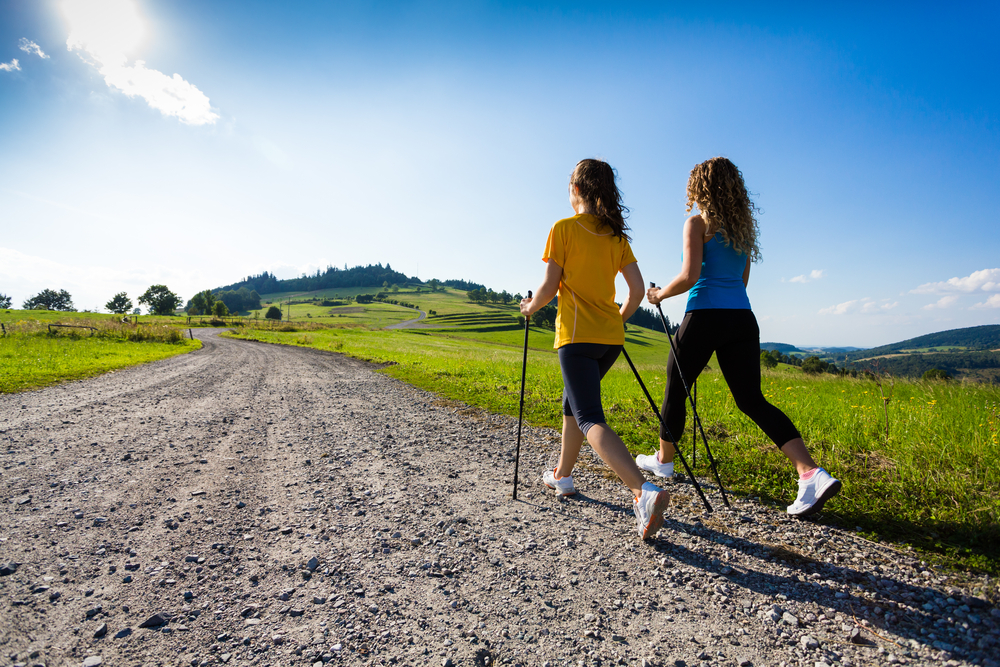 What is Nordic Walking?
Nordic Walking is based upon using specifically designed walking poles in a way that harnesses the power of the upper body to propel you forwards as you walk. It is now recognised as a foolproof way of transforming a walk into a full-body workout.
Who Can Benefit from Nordic Walking?
Whilst originally designed for cross-country skiers to train in the summer months, Nordic Walking is an exercise that can be done by anybody anywhere. Suitable for all ages and fitness levels, Nordic Walking has been utilised by classes for rehabilitation from health conditions, by fitness programmes for losing weight, and by families looking for some fun on the weekend. Ultimately, they're a proven way of having fun and getting toned whilst you're at it.
Why is Nordic Walking Good For You?
There are numerous health benefits attributed to regular Nordic Walking:
Lower the risk of chronic illnesses such as heart disease, asthma, stroke, cancers and type 2 diabetes
Lose weight and lower cholesterol
Getting out and breathing some fresh air
Gain muscle mass and tone-up using different resistance walking poles
What Do I Need to Get Started?
You need a pair of Walking Poles. These are different to ordinary trekking poles because of where the strap is placed and the angle at which they impact the ground.
Why Are the Walking Poles Important?
The Walking Poles are important for a number of reasons:
You walk faster
They take the weight off your knees and ankles, making you lighter and preventing injuries
They anchor you, keeping your body stable
Effectively work your upper body
They improve the lateral ability of the spine
Burns up to 46% more calories than normal working
The poles are fun
How Do You Use Nordic Walking Poles?
You walk like you usually would, swinging your arms from your shoulders with your elbows straight. To get yourself to grips with the technique and avoid injury, we recommend getting a few lessons first.
What Poles Do I Get?
There are lots of different Nordic Walking Poles and it can be a bit alarming to newcomers trying to navigate their way towards a decent pair. Luckily, we've looked over a few brands and found the best poles available for different goals.
The SportsPro Range
This range of hiking poles are optimal for people who haven't ever held a pole before and want to give it a go. They're cheap, good quality and easy to use. They both come with adjustable length and added portability but to various degrees. These are unweighted poles without any resistance, meaning they won't add a meaningful boost to your walking speed or power.
SportsPro Travel (Collapsible Walking Poles)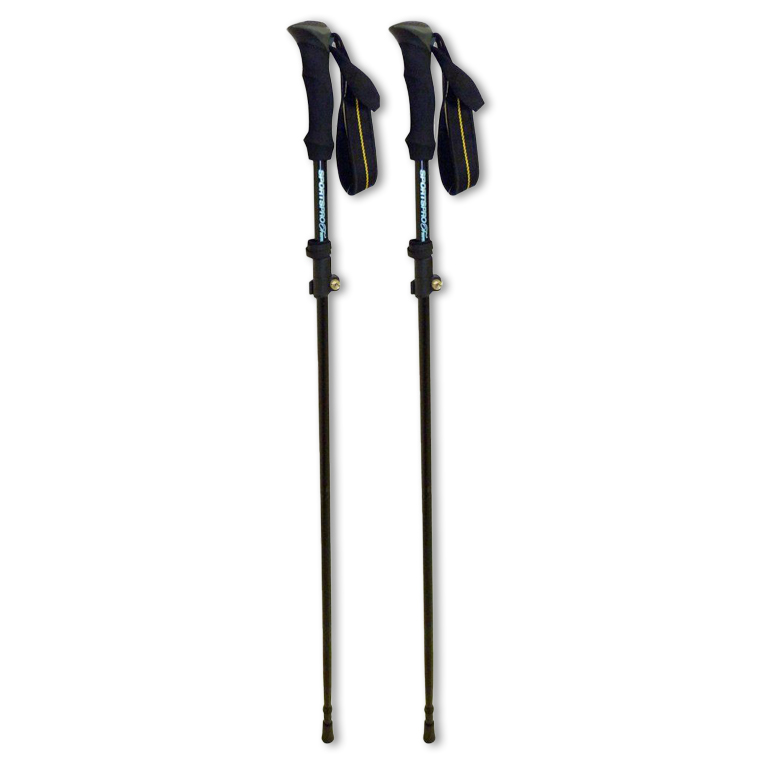 The SportsPro Travel (Collapsible Walking Poles) are designed for casual walkers and hardy hikers; they're neat, affordable and travel-friendly walking poles. You can fold them in 4 sections, making them easy to stow away in cabin luggage, and their length is adjustable, making them ideal for both children and adults. They have a sleek ergonomic design with padded handle straps to avoid droppage. This is a perfect entry-point for people who are curious about walking poles. Pairs are available in black.
Key Features: Great entry level walking poles; adjustable and portable
SportsPro Fitness (Telescopic Walking Poles)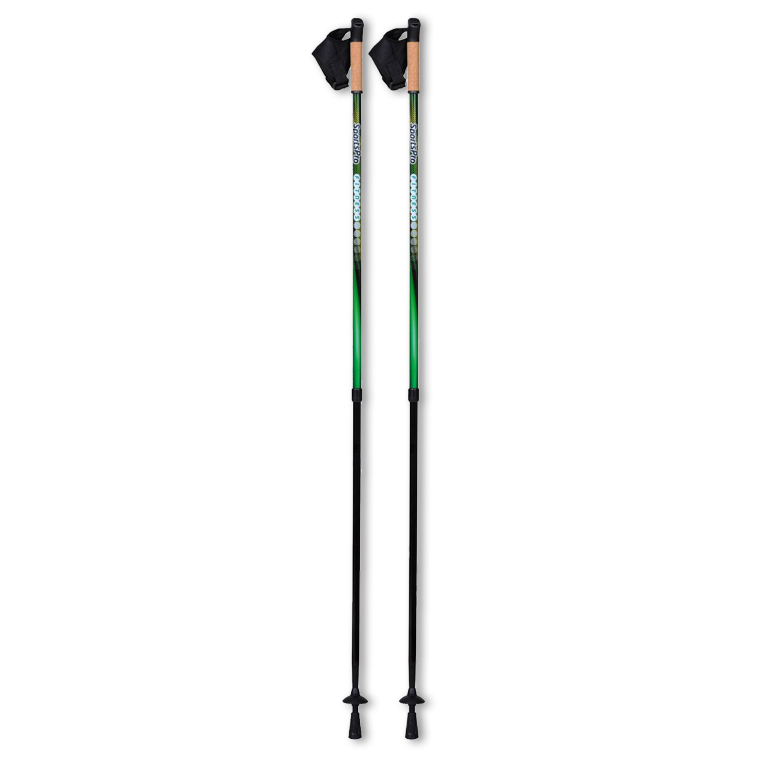 The Sports Pro Fitness (Telescopic Walking Poles) are a cheeky b-side to the SportsPro Travel Poles. For what they lack in comparative portability and adjustable length, they make up for in a stripped down design, and ability to mount the hardiest of terrain. Suitable for walking on asphalt, ice, sand, and snow. this pair of walking poles utilise a tungsten tip thatis stronger and more durable than the Travel's hard metal one. Everything about the Fitness poles says "ready to go", from the stripped design to the quick-release ergonomically designed padded handle strap.
Key Features: Athletic and streamlined walking poles; adaptive and focused design
The BungyPump Range
The BungyPump Range are what we call Resistance Poles: poles for people who want to increase the level at which their body is working. Each set of poles has a degree of resistance which activates when you push the 20cm suspension downwards. Whilst more expensive than the SportsPro range, the BungyPump range is undoubtedly the most dynamic and unique set of poles available on the market right now. Indeed, when training with BungyPump, 90% of the body's muscles are activated with up to 77% increase in calorie burn in comparison to regular walking. If you're serious about losing some weight (and gaining a bit of muscle while you're at it) the BungyPump range is the best place to start.
BungyPump Number One Training Poles (4kg Resistance)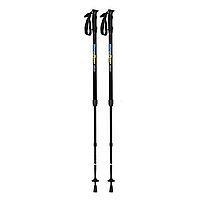 The BungyPump Number One Training Poles (4kg Resistance) are the best poles available for beginners. Along with a reduced weighted suspension, the poles feature a number of ergonomic and stylish features, making them universal work-out tools for walks and stretches. The upper half of the shaft is made from ABS copolymer with a 30mm diameter, whilst the bottom half of is made from Aluminium, making it a strong set of poles to be getting started with. Like the SportsPro Fitness, the BungyPump Number One has a Tungsten Tip. Improving on SportsPro's adjusted length, the BungyPump can be adjusted from 115 - 155cm.
Key Features: Beginners Resistance Training Poles; long-lasting with light resistance
BungyPump Energy Training Poles (6kg Resistance)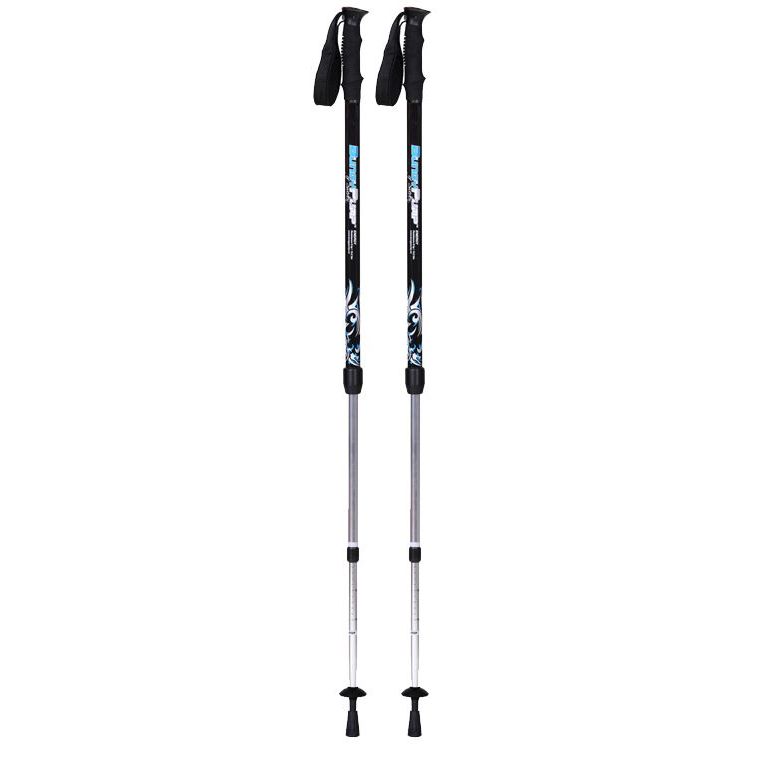 If you're actively training and are familiar with the BungyPump technique, the BungyPump Energy Training Poles (6kg Resistance) provide an increased resistance for people looking to boost the challenge. With an increase of 2kg from their Number One range, the BungyPump Energy provide a decent lift to your workout and gains. A pair of poles that are perfect for progress, the Energy Training Poles are ideal for people looking for a more rounded cardio workout that increases the stress on your muscles as well. The poles are featured with a stylish silver and discreet black colour.
Key Features: Intermediate Resistance Training Poles; rounded muscle workout for athletes
BungyPump Power Training Poles (10kg Resistance)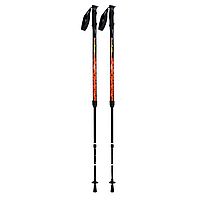 If you're looking for the biggest challenge and boost possible to your workouts and hikes, the BungyPump Power Training Poles (10kg Resistance) are the poles for you. Designed for professional athletes i.e. skiers and boxers, the BungyPump Power poles have a maximum 10kg resistance, making them ideal for people with good upper body strength and find the other training poles too easy. These poles include a natural rubber ferrule, ideal for walking on harder surfaces and feature a predominately black design.
Key Features: Best training poles for advanced trainers; highest resistance; full body workout
Choose the Right Nordic Walking Poles
Choosing the right Nordic Walking Poles is important, as some poles have attributes that suit different people. For more information on our range of Nordic Walking Poles, please see the Training Poles with Resistance or Walking Poles categories on our website.
Have any questions? You can call our Customer Care Team at 020 7720 2266, or get in touch with us on Facebook, Twitter, or leave us your thoughts below!
Tags: Exercise, Fitness, Walking Sticks, Physiotherapy, Rehabilitation