Top 5 Thigh Supports of 2022
Monday, 1 November 2021 | Paul
Hurting or spraining your hamstring or quadriceps can be extremely painful and debilitating. If you are athletic and participate in sports, these injuries can set you back months, preventing you from continuing to exercise at the pace you're used to. More often enough, these types of injuries can continue to resurface without the adequate care and supervision. You might want to get back on your feet, but are constantly let down by a long and seemingly endless recovery.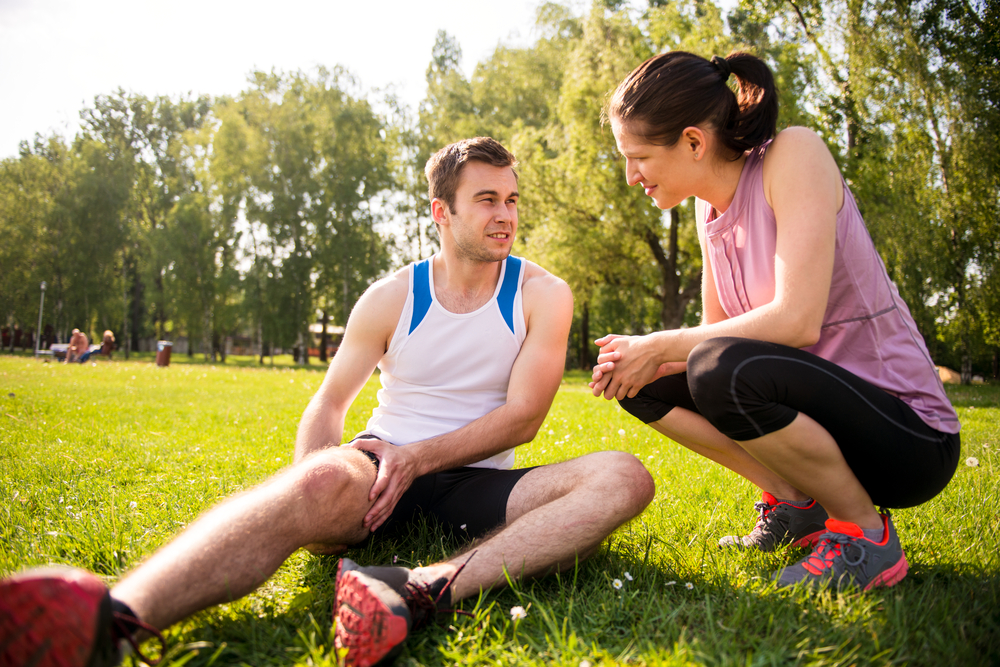 Should I Use a Thigh Support After Injury?
Unfortunately sprains and strains can be often unavoidable, especially if you forget to warm up before a work out. You can tell that you have experienced a sprain or strain in your thigh using the following indicators:
If you have pain, tenderness or weakness
If it is swollen or bruised
You cannot put weight on the affected leg without experiencing pain
If you have muscle spasms or cramping (Where your muscles painfully tighten on their own)
If you have sprained your thigh, we recommend always visiting your local GP first.
Seeing as we're not all superhuman, the likelihood of sustaining a sprain or strain at least once in your life is high. Even more unfortunate is the long recovery process a pulled muscle can require. This isn't the best news for a seasoned athlete or regular sportsperson.
What Should I Bear in Mind When Purchasing my Thigh Support?
Before you decide you need to work out what you want your thigh support for. Is it for long periods of rest is it for helping you transition back into a more active lifestyle? Below are the key points that you need to answer before purchase:
Is the support suitable for your stage of recovery?
Is the support suitable for the particular injury you have sustained?
How much movement does the support allow?
Our Top Five Thigh Supports
Best Dynamic Thigh Support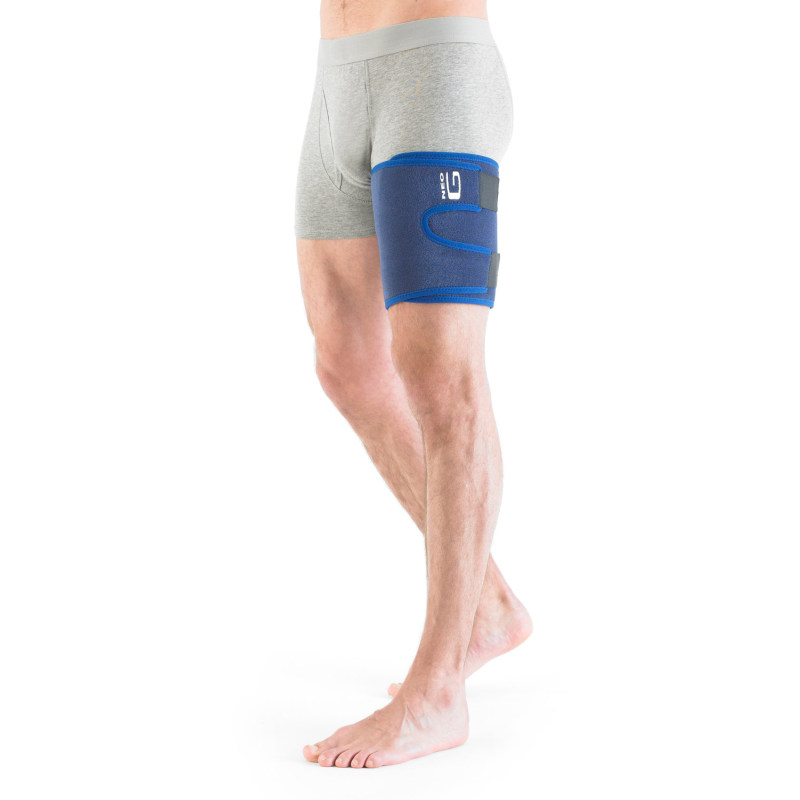 Neo G have developed the only support range that is specifically designed to 'fit the wearer' by incorporating Neo G's exclusive Variable Compression Technology, with their patented Tightness Control System. The Neo G Thigh & Hamstring Support allows the wearer to adjust the support by tightening or loosening it for comfort and blood flow safety to prevent the possibility of DVT (deep vein thrombosis).
Suitable for tendonitis, quadriceps and hamstring strains and sprains, and abductor and adductor inflammation, the Neo G Thigh & Hamstring Support is ideal for anyone wants to have the highest leverage over the pressure on their injury.
Key Qualities: Immediate relief; suitable for training, competing, recovering, work and home use; optimal movement
Best Thigh Support for Football Injury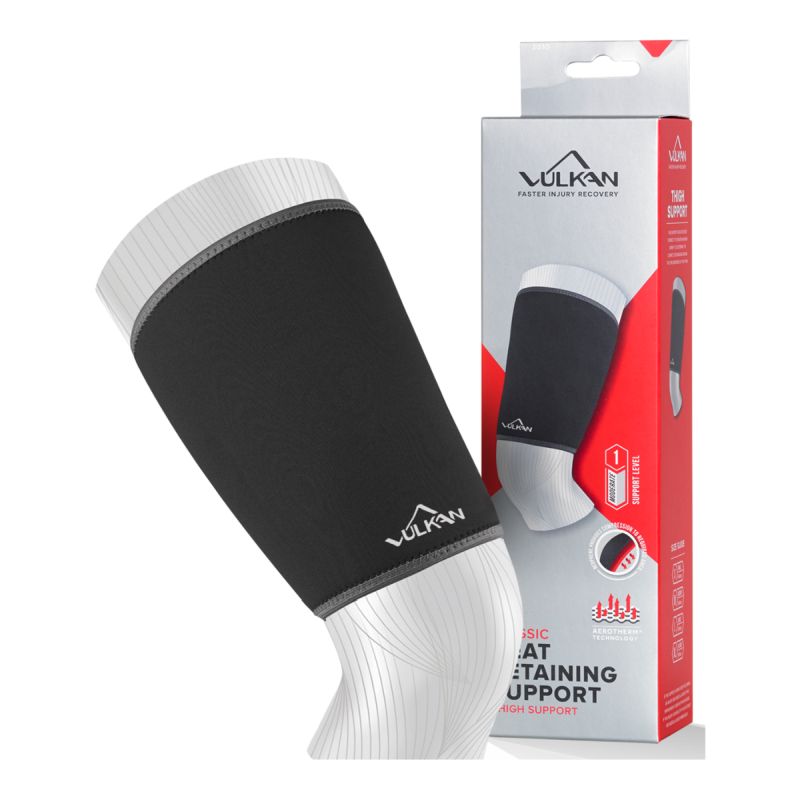 The most common sign of a football related injury is strain or sprains sustained to the groin muscles. Made from quality four-way stretchable material with a cotton lining, the Vulkan Classic Thigh Support works by stabilising your groin muscles and providing compression, which slowly helps to increase blood flow in and around the affected area.
This thigh support provides these benefits while keeping the region dry and comfortable, which is ideal for use during sports.
Key Qualities: Helps to improve recovery when worn during sports; wicks away sweat to prevent friction and discomfort
Best Compression Thigh Support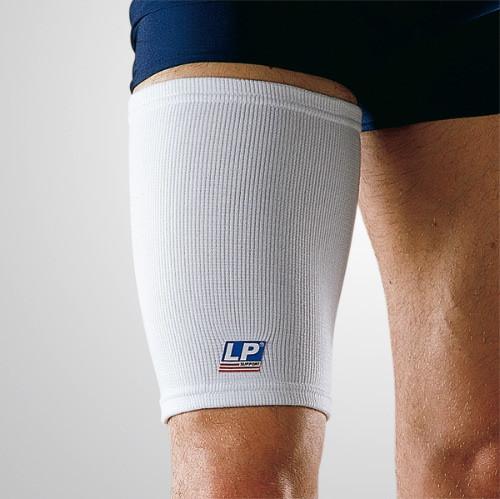 The LP Elasticated Thigh Support is designed to provide optimal protection for weak or injured thighs, using elastic materials to compress the area. The surgical-quality elastic used in this support will provide even compression to the quadriceps and hamstrings, working to relieve pain while stabilising the area. This allows the wearer to continue movement and athletic activity while their thigh recovers.
Providing tremendous confidence to the wearer, this thigh support conforms to the contours of the thigh, preventing it from slipping up or riding during intense activity.
Key Qualities: Immediate pain relief with surgical elasticated compression; suitable for helping you continue as normal; unrestricted movement
Best Heated Thigh Support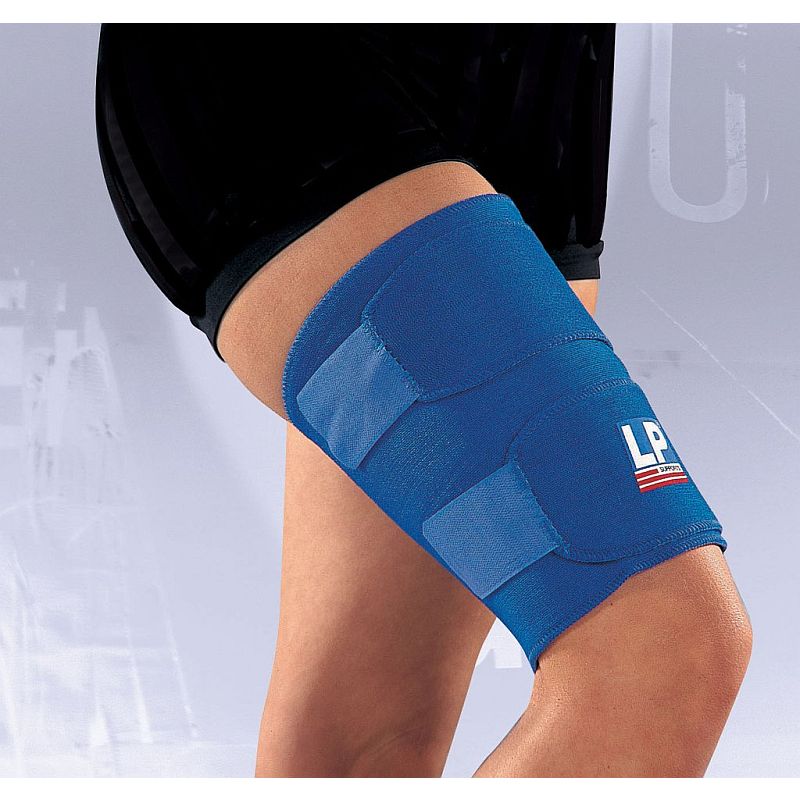 Neoprene is an excellent material for both compression and heat retention, making it perfect for use on supports and braces. LP Neoprene Compression Thigh Support is made with the highest grade of closed-cell neoprene, covered with nylon on either side for comfort. This support will retain body heat in the thigh, keeping the area warm and increasing the blood circulation to promote proper healing.
The support features a Velcro design which allows for customisable compression.
Key Qualities: Rapid recovery with heated compression; suitable for day-to-day activities and easy to slip on and off; unrestricted movement
Best All-Round Thigh Support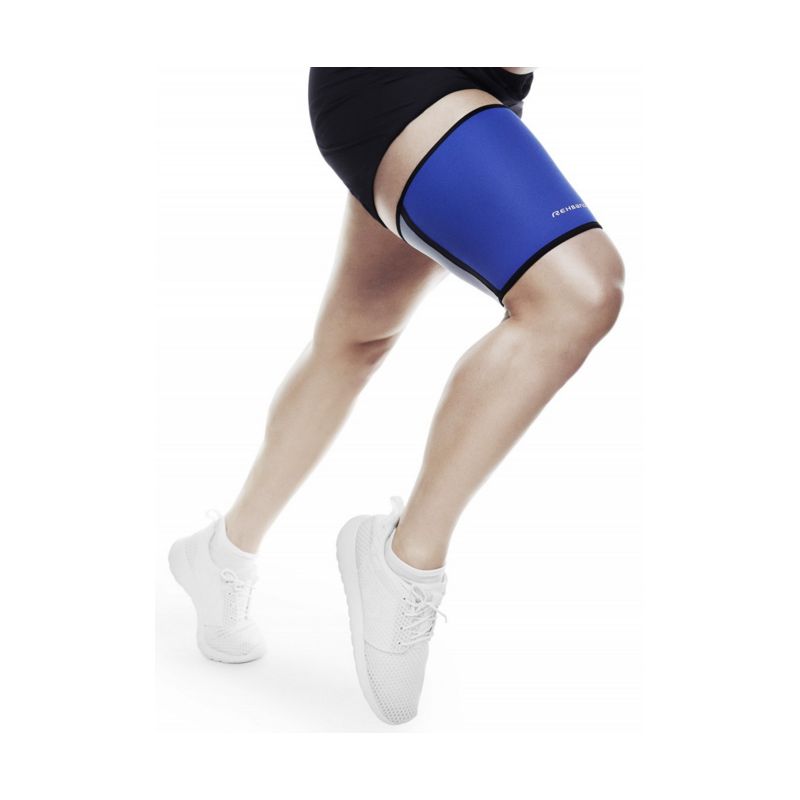 Finally, fit for most injuries and sprains to the thigh, including the treatment of haematomas, is the Rehband Basic Thigh Support. An all-round thigh support constructed through a combination of 3mm thick Neoprene and Polymide, the Basic Thigh Support utilises heat compression to increase blood flow and provide pain relief.
The Basic Thigh Support is lightweight and we encourage users to wear it whilst exercising in order to experience its preventive qualities against injury. If you can't decide between the previous thigh supports, we recommend this one.
Key Qualities: Sustained recovery for use throughout training; suitable for day-to-day activities; heated lightweight material allows for maximum freedom of movement
Choose the Right Thigh Support
Choosing the correct thigh support is important, as different supports have different qualities that might be appealing. For more information on our range of thigh supports, please see the Thigh Supports category on our website.
Tags: Supports and Braces, Fitness, Rehabilitation, Exercise, Top 5 Guides
Shop Our Top Thigh Supports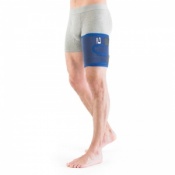 Ideal for quad and hamstring strains.

Adjustable thigh and hamstring support allowing variable compression.

Enables you to customise the level of support.

Ensures good blood flow to the thigh and hamstring.
---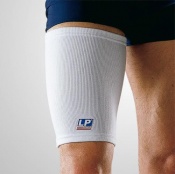 Provides compression and stability to the thigh
Supports the quadriceps and hamstring muscles
Suitable for use during sports and athletic activity
Conforms to contours of the thigh to avoid slipping up or riding
---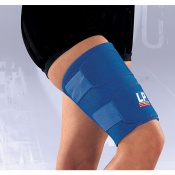 Provides compression and stability to the thigh
Supports the quadriceps and hamstring muscles
Supplies therapeutic warmth to the area to reduce stiffness
Retains heat to promote blood flow and proper recovery