Top 5 Reasons to Roll with Rollz Rollators
Tuesday, 30 November 2021 | Rob
Physical and mental decline in old age comes with all kinds of drawbacks, not least the loss of independence due to poor mobility. Mobility issues can be awkward and embarrassing when you need to constantly ask people for help getting around. Thankfully, with the innovative rollators and walking aids available on the market today, it's easy to get back to taking part in daily activities on your own.
Based in the Netherlands, the Rollz International development team are dedicated to helping people with poor mobility reclaim their lost independence and regain self-confidence. Their award-winning rollators provide exceptional support and comfort while looking as sleek and stylish as a brand-new car! With four unique rollators and a plethora of upgrades and accessories to boot, Rollz Rollators have exactly what you need to improve your quality of life.
Why Roll with Rollz?
What's so special about Rollz Rollators? To find out, here are the top five reasons why rolling with Rollz is the right idea:
Reliable Sturdy Support
Unmatched Comfort
Highly Practical
Modern. Stylish. Unique
Versatile Upgrades
1) Reliable Sturdy Support
Built with precision, the frame of a Rollz Rollator is perfectly balanced. Made from a light, but sturdy aluminium, these rollators provide exceptional mobility support to prevent falls and ensure correct posture. The lightweight frame gives you a rollator that's not a burden to push and yet is easy to manoeuvre round obstacles and through narrow pathways. Navigating through busy high streets and shopping centres has never been safer, nor easier with these highly advanced mobile aids.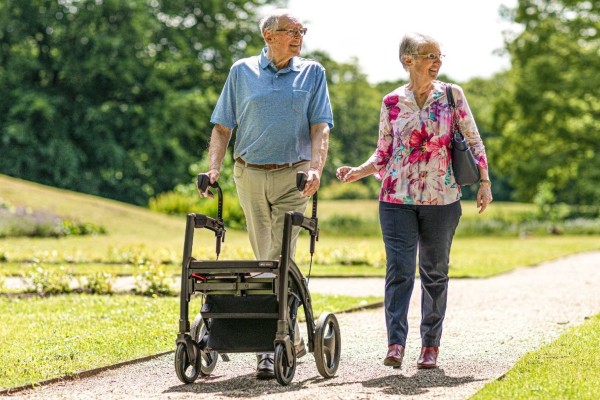 2) Unmatched Comfort
Designed to fit ergonomically, the Rollz Rollators provide high levels of comfort you won't find anywhere else. The handgrips are adjustable in height to ensure the rollator fits ergonomically, the Thermoplastic Rubber grips are soft and secure for your hands and the large rear wheels with soft foam tyres ensure the rollator is always comfy to use whether sitting or walking. All of these factors work together to produce exceptional comfort, helping your day run as smoothly as possible.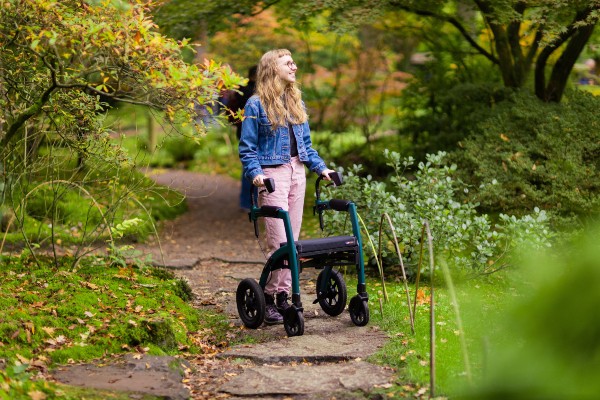 3) Highly Practical
Each rollator is fitted with practical features to provide assistance in any situation. Curb climbers next to both rear wheels make it easier to hop over curbs and thresholds. Resistance brakes allow you to control the speed of the rollator and bring it to a complete stop when necessary. The rollator frame folds into a compact size for easy storage and transportation.
For total versatility, some models can even transform into wheelchairs to provide you with two walking aids at once. This innovative feature lets you switch between the maximum safety and comfort of a wheelchair to the flexible independence of a rollator.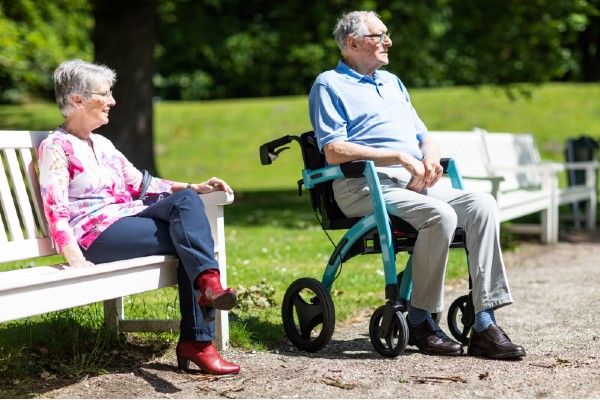 4) Modern. Stylish. Unique.
You don't only need a rollator to be practical, you also want one that's going to add some individual spark to your personality. Each rollator from the Rollz Collection has a fresh and unique modern design. This design makes a Rollz Rollator something you can be proud to be seen with, rather than looking like plain, boring medical equipment. Available in four distinct and attractive colours (Pebble White, Matte Black, Dark Purple or Island Blue), you can choose the rollator that best suits your style.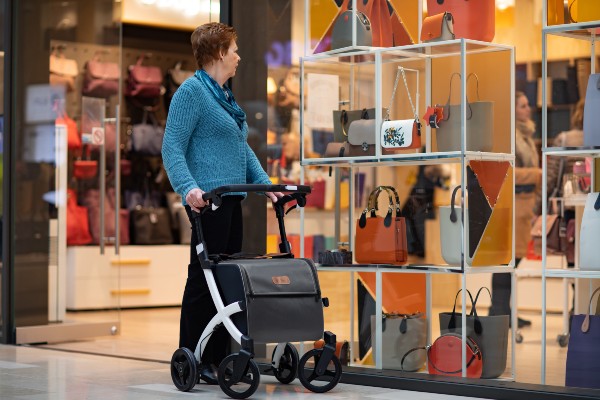 5) Versatile Upgrades
Alongside their rollators, the Rollz team have created a huge selection of accessories that are compatible with each rollator. From bags and cupholders to drag brakes and tyre upgrades, the rollators can be customized to fulfil your every need. Available in bundles, it's easy to kit out your rollator to help with any situation.
Who Can Benefit from Rollz Rollators?
Whether caused by old age, degenerative disease, or a traumatic accident, anyone can be affected by inhibited mobility. The Rollz Rollators are designed to support those with all manner of conditions and all kinds of different lifestyles. If you suffer from any of the following conditions, then our Rollz Rollators are perfect for you:
Osteoarthritis
Parkinson's Disease
Multiple Sclerosis
Cerebral Palsy
Injury Rehabilitation
Painful Joints
Which Rollator is Right for Me?
Depending on your condition or lifestyle, some Rollz products may be more suitable for you than others. Below are each of the four Rollz Rollator models, with information to help you choose which one is best for you.
Best All-Round Rollator
Rollz Motion 2.1 Combined Rollator and Wheelchair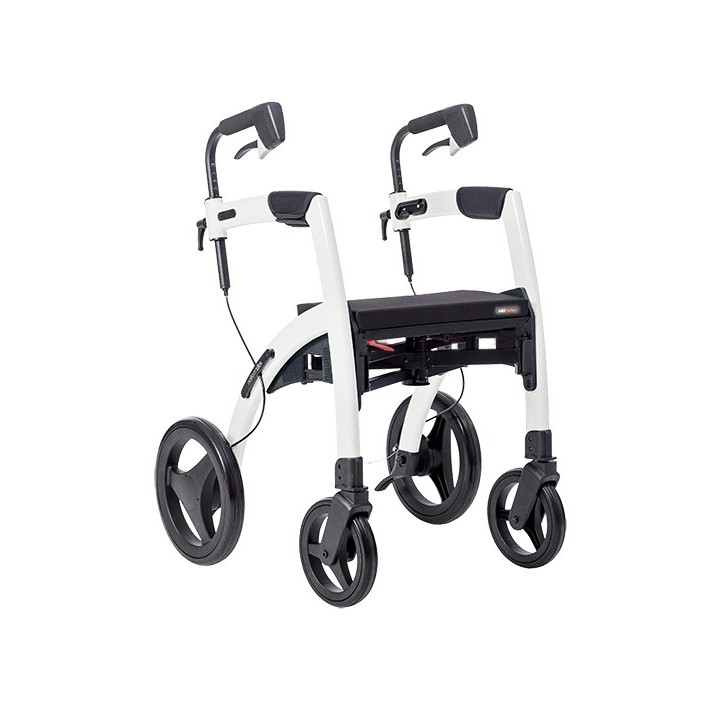 The primary model of the Rollz Collection, the Rollz Motion 2.1 Combined Rollator and Wheelchair provides outstanding all-round support for daily living. Available in Pebble White, Matte Black, Dark Purple and Island Blue.
Key Features and Benefits
Transforms from a rollator to a wheelchair
Ergonomic design for optimal stability
Curb assistance for town and city use
Suitable for:
Use in towns and cities
High streets and shopping centres
Best Lightweight Rollator
Rollz Flex 2.0 Lightweight Rollator with Classic Brake
If you are looking for a more flexible rollator, than the Rollz Flex 2.0 Lightweight Rollator with Classic Brake is perfect for you. Weighing just over seven and a half kilos, this lightweight support is far easier to manoeuvre than the other models.
Key Features and Benefits
Lightweight design for easier movement
Soft foam tyres for improved comfort
Large shopping bag for groceries and medical supplies
Suitable for:
Crowded high streets and shopping centres
Occasional indoor use
Best Off-Road Rollator
Rollz Motion Performance All-Terrain Wheelchair and Rollator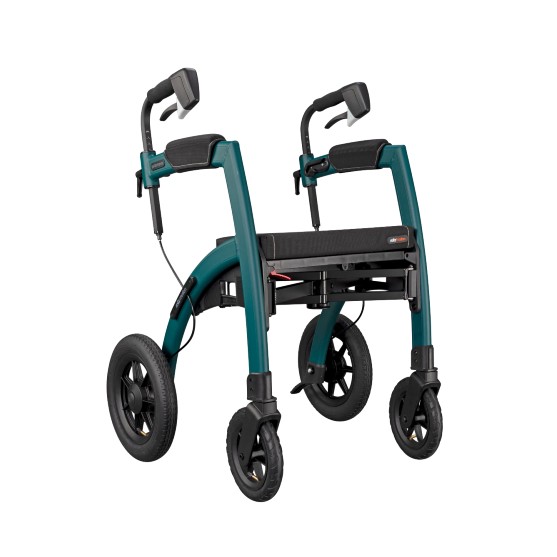 For people with a spirit of adventure, the Rolls Motion Performance All-Terrain Wheelchair and Rollator is designed for use off-road. Featuring four pneumatic tyres with greater tread depth, this innovative rollator can support you on uneven terrain.
Key Features and Benefits
Transforms from a rollator to a wheelchair
Four pneumatic tyres with greater tread
Handles uneven terrain and provides shock absorption
Suitable for:
Gravel pathways and country parks
Pebble and sand beaches
Best Rollator for Parkinson's Disease
Rollz Motion Rhythm Parkinson's Rollator with Cues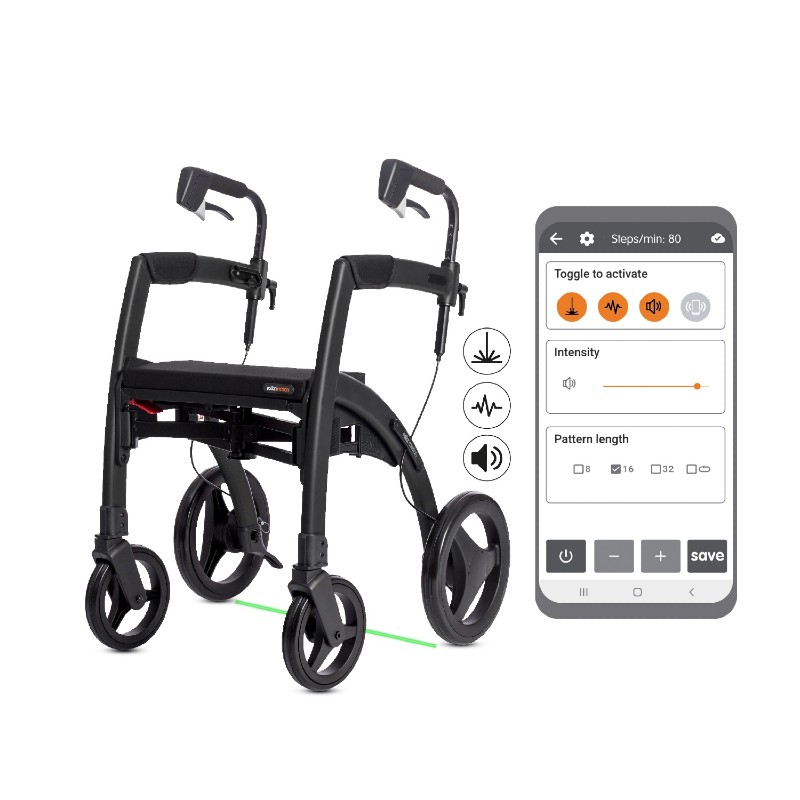 Daily living can be a huge struggle for people with Parkinson's. The Rollz Motion Rhythm Parkinson's Rollator with Cues features tactile, visual and audio cues to help combat the symptoms of Parkinson's disease. This product is only available in a striking black with matte finish.
Key Features and Benefits
Green laserline to stimulate freeze breaks
Sound and tactile cues to improve rhythm
Phone app for customisable user experience
Suitable for:
People with Parkinson's disease
Rehabilitation from serious injury
How to Make the Most Out of Your Rollator
The folks at Rollz have carefully developed a wide range of accessories to further enhance the practicality of both the Rollz Motion and Rollz Flex. Here at Health and Care, we've packaged the most compatible accessories and bundled them here for your convenience.