Our Best Ice Packs for Knees 2022
Friday, 17 December 2021 | Paul
Anyone who has suffered a knee injury will know how important ice packs can be, as they reduce pain, control swelling and help to speed up the rate of recovery. Knee ice packs are great to have on hand for everyone from trainers to athletes to parents, but not all ice packs are created equal, and it's important to know which to use for different injuries. To help guide you to the right ice pack for your knee, we've condensed information from industry experts to make the decision simple.
Which Ice Pack Is for Me?
When choosing your ice pack, there are two main factors to consider: how severe is your injury, and how long will your treatment be? For severe injuries you'll want a more robust option that can be part of your recovery regime for weeks or months at a time, but for smaller more acute injures, you may only need a small disposable ice pack for instant treatment.
Versatile Ice Pack for Most Knee Injuries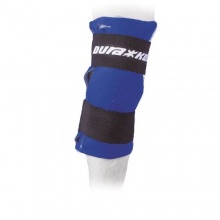 An advanced ice pack for the knee and leg
Trusted by thousands of athletes and sportsmen
Wraps around the leg and is secured in place with two straps
Can be used for both hot and cold therapy
Editor's Note: Standard ice packs will usually slip down the knee, and getting full coverage of the knee's contours can be nearly impossible. The Dura Soft Knee Wrap solves both of these issues, and targets the key area of the knee to provide effective and hassle-free cold therapy. Versatile and simple, this is our first recommendation for most knee injures.
Ice Pack for Long-Term and Serious Knee Problems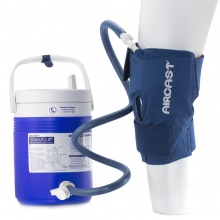 Provides targeted cold therapy to the knee for up to eight hours
Ideal for sports injuries and post-op recovery
Includes a Knee Cryo/Cuff and Cooler Unit
Anatomically designed to cover entire knee area
Editor's Note: Suitable for serious knee problems, the Cryo Cuff uses gravity to cycle ice-cold water around the knee, helping to minimise swelling and reduce pain. Perfect for post-operative support, rehabilitation, sporting injuries and trauma, this extra-large knee cuff covers the entire area, ideal for dealing with deep-set knee injuries such as a tear of the ACL.
Our Best Knee Ice Pack for Professional Use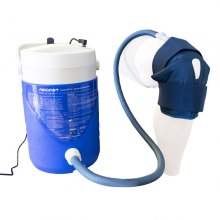 Includes a Knee Cryo/Cuff and IC Cooler
Helps to minimise swelling and reduce pain
Cooler provides up to eight hours of cryotherapy
Ideal for home or professional use
Editor's Note: One step up from the regular Cryo Cuff and Cooler, the IC Unit is ideal for professional use, as well as the most severe and long-term of knee injuries. It includes a motor to ensure cold water is constantly cycled around the knee, and provides extra flexibility and comfort to suit ongoing treatment.

Our Best Instant Ice Pack for Pain Relief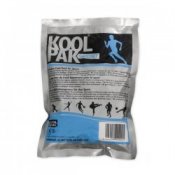 Instant ice pack provides instant pain relief

Designed for the treatment of sports injuries

Takes only seconds to activate

Ideal for use on all soft tissue injuries
Editor's Note: Athletes and trainers will understand the importance of getting ice to a sports injury as quickly as possible. A must have for physiotherapists, trainers and athletes, the Koolpak is an excellent tool to have on hand for when you need it, allowing you to start the recovery process immediately after the injury occurs. This ice pack is ideal for minor sprains, as well as impact and soft tissue injuries.
Our Best Compression Ice Pack for Knee Injuries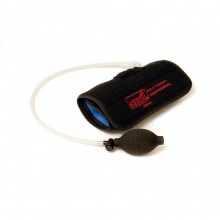 Two-piece cold compression pack
Ideal for treating sports injuries and rheumatic pain
Follows RICE method to reduce inflammation and swelling
Available in three forms for wrist, knee and ankle injuries
Editor's Note: Delivering both cold therapy and controlled compression to injuries can be the trick to a fast recovery, making this two-fold recovery tool a perfect option. Containing a gel that remains cold for hours, the pack features a compress that allows you to compress the affected area to a level of your choosing, which can help to reduce pain, increase recovery times and control inflammation.
Choose the Right Ice Pack
Making the right ice pack choice is a crucial step in your recovery, as your ice pack needs to suit your injury and your treatment goals. If you haven't found what you're looking for here, we would recommend taking a look at either our Hot & Cold Packs Page, or our Hot & Cold Therapy Page, where you're bound to find the ice pack for you.
Do you have any questions about our ice packs, or want some advice on the best ice pack for you? Please don't hesitate to let us know in the comments, or find us on Facebook and Twitter.
Tags: ACL Injuries, Cold Therapy, Knee Pain, Health and Care Expert Series, Rehabilitation, Top 5 Guides.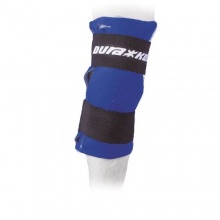 An advanced ice pack for the knee and leg
Trusted by thousands of athletes and sportsmen
Wraps around the leg and is secured in place with two straps
Can be used for both hot and cold therapy
---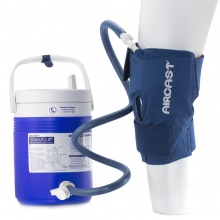 Provides targeted cold therapy to the knee for up to eight hours
Ideal for sports injuries and post-op recovery
Includes a Knee Cryo/Cuff and Cooler Unit
Anatomically designed to cover entire knee area
---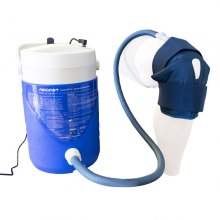 Includes a Knee Cryo/Cuff and IC Cooler
Helps to minimise swelling and reduce pain
Cooler provides up to eight hours of cryotherapy
Ideal for home or professional use
---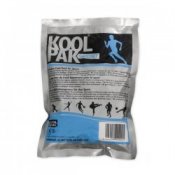 Instant ice pack provides instant pain relief

Designed for the treatment of sports injuries

Takes only seconds to activate

Ideal for use on all soft tissue injuries
---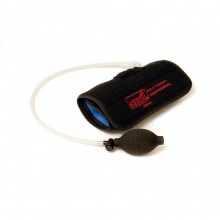 Two-piece cold compression pack
Ideal for treating sports injuries and rheumatic pain
Follows RICE method to reduce inflammation and swelling
Available in three forms for wrist, knee and ankle injuries