How to Keep Golfing with Arthritis in Your Hands
1 Comment
Monday, 15 March 2021 |
Paul
It's easy to feel anxious about how arthritis might affect your ability to keep on playing golf, but the future is brighter than you may have anticipated. Not only is it very possible to go on playing golf with your arthritis, with a few modifications to your kit the game could be the very thing to keep you healthy. If you don't already golf, now might even be the ideal time to pick it up!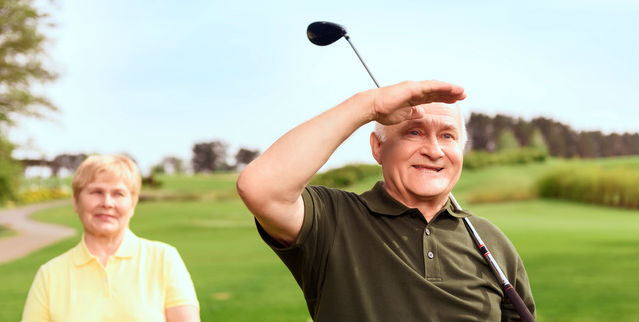 Start Slow and Work on Form
It goes without saying that you need to be careful when getting back on the green. Always make sure to warm up before beginning your game and pay particular attention to the hamstrings, groin and shoulders to help relieve stiffness. It's also worth thinking about reducing your course and slowly working back up to 18 holes only when you feel comfortable doing so. It might be tempting to go straight for the full course but overexertion could do a lot more harm than good.
Once you're on the green, you might need to make some small changes to your form. It can be worth trying to adapt your swing; a small back swing and an assured follow-through on the downswing are great ways to reduce the impact on your legs and arms.
Modify Your Kit
Beyond how you play, it's important to also consider what you're playing with. Here are some areas where additions or changes to your equipment could make a big difference to your game:
Longer, lighter clubs: Not only will a lighter club absorb more shock while in use, but it also lightens the weight in your golf bag. Longer clubs help to keep you standing straight and save you from bending down.
Wheeled or motorised golf bags: Heavy bags can be very difficult to carry around a golf-course and increase the risk of injury.
Low compression balls: A low compression ball has less resistance when you hit it, reducing the strain to your hands, arms and shoulders while you follow though.
Longer tees: Like longer clubs these will help you stand straight. They also look after your joints by reducing the risk of inadvertently striking the ground.
Good quality, possibly orthopedic walking shoes: There are two things to consider when walking around the green - not putting too much strain on your legs and feet, and reducing the risk of tripping as much as possible. At the very least, you should consider using an orthopaedic insole, such as the Powerstep Original Insoles.
Specialised grip gloves: A specialised glove, such as those produced by Grip-Par, could reassure your grip and help turn your golf habit towards rehabilitation.
More Than a Hobby
A Grip-Par Golf Glove can go beyond helping your golf and play a part in the redevelopment of grip strength in a hand affected by arthritis. By taking the pressure off your joints it allows you to rebuild strength in your hand and stay active, fighting off the worst effects of arthritis and other physical or neurological hand conditions.
Do you have any questions about Grip-Par Golf Gloves, or any of our other arthritis care products? Please don't hesitate to let us know in the comments, or find us on Facebook and Twitter.
Tags: Arthritis, Brand Focus, Hand and Wrist Pain, Rehabilitation, Sports Equipment