Best Ultimate Performance Knee Braces By Support Level 2022
Wednesday, 16 February 2022 | Rob
Knee pain comes in various degrees of severity. Mild sprains and minor cases of arthritis can be painful and discomforting, but they won't require the same level of protection as torn ligaments and patella fractures. Choosing a knee brace that meets the level of support required for your condition is important, as it means you can receive the full healing benefit without unnecessarily impacting mobility.
This guide on the Best Ultimate Performance Knee Braces By Support Level takes you through the Ultimate Performance Compression Range, and highlights the best knee brace for each of the four levels of support.
How Many Levels Of Support Are There?
Ultimate Performance are a trusted manufacturer of medical grade compression supports that help alleviate pain for a wide variety of knee injuries and conditions. Each of their knee supports has been given a grade from Level 1-4 that determines the level of support based on the criteria in the table below. Those with mild knee strains and pain may only need a Level 1 support to allow free movement, whereas those with more serious injuries should opt in for a Level 4 brace to quicken rehabilitation.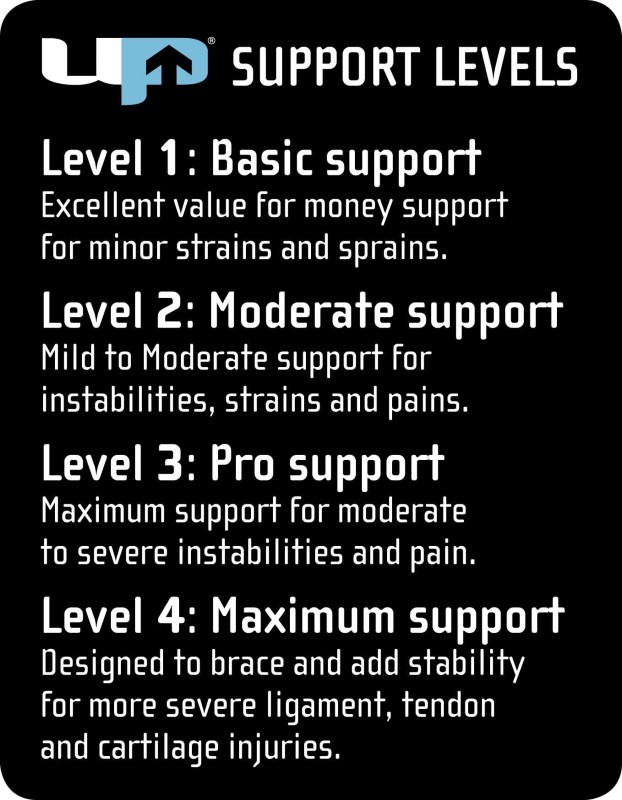 What Will This Guide Cover?
Now that we've introduced you to Ultimate Performance and the four levels of support their knee braces provide, it's time to find out which of one is right for you. This guide will cover the best knee braces for each level of support to help you find exactly what you need for a fast return to full fitness.
Best Level 1 Brace for Minor Strains and Sprains

Our winner: Ultimate Performance Elastic Knee Support
Why We Love It...
✔ Provides firm, even support for minor strains
✔ Flexible material allows complete, natural movement
✔ Tailored design prevents slippage and bunching
✔ Excellent value for money support for mild sprains
Our Verdict: Extremely lightweight and breathable, the Elastic Knee Support is ideal for correcting minor knee pain without impacting movement. This allows you to play sports while pushed to the limit and can be worn comfortably for the whole day. Extremely affordable, this is the perfect brace for small aches and pains that just won't go away.
Best Level 2 Brace for Mild to Moderate Strains

Our winner: Ultimate Performance Ultimate Compression Knee Support
Why We Love It...
✔ Provides gradual compression that targets key areas
✔ Advanced knitting maintains free, natural movement
✔ Latest edge trimming prevents slipping and bunching
✔ Suitable for mild to moderate strains, arthritis and bursitis
Our Verdict: Anatomically tailored to provide gradual compression in the key areas of the knee, the Ultimate Compression Elastic Knee Brace steps up the level of support, while still being flexible enough to not restrict movement. This cutting-edge compression brace provides soothing, all-day comfort for moderate strains, instabilities, arthritis and tendonitis.
Best Level 3 Brace for Moderate to Severe Strains

Our winner: Ultimate Performance Runner's Knee Support Strap
Why We Love It...
✔ Provides fantastic support for a wide range of conditions
✔ Ultra-lightweight, open design for freedom of movement
✔ Three-way compression targets all key areas of the knee
✔ Suitable for ITB syndrome, runner's knee, patella tendonitis and more
Our Verdict: Effectively targeting key areas of the knee, the Runner's Knee Support Strap provides a high level of support for moderate to severe pains, strains and instabilities. Medial and lateral compression straps and targeted knee stabilisers help to support ITB syndrome, runner's knee, tendonitis, arthritis, Osgood Shlatter's and quad mis-alignment.
Best Level 4 Brace for Severe Knee Injuries

Our winner: Ultimate Performance Hinged Knee Brace
Why We Love It...
✔ Tri-axel hinges provide maximum support and protection
✔ Tailored design for a comfy fit and accurate compression
✔ Adjustable strapping for customising compression
✔ Suitable for all knee injuries including fractures and torn ligaments
Our Verdict: With high-performing tri-axel hinges, the Ultimate Performance Hinged Knee Brace provides the ultimate support for severe knee instabilities and injury. Surprisingly comfortable, the expert engineers at UP have constructed a support that promotes fast, effective healing for every type of knee injury, condition and affliction.
Get the Best Support for Your Knee
Hopefully you've found the perfect knee brace to help you deal with knee pain in the most effective way possible. If you'd like to see more high-grade supports made by Ultimate Performance, why not check out our full range of Ultimate Performance Knee Supports?
Want to know more about our knee braces, or have something to add? Let us know in the comments below or get in touch via Facebook and Twitter.
Tags: ACL Injuries, Knee Braces, Knee Pain, Sports Supports and Braces