Best Knee Supports for Runners 2022
Monday, 6 December 2021 | Eugene
Running is one of the most effective forms of cardio available, but it can also wear on your knees over time. There's nothing worse than having to stop in the middle of a good run because of pain, or some sudden injury. Most knee problems can be helped with the right type of knee support, but deciding between the multitude that are available can be tough. To help cut through the noise, we've had our product experts select their very best recommendation, divided in the following categories:
Best All-Round Knee Support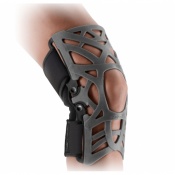 Stabilises the knee and encourages correct patella tracking
Allows you to continue performing the activities you enjoy
Absorbs shock and shifts weight away from the area
Designed for those suffering from general knee pain
Why It's Our Pick: Provides compression, stabilises the patella and absorbs shock so your knee doesn't have to
Main Drawback: Doesn't provide the warmth that neoprene and other materials would
Best Arthritis Knee Support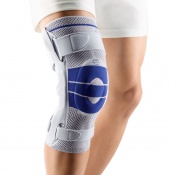 Superb stabilising knee support with adjustable hinges
Suitable for arthritis & osteoarthritis, instability, meniscus injuries and more
Prevents the knee from painful movements and accelerates healing
Available in a choice of six sizes and three colours
Why It's Our Pick: Controls movement while stabilising the knee to improve blood flow and reduce pain
Main Drawback: More advanced design makes it more expensive than simple compression sleeves
Best Patella Knee Support
Why It's Our Pick: Unique integrated pad guides the patella to reduce any feelings of instability
Main Drawback: Won't limit range of motion in the same way as a hinged patella knee brace
Best Running Knee Strap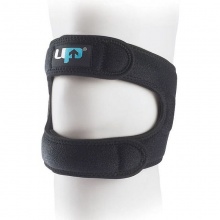 Runners knee strap for chronic knee pain
Ideal for people with knee conditions and/or chronic knee pain
Three way compression targets all around the knee
Lightweight design that does not compromise mobility
Why It's Our Pick: Adjustable fits allows you to choose your preferred compression at multiple points for targeted relief
Main Drawback: Compact design won't target ligaments in the thigh or calf
Best Knee Support for Sensitive Skin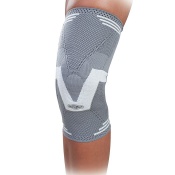 Free from latex to prevent allergic reactions
Provides stabilisation to reduce discomfort
Available with an open or closed patella
Suitable for acute injuries to the knee
Why It's Our Pick: Made with a breathable and biocompatible yarn designed to be easy on the skin
Main Drawback: Doesn't include straps to adjust compression over time
Best Knee Support for ITB Syndrome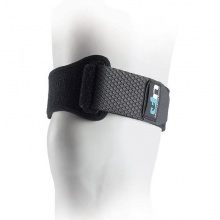 Neoprene based knee strap for ITB
Ideal for active people who suffer from ITB
Textured neoprene provides therapeutic heat compression
Adjustable straps ensure a personalised fit and compression
Why It's Our Pick: Textured material ensures the band stays in place to target the ilio-tibial band while running
Main Drawback: Targeted compression doesn't provide the same versatility as other supports
Best Breathable Knee Support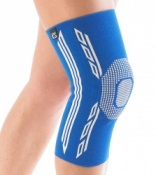 Specialist knee support for stability during exercise
Made with lightweight materials to control moisture and heat
Utilises strategic silicone for to prevent slippage while running
Protects and stabilises knee joint and patella
Why It's Our Pick: Exceptionally lightweight material allows support with a nearly imperceptible feel
Main Drawback: Lack of stays or splints prevents a more stabilised feel
Best Compression Knee Support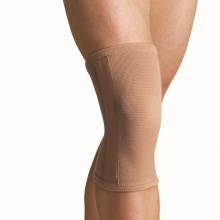 Provides compression and support for weak and injured knees
Ideal for relieving pain and reducing swelling
Side stabilizers provide increased medial and lateral support
Comfortably contours to the shape of the knee
Why It's Our Pick: Compression covers above and below the knee, keeping tendons warm to prevent injury
Main Drawback: Simple design doesn't allow for the same level of adjustment of other braces
Best Hinged Knee Brace for Unicompartmental Arthritis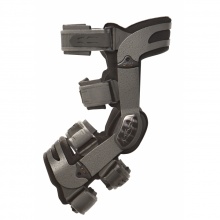 Unloader OA knee brace to provide knee stability
Ideal for treatment of unicompartmental osteoarthritis
Tough knee brace suited to more active users
Contours to the leg to reduce migration and improve comfort
Why It's Our Pick: Advanced Four Points of Compression system takes pressure off either medial or lateral knee ligaments
Main Drawback: The most expensive knee brace on our list
Best Running Tights with Knee Support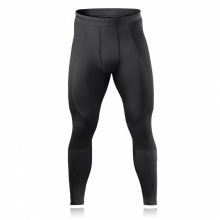 Neoprene compression tights for ITBS/Runner's Knee
Ideal for active people who suffer from ITBS (aka Runner's Knee)
Provides compression, warmth and stability to entire IT-band area
Increases muscle coordination in the hip and legs regions
---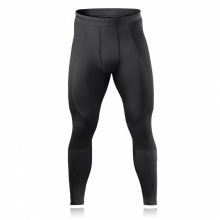 Neoprene compression slim-fitting tights for ITBS
Ideal for active women who suffer from ITBS and Runner's Knee
Provides compression, warmth and stability to entire IT-band area
Increases muscle coordination in the hip and legs regions
Why They're Our Pick: Compresses the lower body to soothe knee pain while increasing proprioceptive control
Main Drawback: Provides compression to both legs, which may be more than some are looking for
What Types of Knee Braces Are Available?
Prophylactic Braces
Popular among athletes, these are braces designed to protect knees from injuries during contact sports such as football. They are highly popular among footballers and other athletes.
Rehabilitative Braces
These braces are designed to restrict knee movement (but still allow some limited movement) to allow for full recovery. These braces are usually used for a period of weeks after injury or surgery.
Knee Sleeves
This is the most common type of knee support. Designed to provide compression around the knee joint, these sleeves will support the knee, and control pain and swelling. People who suffer from Runner's Knee often benefit from using patella tracking knee sleeves.
Unloader Braces
Specifically designed to alleviate pain for people who have arthritis in their knees, these braces shift ("unload") the negative weight from the damaged area of the knee to a stronger area. An unloader brace can be the best choice for meniscus injuries, especially for those which require surgery to repair the most severe damage.
Get the Support You Need!
Whether you suffer from general instability, arthritis, ITB syndrome or anything else, nothing good can come out of pushing through your injury unsupported. Providing the peace of mind you need to keep your exercise productive and pain-free, our experts are sure these knee supports can help to keep your knees in top shape while you're out on the run. If you'd like to see our full range of knee supports, click the link below!

Are you looking for something specific out of your knee support, or have you tried any of our recommendations above? Let us know in the comments below, or find us on Twitter or Facebook!
Tags: Running, Supports and Braces, Fitness, Rehabilitation, Exercise