Proviz Reflect360: Be Visible, Be Safe
Friday, 23 September 2016 |
Eugene
For anyone who runs to stay fit, when it comes to your gear nothing is more important than safety and comfort. You know that its imperative all your running gear is reflective so it's highly visible to drivers, as well as breathable so you don't overheat and can get the most out of your workout. The Proviz Reflect360 line of running wear meets all of these demands to a standard not seen anywhere else on the market.
Presenting a subtle grey colour during daytime hours, all of the Proviz Reflect360 clothing turns a brilliant white when a light is shone on them at night time, making sure any driver on the road near you is aware of your presence long before it becomes dangerous. Proviz also excels in making their products lightweight and comfortable, balancing protection from the wind with breathability.
Highly Reflective
The secret to Proviz's unrivalled safety is its revolutionary material, designed to reflect back as much light as possible. Heralded by Triathlon Plus Magazine as "Probably the safest running jacket on the market", all Proviz Reflect360 clothing has a 100% reflective outer shell. This surface provides 360 degree reflectivity so that a driver of a vehicle shining even the tiniest amount of light on you will immediately be aware of your presence. If you're looking for safety on the road, the Reflect360 line of clothing is the best you will find, guaranteed.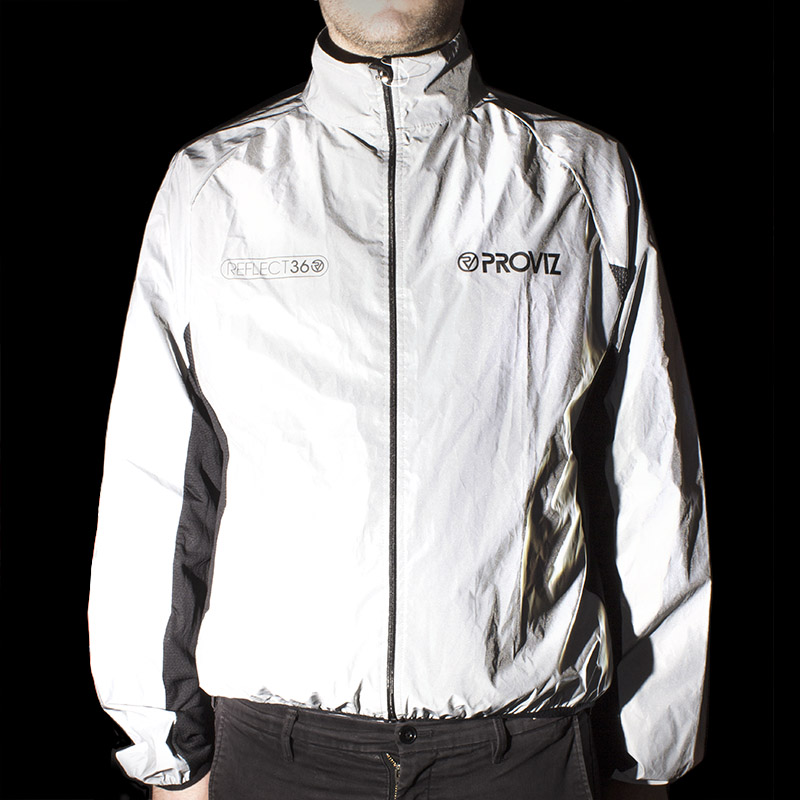 An example of the highly reflective properties of Proviz's material
Lightweight and Breathable
The Proviz Reflect360 line is designed to be one of the lightest brands of running gear on the market, with no item exceeding a feather light 170 grams, and most items well below that mark. For enhanced breathability, all their jackets and gilets are fitted with under arm vents and outer mesh, allowing you to stay cool no matter how intense your workout gets.
Comfort and Protection
The Reflect360 family of running clothes all have an ultra-comfortable soft mesh lining inside, which provides added comfort, but also allows for optimal breathability and ventilation. They also feature an impenetrable windproof outer-layer that will keep you shielded from harsh winds, no matter how fierce, and the zip-guarded lock-zip will ensure you can run as long as you want, without worrying about the zip gradually slipping down.
Function and Style
While the Proviz Reflect360 line was designed and manufactured with function in mind, the Proviz designers didn't forget about fashion and style. You'll look as good as you are safe and comfortable with the newly designed lines and colours of this state of the art family of clothing. Meticulously designed from the running cap all the way to the running jacket, every item in this line defines what it means for fashion to meet function.
Visit Health and Care to view the entire Proviz Reflect360 line.
Have anything to add? Tell us in the comments below!