Protect from Head Injuries with Epilepsy Helmets
Wednesday, 6 March 2019 | Sean
If you or someone you know suffers from health conditions such as epilepsy, then reducing risks from injuries to the head is often top of the agenda. Seizures in children through to adults can cause serious head injuries – something that can pose a significant risk to the welfare of the sufferer. Taking the right steps early can help to mitigate this risk, one of which being wearing a protective helmet when near a seizure trigger.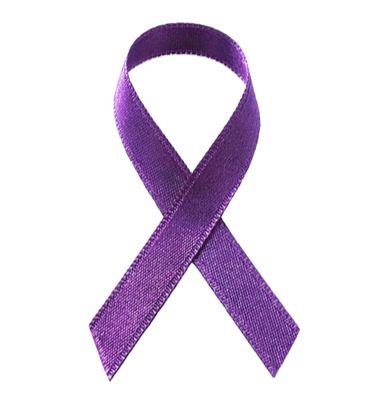 Epilepsy sufferers are at a greater risk of head injuries due to a loss of control during a seizure
It isn't just those with epilepsy that live with a higher head injury risk than others, and people with autism, people with sensory conditions and people with conditions that effect balance such as cerebral palsy all face a similar level of risk. This article outlines the benefits of using disabled head protection to help make living with a certain condition safer, as well as including a useful guideline on how to choose the right helmet for you.
Why Buying a Special Needs Helmet Can Change Your Life
Using a special needs helmet, whether it's for yourself or a loved one, can greatly reduce your worry of a serious head injury taking place. The safety helmet can be worn when the person is in a high risk environment (that's either somewhere with hazards or in an environment that could trigger a seizure). By reducing the head injury risk to almost zero, you can have peace of mind in the safety of the helmet wearer.
Who Can Our Epilepsy Helmets Benefit?
Our protective safety helmets aren't just for epilepsy suffers and anyone concerned about a risk to their or a loved one's heads can benefit. We would recommend buying a head protector in the following cases:
Epilepsy
Autism (particularly during head banging episodes)
Special needs
Cerebral palsy
Hydrocephalus
Traumatic brain injury rehabilitation
Development disabilities
Sensory and motor development
Seizure symptoms
Repeated fainting
Helmets can be used by anyone at a risk of head injuries. Suitable users include:
Toddlers
Children
Teenagers
Adults
Choosing Your Epilepsy and Autism Helmet
Choosing the correct helmet can be difficult. You want to take into account size (if it's for adults or children), shape (for comfort) and what you actually want to protect against. If you fall a lot or are recovering from serious head injuries, then a helmet that protects the entire head is more useful, however if you want to protect against the occasional seizure then a smaller more lightweight helmet might be beneficial.
Which Head Protector Should I Choose?
Here at Health and Care we sell three helmets that are designed for those with special needs. They are as follows:
| | | |
| --- | --- | --- |
| Head Protex Soft Epilepsy Helmet | | Skull Guard Helmet |
Head Protex Soft Epilepsy Helmet
Our top selling protective helmet is the Head Protex Soft Epilepsy Helmet, and it's easy to see why. Suitable from toddlers through to adults, this head injury protective helmet features breathable padded foam that provides protection to those at risk of injury. Its breathable design is ideal for children with autism, while different colours and sizes enable a catered design and fit.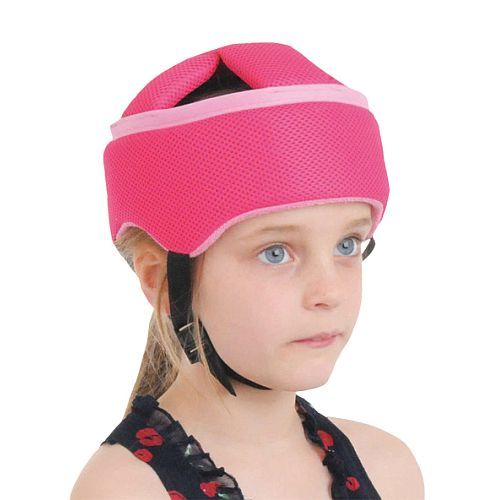 The Head Protex Helmet is incredibly easy to fit, but features childproof clips that mean only the adult can remove the helmet. This isn't to say that it isn't just suitable for children, as its comfortable but versatile design can protect adults from injury too. Hypoallergenic, comfortable, lightweight and breathable, this helmet is proven to prevent head injuries.

Fitting the Protex Soft Shell Helmet
Suitable For: Autism; balance and co-ordination conditions; epilepsy; head drop syndrome; hydrocephalus; fainting; children with special needs; post-surgical use; self harm.

Starlight Secure Protective Disability Safety Helmet
Next up is the Starlight Secure Protective Disability Safety Helmet, designed to protect against serious head injuries in those who are at risk of head injury. Its cotton design is layered with firm foam padding, ensuring that the wearer receives both comfort and protection. Suitable again from children through to adults, the Starlight Disability Helmet is ideal for a range of conditions.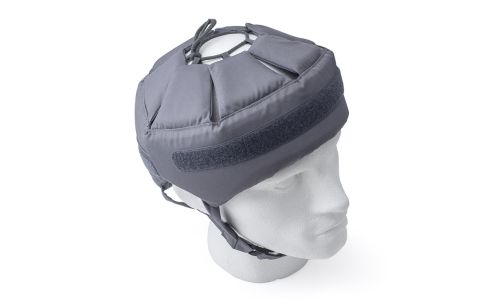 The fully protective design of the Starlight Protective Disability Helmet
Suitable For: Epilepsy; head drop syndrome; self harm.
Skull Guard Helmet
Finally we have the Skull Guard Helmet which is slightly larger than the other two, making it ideal for those who are at high risk of repeated head injuries. The chin strap means that it is suitable for users who range from children through to adults, while the comforting design conforms to the natural changes in head shape. Its comforting but reliable protection is suitable for ongoing use, making this particularly recommended for users who are suffering from long term head conditions and head injury rehabilitation.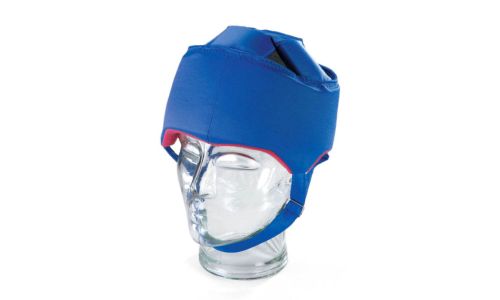 The Skull Guard Helmet is ideal for those who repeatedly fall
Suitable For: Epilepsy; head drop syndrome; autism; hydrocephalus; cerebral palsy; spastic diplegia; spinal cord hernia; heamophilia; balance conditions; repeated fainting.
Reduce Head Injury Risks with Protective Helmets
Using protective head gear can mitigate the risk of suffering a head injury if you suffer from many conditions, including epilepsy, autism, cerebral palsy, fainting and any condition associated with a lack of balance. If you'd like to find out more about our disability helmets, you can always check out our Disability Safety Helmets category. Alternatively if you'd like some expert advice, you can call us on 020 7720 2266, or email our customer care team at helpdesk@healthandcare.co.uk.
Tags: Aids for Daily Living, Autism, Epilepsy, Fall Management.