Protect Casts in the Shower with LimbO Waterproof Protectors
Friday, 9 October 2020 | Sean
Welcome to to our range of LimbO Waterproof Cast Protectors. Using a cast means that washing can be difficult because you can't get the cast wet. This means that using a shower or bath can be a no go for many. Well, not any more, as the Limbo Cast Protectors allow you to protect your cast while washing, with their self-sealing 100% waterproof closed cell neoprene protecting your cast completely against water.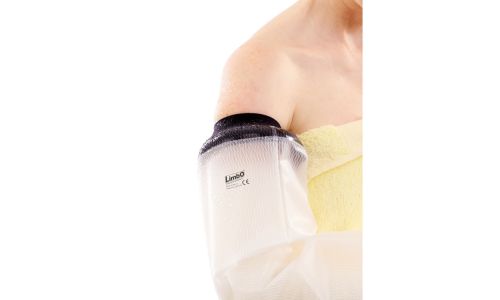 LimbO Cast Protectors: The Solution to Showering with a Cast!
Why Use LimbO Cast Protectors?
✔ 100% waterproof neoprene covers the entire cast!
✔ Self sealing prevents water from entering the protector
✔ Full range available for arms, legs, feet, fingers and more
✔ Available for adults and children of ALL ages
✔ Extremely easy to use and medically certified
✔ Latex free for reducing any discomfort or irritable skin
How Do I Use LimbO Shower Protectors?
LimbO Cast Protectors are extremely easy to use, suitable for users of ALL ages. Follow the below 7 step guide that takes you from start to finish.
Putting the LimbO on:

​Using your thumb and forefinger, carefully grip your LimbO seal and insert your limb and cast into the opening.
Draw it up easing the black seal over the cast or bandage

Secure Your LimbO:

Pull the LimbO down slightly so that the seal reverses itself, allowing the inner surface of the seal to come into direct contact with your skin
Ensure that the seal of the LimbO lies flat against the skin and is wrinkle free
Remove trapped air to avoid floating by lifting the seal and squeezing out the air

After Your Shower or Bath:

Carefully roll the seal back on itself a little, before easing it over your cast
Hang your LimbO upside down to dry
What Parts Of the Body Can I Use LimbO Cast Protectors On?
LimbO Cast Protectors are available for all parts of the body, including the arms, legs, feet and fingers. LimbO also comes in different lengths depending on where your injury is located and the size of your cast. A small cast requires just a half brace, whereas a larger cast requires a full brace.
Where Can I Buy LimbO Cast Covers for Showers?
Our full LimbO range is available below. All products are available with FREE UK delivery.
LimbO Leg Protectors
LimbO Arm Protectors
LimbO Foot, Elbow and Finger Protectors
LimbO Cast Protectors for Children
Shower with Ease Again
Recovering from an injury shouldn't mean that you have to forego showering. LimbO Cast Protectors are your perfect solution, helping you to get on with your life despite your injury. For our full range, take a look at our LimbO Waterproof Protectors category.
We hope you found this guide helpful. If you've got any feedback on the LimbO range, or any favourites you'd like to recommend, leave a comment below or find us on Facebook and Twitter.