Ultimate Buying Guide for Parafricta Pressure Relief Care
Tuesday, 1 March 2022 | Jess
Bedbound patients are at risk of developing pressure sores, painful ulcers that develop when considerable pressure is put on an area of the skin for a prolonged time. This often occurs when you lay down without adjusting your position. Pressure sores can develop on a range of peak zones across the body, including the heels, buttocks and head.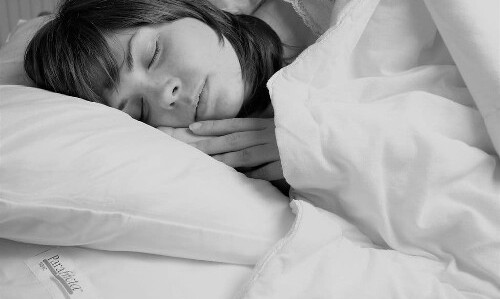 Luckily, Parafricta has a product designed to protect each of these areas, utilising low-friction fabric to limit the friction and associated shear that causes skin breakdown in the first place. If you're in need of pressure relief, read on to discover our Ultimate Buying Guide for Parafricta Pressure Relief Care.
What Will This Guide Cover?
In this handy guide, we'll pick out some of our favourite Parafricta items, covering the following areas:
How Does Parafricta Reduce Friction?
Parafricta is a wound-care company that specialises in skin protection. Their products are constructed from special low-friction fabric in order to relieve the effects of friction and shear on the skin. This is ideal for bedsores, which are most common on the heels and buttocks.
When Should My Patient Use Parafricta?
Parafricta low-friction garments and bedding should be considered for your patient under the following conditions:
If they are a regular wheelchair user
If there are early signs of skin breakdown (e.g. non-blanching erythema, abrasions)
If the patient drags their skin on the support surface whilst repositioning
When the dressing over an existing ulcer is frequently displaced
When there is particularly high risk (e.g. in diabetes or at end of life)
Parafricta Bedsore Underwear
Pressure relief underwear is designed to prevent the development of pressure ulcers caused by repositioning and sliding. They prevent the hips, sacral and gluteal (buttocks) areas against skin breakdown from friction and associated shear. This usually occurs during the frequent repositioning of bedbound patients, sliding on a transfer board, or wheelchair use.
Our Favourite Undergarment for Men
Parafricta Boxer-Style Slip On Underwear
Why We Love It:
✔ Slip-on design makes dressing easier
✔ High back protects vulnerable sacrum
✔ Latex-free to suit more sensitive skin
Our Verdict: These Slip On Boxers are absolutely ideal for male bedbound patients and wheelchair users, preventing pain and damage caused by considerable pressure on the buttock area.

Our Favourite Undergarment for Women
Parafricta Brief-Style Velcro Closure Underwear
Why We Love It:
✔ Velcro closure for secure and comfortable fit
✔ Front opening allows less-mobile wearers to remain clothed
✔ High back protects vulnerable sacrum skin
Our Verdict: Superb for immobile patients, this Brief-Style Velcro Undergarment is comfortable and supportive, allowing easy toileting without repositioning, as well as enabling incontinence pads and dressings to be worn underneath.
Parafricta Pressure Relief Boots
Parafricta Bootees are designed to protect against pressure ulcers (including bedsores) caused by friction and associated shear on the heel area. These products also provide non-stop protection to other vulnerable areas of the foot and ankle. The Parafricta pressure boots are designed with comfort and safety in mind, with non-slip soles and breathable ventilation areas.
Our Favourite Slip-On Heel Sore Boot
Parafricta Slip-On Pressure Relief Bootee
Why We Love It:
✔ Non-slip sole for optimal grip
✔ Ventilation area for comfort and breathability
✔ Easy to slip on for wearer convenience
Our Verdict: This Slip-On Pressure Boot expertly prevents pressure ulcers in the heel area that result from rubbing or dragging on a bed. The slip-on design also enables easy donning and doffing.
Our Favourite Velcro Closure Heel Sore Boot
Parafricta Pressure Relief Velcro Bootee
Why We Love It:
✔ Velcro opening is suitable for swollen feet
✔ Non-slip sole to enhance grip if standing
✔ Lightweight for easy movement
Our Verdict: The Velcro Closure Bootee stops pressure zones in their tracks, preventing skin breakdown and resulting sores. Ensuring a secure fit, even over swollen feet, this boot is effective and comfortable.
Parafricta Bed Linen for Pressure Ulcers
Low-friction bedsheets are ideal for patients with limited mobility, especially those who tend to move around while sleeping. Parafricta have a great range of bedsheets, each featuring a low-friction centre located under peak-pressure areas, as well as a polycotton rim to aid self-repositioning. This is shown in the images below.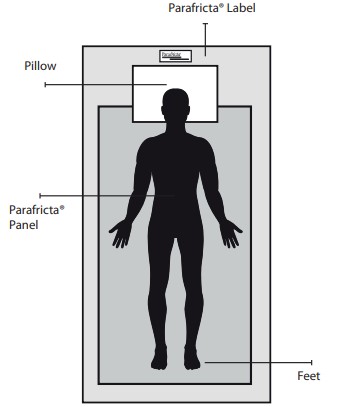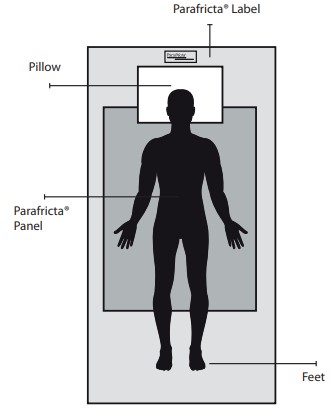 Here at Health and Care, we have the following low-friction sheets:
What Evidence Is There to Support This Brand?
If you're not convinced just yet, you should know that Parafricta is also backed up by a wide body of clinical evidence. Here are just a few times these products have proven effective:
An article in the British Journal of Healthcare Management notes that Parafricta low-friction bootees have been successfully implemented in an NHS trust, resulting in a 75% lower prevalence of hospital-acquired pressure ulcers over eight years compared to the NHS England average.
An article from the British Journal of Nursing found that, over two weeks and in three care settings, Parafricta Bootees played a vital part in the reduction of heel ulcers and pain.
In their article entitled 'Reducing Shear and Friction: Parafricta Undergarments', Kerr discusses the significant role Parafricta underwear can play in reducing the potential for pressure ulcers in immobile patients.
In the Journal of Community Nursing, Sylvie Hampton et al. suggested that Parafricta fabric should be considered for any patient that is at risk of pressure damage related to shear and friction.
Don't Settle for Sores
Comfortable, protective and clinically proven, Parafricta pressure relief garments are ideal for patients with limited mobility. Whether they are bedbound, in a wheelchair, or just spend a lot of time in one spot, Parafricta low-friction fabric works wonders to prevent ulcers and keep your patient safe.
Have a question or something to add? Let us know in the comments below or get in touch via Facebook and Twitter.
Tags: Brand Focus, Care Support, Comfort, Pressure Relief