Pressure Relief for Rise Recliner Chairs
Saturday, 11 April 2020 | Eugene
Pressure relief cushions are ideal for making seating safer and more comfortable for vulnerable patients, but selecting the right one for you might not be as simple as you think. While most pressure relief cushions are designed for use in a wheelchair or conventional seating surface, they often won't be suitable for rise recliner chairs or other popular seating options. If you're looking for a pressure care cushion for your rise recliner chair, you'll need a specially designed cushion system that will stay put and move with your chair, while preventing the forward sliding that can occur as your chair reclines, which you won't get from your standard pressure relief cushion.
Who Needs a Pressure Relief Cushion?
If you're wondering if you might need a pressure relief or pressure reducing cushion, there are some key risk factors to look out for. In most cases, you'll be in need of a pressure relief cushion if any of the following apply to you:
You suffer from low mobility due to suffering from an injury or sickness, and remain seated for long periods of time.
You cannot reposition yourself, leading to slumping to one side or sliding forward, and you require assistance to gain a proper position in your chair.
You are deemed by a medical professional to have thin skin and/or high pressure sore risk.
You require a hoist to be transferred between sitting and lying positions.
What's Wrong with Standard Pressure Relief Cushions?
Pressure relief cushions are best used in wheelchairs, or chairs that are designed to provide a good level of support to the user. These chairs will allow weight to be distributed along the patient's body, as true pressure reduction can only take place by maximising the surface area in contact with the user. When a standard pressure relief or reducing cushion is placed on a rise recliner chair, it will often raise the user so that legrests, armrests, headrests and back supports lose partial or complete contact with the user, placing the entirety of their weight on their buttocks. Even with a high quality pressure relief cushion, this kind of localised pressure can be a recipe for disaster.
Cushions for Rise Recliner Chairs
When selecting a pressure relief cushion system for your rise recliner or recliner chair, you need to account for the movement of the chair, the entire surface in contact with the user, and a tendency for the user or cushion to slide forward during movement. With these things considered, there are a few features that you MUST look for when choosing your rise recliner cushion system:
The cushion system should have multiple movement points to allow it to move with the cushion.
The system should feature affixing straps to ensure is stays put during movement.
It should be large or long enough to cover the entirety of the user's body, with all contact points catered to (head, back, buttocks and legs).
It should ideally feature a non-slip base as a further measure to prevent forward sliding.
With these factors considered, there are a few appropriate pressure relief cushions for rise recliner chairs currently available at Health and Care:
Repose Contur Rise Recliner Pressure Relief Overlay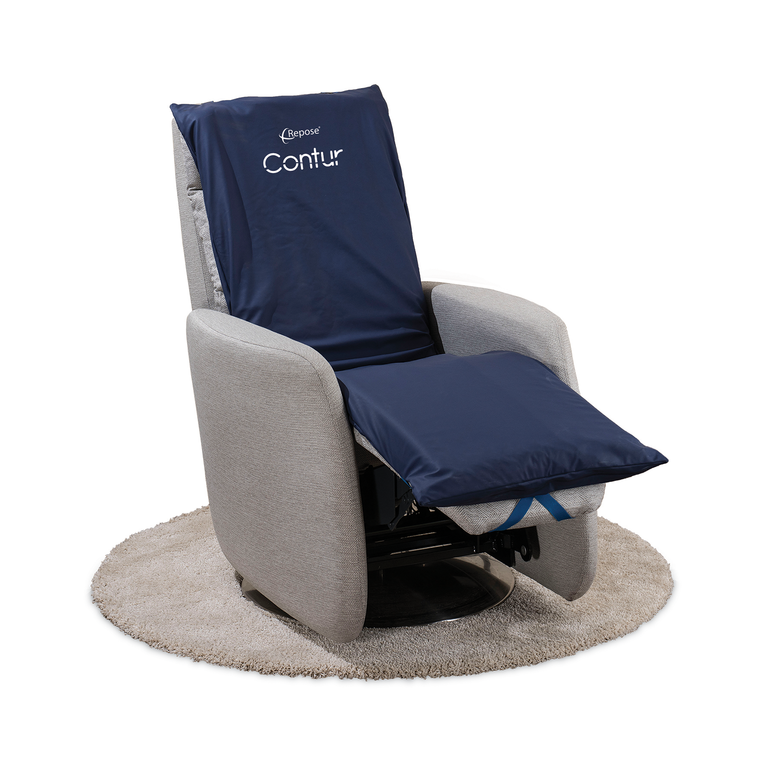 Perhaps our most advanced pressure relief system for rise recliner chairs, our first option uses inflatable air cells and smart valve technology to provide relief, even for very high risk users. The Repose Contur Rise Recliner Pressure Relief Overlay is an easy-to-use system that provides whole-body pressure distribution, relieving the sacrum, buttocks, scapulae, vertebrae, shoulders and head with a single one-piece cushion. Securing easily to the chair with straps, this is an ideal option for those at severe pressure sore risk.
One-piece design makes it simple to fit
Provides pressure distribution for the entire body
Uses inflatable air cell and smart valve technologies
Protects cushions and chair with wipe clean, machine washable cover
Maximum user weight of 139kg
Ultimate Healthcare Ultra-Cline Pressure Relief Rise Recliner Cushion Set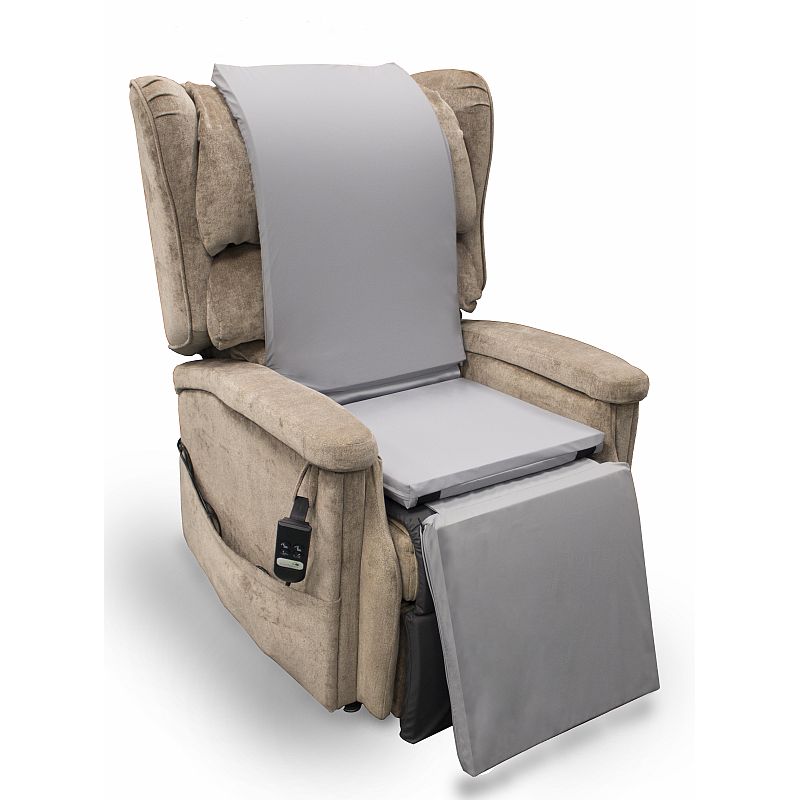 Developed to stay put during the movements that occur when tilting a rise recliner, the Ultimate Healthcare Ultra-Cline Pressure Relief Rise Recliner Set meets all the requirements set out above. Made with viscoelastic foam, it can provide pressure relief for high risk users and features:
Three pieces with a seat, back and leg cushion
Two width choices to suit different rise recliners
Securing straps to keep cushions in place while tilting
Non-slip base to prevent forward sliding
Waterproof cover to protect cushion and chair from spills
Maximum user weight of 159kg
Harvest Ultra-Thin Pressure Relief Cushion, Leg and Lumbar System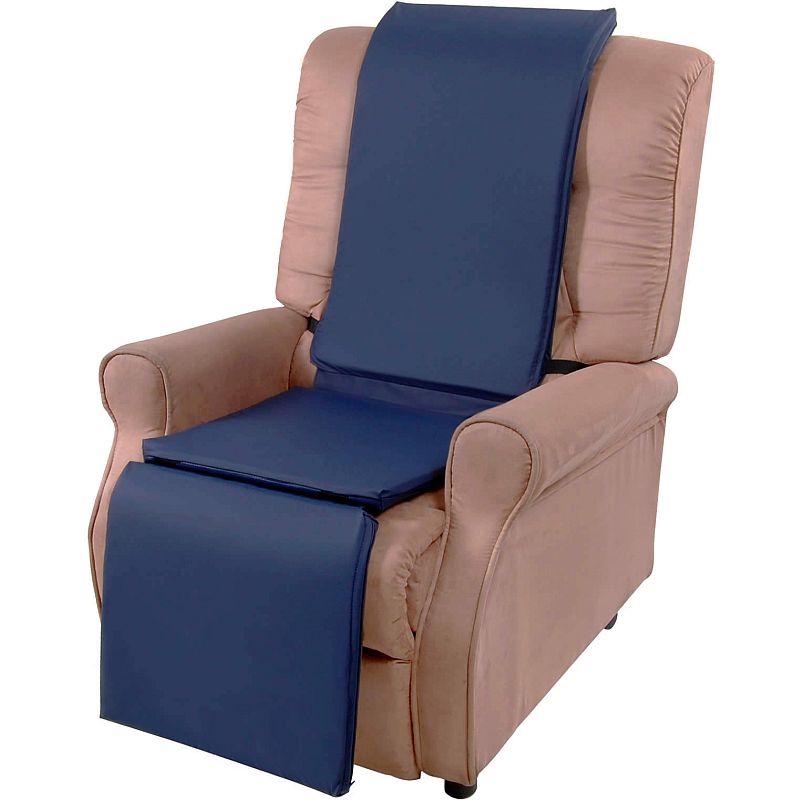 Another option is the Harvest Ultra-Thin Pressure Relief Cushion, Leg and Lumbar System, designed much like the above choice to provide a high level of comfort and pressure reduction suitable for those at high risk of pressure sore development. Redesigned with 35mm foam for extra comfort, this system features:
Three piece system with leg, lumbar and buttocks sections
Hinged area between cushions to allow movement with chair
Securing straps to keep all sections in place during movement
Non-slip base to prevent forward sliding
Waterproof cover to protect cushion and chair from spills
Maximum user weight of 159kg
Boost the Comfort and Safety of Your Recliner
These options are quite similar in nature, and are all excellent pressure relief options for rise recliner chairs. Since these systems are specifically designed for rise recliners, they won't present the same pitfalls as standard wheelchair or chair pressure relief cushions, and can be a useful part of a larger pressure care strategy.
Do you have any questions, or would you like a recommendation? Please don't hesitate to contact our Customer Care Team at 020 7720 2266 or leave us a message in the comments section below. Alternatively, find us on Facebook and Twitter!
Tags: Health and Care Expert Series, Pressure Relief
Shop Related Products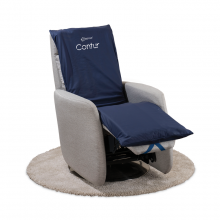 Inflatable cushioning overlay for At Risk to Very High Risk users
Redistributes pressure to prevent pressure ulcer development
Securely straps to most standard riser recliner chairs
Easy to clean the cover for optimal hygiene maintenance
---
Pressure relief rating: High risk
Designed for use on rise recliner chairs
Set of seat, lumbar and leg cushions for full relief
Straps and anti-slip covers provide stability and resist forward sliding
---
Suitable for users at high risk of pressure sore development
Designed to go on top of an existing reclining chair
Redeveloped with an additional 35mm foam base
Provides enhanced pressure distribution