Using Heat in Physiotherapy
Friday, 2 November 2018 | Paul
Targeted heat is not only comforting on cold winter days, but can also be beneficial for treating a range of conditions. Though less popular than its trendy cousin, cold therapy or cryotherapy, heat therapy is just as suitable for soothing muscles after intense exercise, helping to improve the flexibility of joints and ligaments, and relieving pain.
Why Use Heat in Physiotherapy?
Heat therapy has proven itself to be beneficial in increasing blood circulation, which promotes healing and relaxing of muscles. It's an excellent option for loosening stiff joints and for relaxing muscles prior to sports or exercising.
Heat is often used with other physio treatment programmes to relieve pain such as rheumatic pain, sciatica, lumbago, sprains and muscle fitness. Heat therapy, when used in combination with physiotherapy, can:
Improve the flexibility of tendons and ligaments
Reduce muscle spasms
Aid in alleviating pain
Elevate blood flow
Boost metabolism
Lower Back Pain
Lower back pain is one of the most common general types of back pain. An American study has shown that heat therapy can be beneficial for relieving back pain. Patients experiencing lower back pain have reported significant pain relief following the use of continuous, low-level heat therapy, with relief persisting for up to 24 hours after therapy.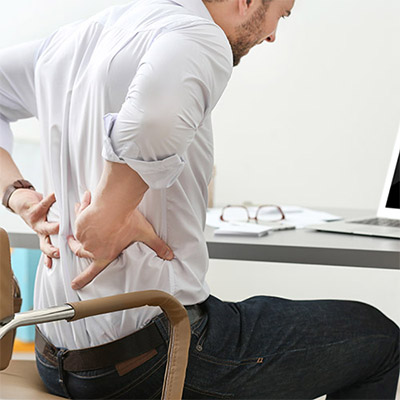 Heat can help to alleviate lower back pain
Muscle Soreness and Flexibility
Application of moist heat therapy has been shown to help reduce athletic injuries and improve muscle and ligament flexibility. Similarly, heat therapy has increased soft tissue flexibility, tissue blood flow and muscle resistance, improved contraction of smooth muscles and their motor function. Several studies have concluded that continuous, low-level heat, applied after exercises, can reduce delayed-onset muscle soreness, as well as decrease the amount of muscle strength lost, preserve muscle activity and prevent elastic tissue damage.
Arthritis and Joint Pain
Heat therapy has also been found to be effective in alleviating joint pain, and improving stiffness and gait impairment in patients with knee osteoarthritis, with the effects persisting for at least six weeks after applications. Patients with wrist pain associated with strains, sprains and osteoarthritis reported greater pain relief following continuous, low-level heat therapy, when compared with a placebo. Pain relief progressively increased with each successive day of therapy, and persisted for two days after therapy was stopped.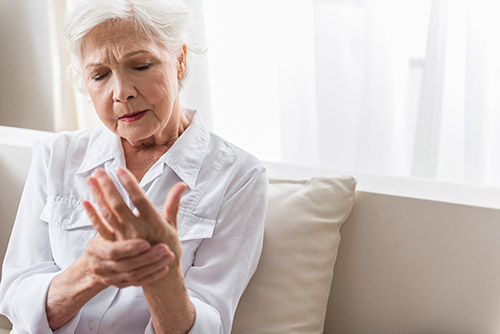 Arthritis and joint pain can be improved with heat therapy
Hotteeze – the 21st Century Hot Water Bottle
Hotteeze are natural, long-lasting, self-adhesive heating pads that can be used to soothe tired muscles, ease pain, or simply warm you up wherever you are. Let's take a look at how exactly Hotteeze Heat Pads work to deliver all those benefits.
How Do Hotteeze Heat Pads Work?
Application of heat helps blood vessels relax and open up more, increasing the flow of blood, nutrients, and oxygen to the painful areas. This relieves pain and helps the treated areas to heal, both via the quick regeneration of damaged tissues and removal of toxins from the area.
Hotteeze Heat Pads switch on heat receptors when applied, which in turn block the effect of chemical messengers that cause pain to be detected by the body. This means the brain focuses more on the heat and less on the feeling of pain, thereby reducing pain and discomfort.
Heat provided by the Hotteeze Heat Pads helps to relieve muscle-spasm related pain by reducing tension in muscle trigger points, increasing the ability of the muscle tendon unit to relax and stretch. Moreover, it increases circulation and the flexibility of connective tissue.
Hotteeze Hand Warmer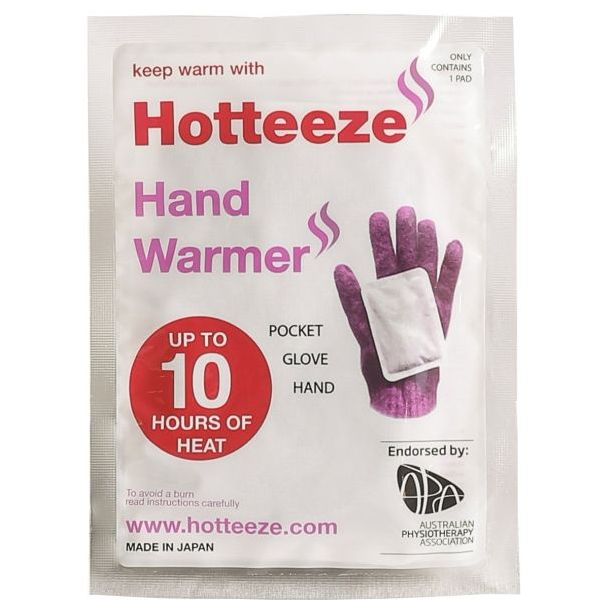 Designed to fit perfectly into your hand, pocket, or inside any glove, the Hotteeze Hand Warmer is the perfect solution for anyone suffering from cold hands, wrist and joint pain, or even arthritis. Ultra-thin and odourless, the Hand Warmer is unobtrusive in use and provides warmth discreetly. A few minutes after opening, the Hotteeze Pad will begin to produce heat at an average temperature of 63°C (145.4°F) and will continue to work for up to 10 hours.
Hotteeze for Feet Self-Adhesive Heat Pads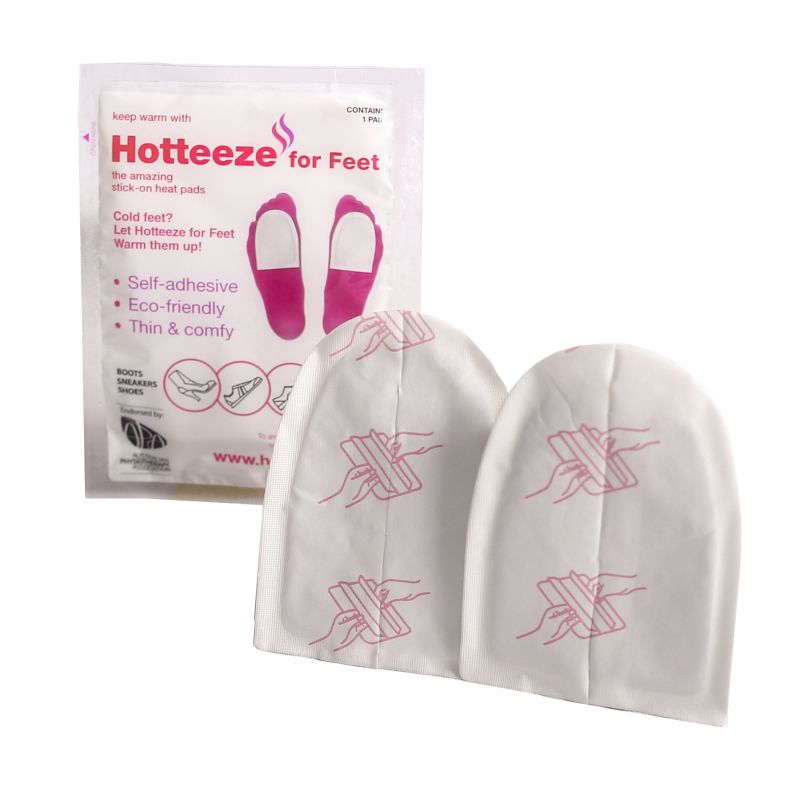 If the source of your pain or discomfort is your feet, the Hotteeze for Feet Heat Pads are an excellent choice. These heating pads work the same way as the Hand Warmers, but come is a different shape that fits easily and comfortable into most shoes. This is perfect for when you spend a lot of your time in cold environments, or if you're suffering from ankle or foot pain, soreness or discomfort.
Hotteeze Self-Adhesive Heat Pad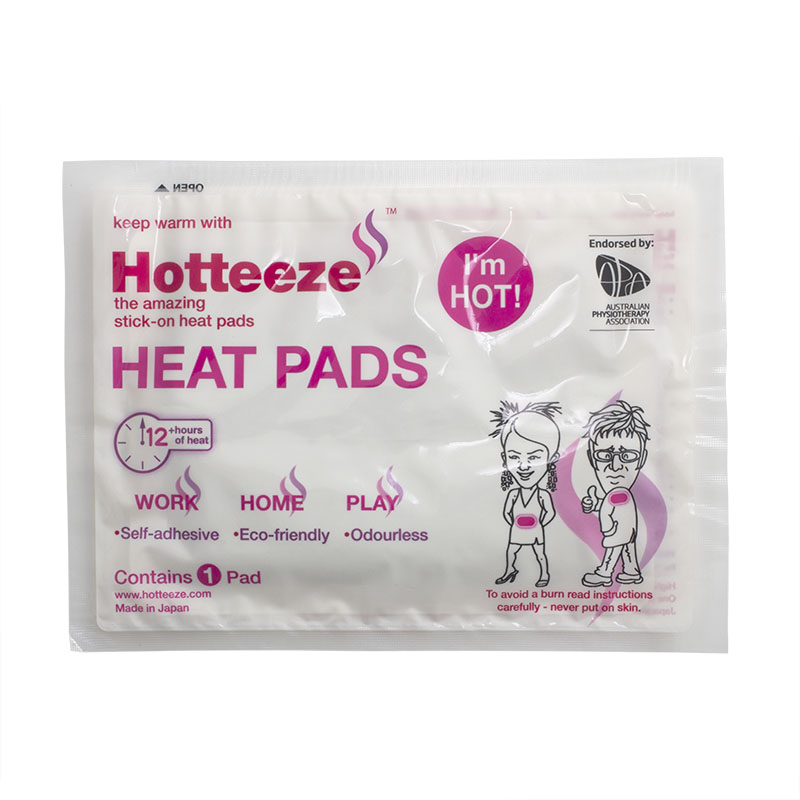 The most versatile of the three, the Hotteeze Self-Adhesive Heat Pad can be used on any larger area of your body to provide soothing warmth and comfort. Featuring a self-adhesive backing, the Hotteeze Pad is convenient to apply to clothing without the use of adhesive or tapes. Its ultra-light and odourless construction means you can use it virtually anywhere throughout the day. Ten minutes after application, Hotteeze will begin to produce heat at an average temperature of 50°C (122°F) and will continue to work for 12 hours.
Have you ever tried heat therapy to help with pain or stiffness? Let us know in the comments, or find us on Facebook and Twitter!
Tags: Physiotherapy, Heat Therapy, Arthritis, Back Pain
Shop Related Products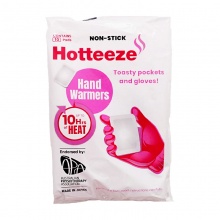 Fast-acting, easy-to-use hand warmer
Keep your hands warm and comfortable in cold conditions
Provides warmth for up to 10 hours
Ultra-thin and odourless for discreet use
---
Pair of easy-to-apply self-adhesive heat pads for the feet
Keep your feet warm and comfortable in cold conditions
Provides warmth for up to 5 hours
Ultra-thin and odourless for discreet use
---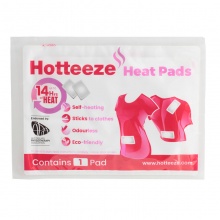 Easy-to-apply self-adhesive heat pad
Ideal for easing muscle soreness, menstrual cramps and back pain
Ultra-light and odourless for discreet warming
Eco-friendly and easily disposed after use