Physicool Cooling Product Reviews Show Exactly What Users Think!
2 Comments
Tuesday, 28 February 2017 |
Amy
Sprains, strains, and muscle pains. No matter how careful we are, it's almost inevitable that, at some point, each of us will suffer from some kind of injury or swelling of the limbs. Whether this is pre-empted, such as following a scheduled operation, or an accidental wound caused by an unexpected incident, these physical ailments can take time to heal.
However, there is a range of products that has been specifically designed to soothe pain and swelling, while simultaneously reducing the time it takes for limbs to recover. The Physicool Cooling Bandages and Coolant Spray combine a soothing cold spray with a compression wrap to reduce both unexpected and post-operative pains and swelling.
What Do Users Think About Physicool?
Here at Health and Care, we've been selling Physicool products for a number of years and over this period, we've had a lot of contact with customers telling us exactly what they think. You can find real testimonials from Physicool users below that extol the many virtues that these products have!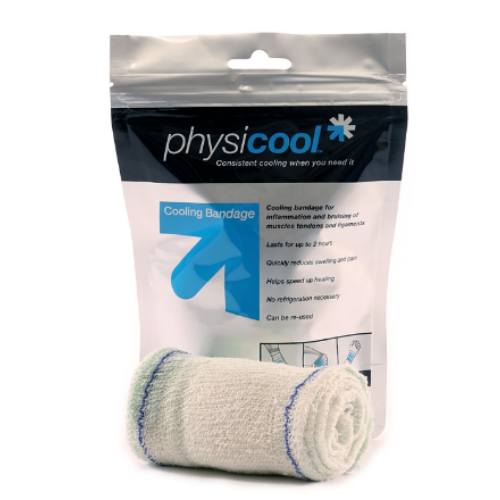 "I was blown away by how cold the bandage felt"
Ice packs are often the go-to when seeking pain relief. However, ice can quickly melt, making it both inconvenient and short lived. Physicool Cooling Bandages provide longer-lasting cooling that is just as effective as using ice.
After requiring PCL reconstruction following an injury, Gregg was first provided with an ice sleeve while in hospital. However, he explains that "following discharge I used ice packs, which were not the same. I was blown away by how cold the [Physicool Cooling] bandage felt."
Similarly, Joe also discovered the benefits of the Physicool wrap and cooling spray, noting that "the bandage cools pleasantly, unlike ice, which is harsh, and I still feel the benefit thirty minutes after removing the bandage."
The cooling bandage uses patented Evaporating Cooling Technology, and is clinically proven to outperform ice-based treatments. You don't have to worry about it melting everywhere either!
"The bandages were much easier"
Not only are the 100% cotton compression bandages effectively cold, but they are also less troublesome than ice. Katy explains that she has "suffered from rheumatoid arthritis for many years, and I really struggle when I flare up. I struggle to put ice directly onto my skin as it's too cold. The bandages are much easier and make a huge difference."
Following a total knee replacement operation, Matthew also turned to Physicool for relief. In hospital, he was given a cuff, but, as he explains, "I found this bulky and it needed regular topping up with ice. The Physicool Large Cooling Bandage is amazing and has greatly eased my discomfort. It is easy to use and recharge without the hassle of icing."
"I relied on Physicool so that I could get to sleep"
The cooling wraps are a popular option for pain relief following operations. Mary used Physicool in hospital after a knee operation, which "provided much-needed relief from the pain and discomfort, especially during the night when I relied on Physicool so that I could get to sleep. I cannot express how much this product has helped."
In addition to easing discomfort for patients, the benefits of Physicool are also praised by medical professionals. Nurse Chris explains that, "having been involved in rehab both as a patient and as a nurse, I have to say that Physicool is my go-to cryo product. Cold, compression, no mess."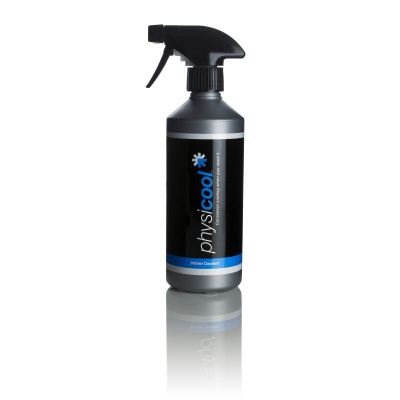 "The results have been excellent"
The cold bandages provide convenient cryotherapy in hospitals and rehabilitation clinics. They are also ideal for personal use at home too, and can offer essential relief and respite from injuries caused around the home or while playing sports.
Doug explains the benefits of using the Physicool spray and cool wrap for athletes: "I damaged my cruciate ligaments while skiing. Although ice packs helped cool the pain, they did little to reduce inflammation. Physicool offers both the cold and the compression. The results have been excellent."
The cold wrap bandages also work well for treating contact sport injuries. Olivia's husband used the Physicool Large Cooling Bandage following a rugby injury, and explains that "at his age, he's no newcomer to injuries. He was thoroughly impressed by how effective the bandage was."
"Much better than a pack of frozen peas"
The Small Cooling Bandage can be used to reduce the swelling of smaller limbs, such as elbows, wrists, calves, ankles, and feet. Deborah turned to Physicool after a recommendation from her physio. She found that the bandage provided "the compression needed after an injury," adding that "the spray keeps the bandage very, very cold. Much better than a pack of frozen peas."
Physicool eliminates the need to worry about ice or refrigeration for soothing, no matter the location of the injury. The Large Cooling Bandage is ideal for relief of pain surrounding the knees, thighs, or shoulders. Adrian found that, following a knee operation, the knee "became excruciating, tender and hot after movement or exercise. I bought the Coolant spray to recharge my bandage, and it provided much-needed cooling and pain relief."
Buy the Physicool Cooling Bandages and Coolant Spray
The Physicool Cooling Bandages are offered in two different sizes to ensure that you have the optimum compression and support for your injury. Both the Small Cooling Bandage and Large Cooling Bandage provide several hours of soothing and pain relief, and can be quickly recharged with the Coolant Spray.
The Small Cooling Bandage and Coolant Spray are also offered together in a Combination Pack, helping to ensure that you have everything you need to speed up your recovery.
Whether you frequently play sports, are scheduled in for an operation, or just want to make sure that you are able to receive convenient and effective pain relief at short notice, the Physicool Cooling Bandages and Coolant Spray are ideal for providing peace of mind that limb pain and swelling can be reduced as quickly as possible.