Perspi Guard Max Strength Antiperspirant - How Does It Work?
1 Comment
Monday, 2 April 2012 |
Paul
Excess sweating is a problem that affects millions of people in the UK each year – causing everything from embarrassment to ruined clothing to skin irritation. Scientifically, this condition is known as hyperhidrosis, which causes an overreaction of the nervous system that is too intense for regular antiperspirant to stop. Fortunately, there is a solution, as Perspi Guard provides scientifically formulated protection that's specifically designed for hyperhidrosis sufferers.
Why is Perspi Guard Better than Standard Antiperspirant?
Perspi Guard Maximum Strength Antiperspirant Treatment has been designed specifically for people who suffer from excessive sweating. It is a maximum strength antiperspirant system which has been clinically proven to control excessive sweating. Perspi controls the problem of excess perspiration at the source by preventing the moisture reaching the skin's surface. The unique formula was developed by Doctors and Pharmacologists after 10 years of research.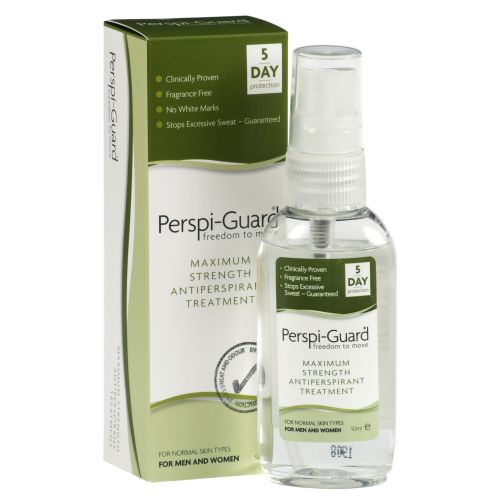 Five Days of Powerful Protection
The Perspi Guard system is so effective in controlling excess sweating, it only needs to be applied once or twice a week. From just one application it can provide 5 days of complete protection from sweating and odour, even after showering. Perspi Guard Antiperspirant is safe to use on all skin types and can be used on certain affected body areas such as underarms, feet, hand and torso.
Apply the Perspi Guard to the affected areas last things at night before you go to bed onto clean, dry skin. As Perspi Guard is not affected by washing there is no need to reapply the treatment for another 5 days. In the morning wash as normal, an unscented body spray can be used if desired.
Suitable for Most People
If you do not suffer from Hyperhidrosis, Perspi Guard is mild enough to be used by non-sufferers. Perspi Guard is ideal for long events such as parties and weddings and also for situations where perspiration is at its highest including interviews and presentations.