Our Best Ice Packs for Knees 2020
Friday, 17 January 2020
Using ice packs or cold packs to treat injuries is an effective way to get you back on your feet. They can decrease metabolic activity and inflammation while numbing the skin, which has the effect of reducing pain, swelling and muscle cramping. Ice is so useful that it can be used to treat both long term serious injuries and short term knocks and scrapes.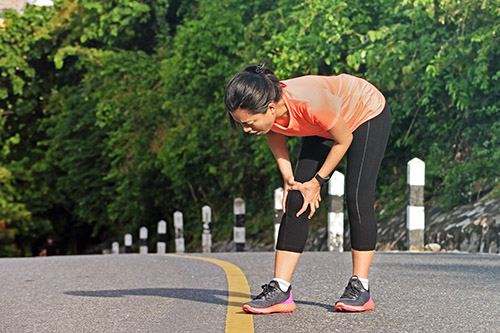 Ice packs can help increase the rate of knee injury recovery
Ice packs don't have to be administered by a health professional, which means they are extremely popular among sports teams, schools, offices and public centres, and among people trying to become more mobile after long term injuries. We've created this article to showcase what we believe are Our Best Ice Packs for Knees, hopefully giving you an idea of the kind of pack you need for the kind of injury you either have, or expect to treat.
Which Ice Pack Is for Me?
This list will take into account the different types of knee injuries you can expect to use an ice pack for. Some ice packs offer serious extended cryotherapy, some are best suited to offering instant treatment immediately after an accident, and some can be used to numb pain after a painful fracture.
Our Best Ice Pack for Long Term and Serious Knee Problems
Aircast Knee Cryo/Cuff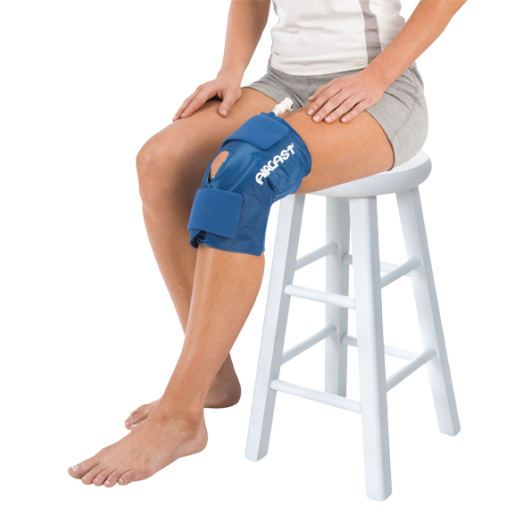 The Aircast Knee Cryo/Cuff is best suited for serious, long term knee injuries, and when purchased with the Aircast Cold Therapy Cryo/Cuff Cooler Unit can offer up to eight hours of cryotherapy from your own home. In targeting relief to the knee, the Aircast Knee Cryo can help to minimise swelling and reduce pain, perfect for post-operative support, rehabilitation, sporting injuries and trauma. Its extra large knee cuff covers the entire area, which is ideal for dealing with deep set knee injuries such as a tear of the ACL.
You need to use the Aircast Knee Cryo with the Aircast Cold Therapy Unit, which you can purchase at a discounted rate by selecting the shop now button below.

Used to treat: Long term serious knee injuries; post-operative support; rehabilitation; sporting injuries; trauma.
Our Most Versatile Ice Pack for Most Knee Injuries
Dura Soft Knee Sleeve Knee Ice Pack Wrap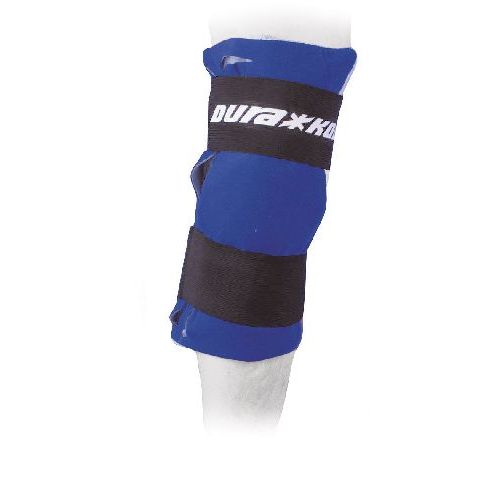 The Dura Soft Knee Sleeve Knee Ice Pack Wrap has become one of the most popular and versatile ice packs that we offer, helping to treat acute and chronic knee pain, post operative pain, swelling and tissue injury. The pack is supplied with two ice inserts that allow one to be used while the other is being frozen. The knee sleeve wraps around the leg and is secured by two Velcro straps, and because of the flexible shape it allows the ice packs to be moulded to your knee, allowing them to target the pain directly.

Used to treat: Acute knee injuries; chronic knee injuries; fractures; post-operative use; secondary hypoxic tissue injury; strains.
Our Best Ice Pack for Sports Injuries
Koolpak Sports Instant Ice Pack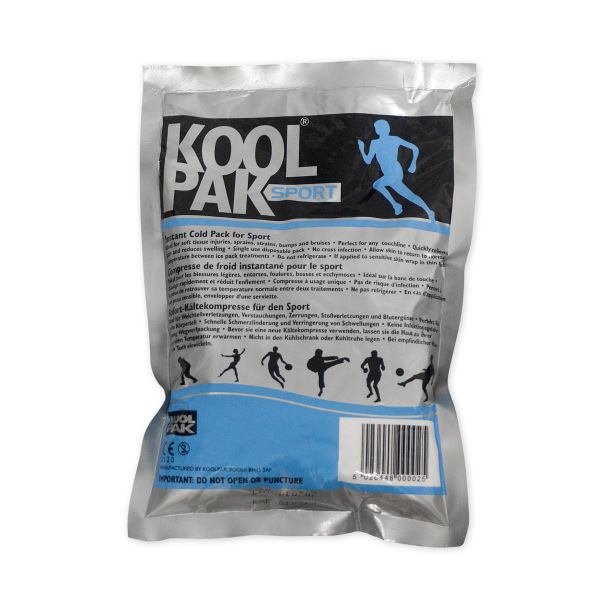 Impact injuries while playing football, or sprains from stumbling off a kerb can be extremely painful and a way to take the pain away is by providing instant cold therapy. The Koolpak Sports Instant Ice Pack can be activated in a second, before offering freezing cold therapy to freeze the inflamed area. They are disposable which reduces the risk of contamination, and are a top choice among sports physios and sports clubs.

Used to treat: Impact injuries; sprains; soft tissue injuries.
Our Best Ice Pack for Instant Pain Relief
Relief Plus Disposable Instant Ice Pack (Box of 10)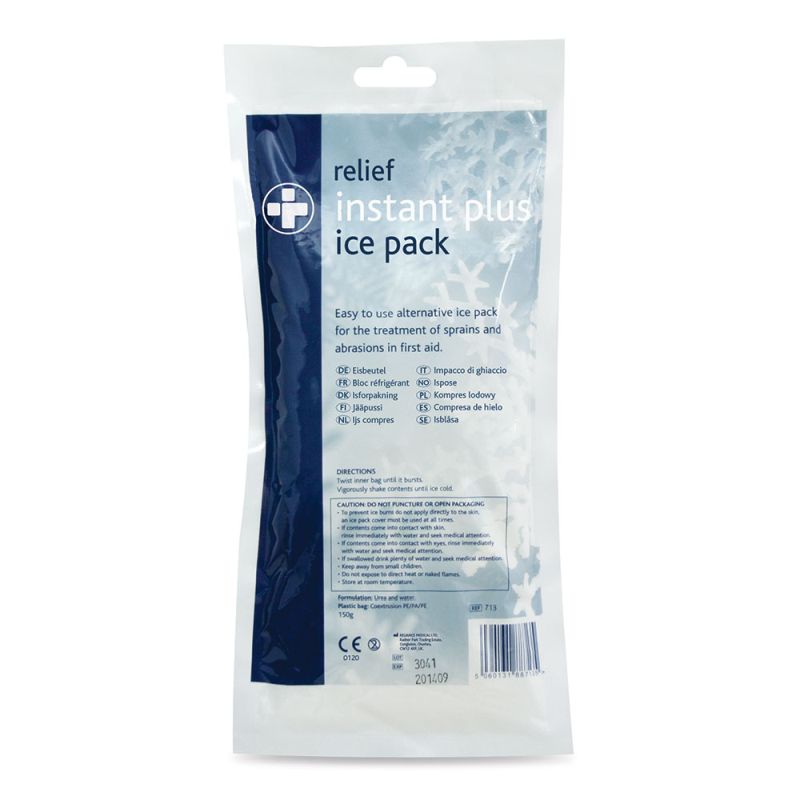 As the Relief Plus Disposable Instant Ice Pack is supplied in a box of ten packs, it is recommended for sports teams and physiotherapists alike. The pack will stay cooler than most, ensuring that swelling is reduced significantly which allows a sports player or athlete to quickly get back on their feet. The Relief Plus can be activated by being shaken, at which point it will start to get colder until the desired temperature has been reached.

Used to treat: Abrasions; sports injuries; sprains; strains.
Our Best Compression Ice Pack for Knee Injuries
Sissel Cold Therapy Compression Pack Wrap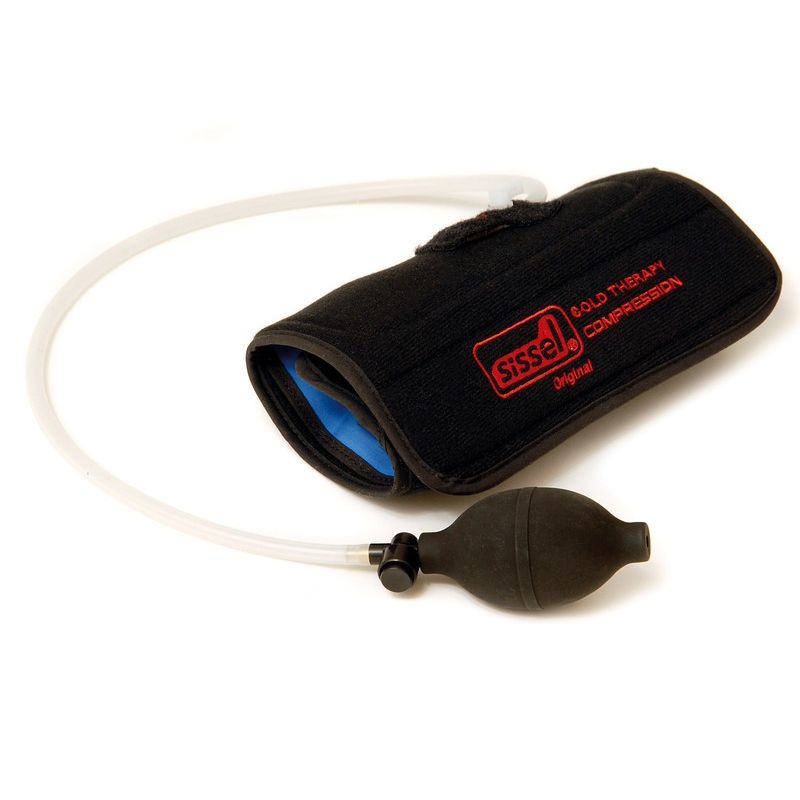 Delivering controlled compression to injuries can be the trick to a fast recovery, which is why the Sissel Cold Therapy Compression Pack Wrap combines the rapid healing effect of compression, with the pain-reducing effect of ice therapy. Containing a gel that remains cold for hours, the pack features a compress that allows you to compress the affected area to a level of your choosing. The speed at which an injury is provided with cold compression can determine the severity and recovery time of the injury.

Used to treat: Acute injuries; ligament injuries; sprains; sudden chronic pain; swelling.
Choose the Right Ice Pack
Choosing the right ice pack is important as you don't want serious cryotherapy to treat a sprain, and you don't want an instant disposable ice pack to recover from surgery. If you haven't found what you're looking for here, we would recommend taking a look at either our Hot & Cold Packs Page, or our Hot & Cold Therapy Page, where you're bound to find the ice pack for you.
Do you have any questions about our ice packs, or want some advice on the best ice pack for you? Please don't hesitate to let us know in the comments, or find us on Facebook and Twitter.
Tags: ACL Injuries, Cold Therapy, Knee Pain, Health and Care Expert Series, Rehabilitation, Top 5 Guides.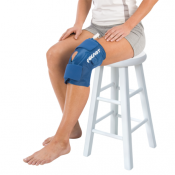 Used with the Cold Therapy Cryo/Cuff Cooler Unit
Completely covers the knee to target the whole area
Ideal for treating an injury or preventing recurrence
Provides controlled compression to minimise pain
---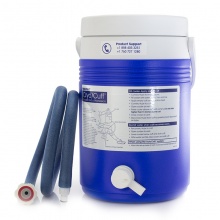 Suitable for use with a wide range of wraps
Combines cold and focal compression
Delivered using a gravity-fed system
Designed to be as safe as possible
---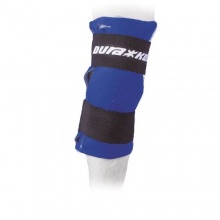 An advanced ice pack for the knee and leg
Trusted by thousands of athletes and sportsmen
Wraps around the leg and is secured in place with two straps
Can be used for both hot and cold therapy
---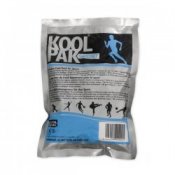 Instant ice pack provides instant pain relief

Designed for the treatment of sports injuries

Takes only seconds to activate

Ideal for use on all soft tissue injuries
---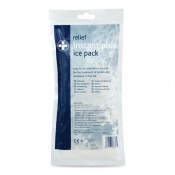 Ideal sport and physiotherapy product
Twist and shake to activate the cooling agent
Stays colder for longer than standard ice packs
Aids in reducing swelling and providing temporary relief
---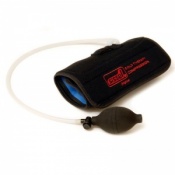 Cold Compression Pack

Ideal for treating sports injuries and rheumatic pain

Reduces inflammation and swelling

Suitable for all large joints