Stop Facial Sweating with Neat 3B Face Saver Gel 2022
1 Comment
Tuesday, 14 December 2021 |
Paul
Britain is baking under its hottest summer in years, which may signal good news for some, but for those who suffer from excessive sweating it can signal weeks of untold misery. Facial sweating can cause anxiety and embarrassment, leaving you feeling uncomfortable at social events or at work. You can help prevent Hyperhidrosis by using an antiperspirant for the face, such as the Neat 3B Face Saver Gel.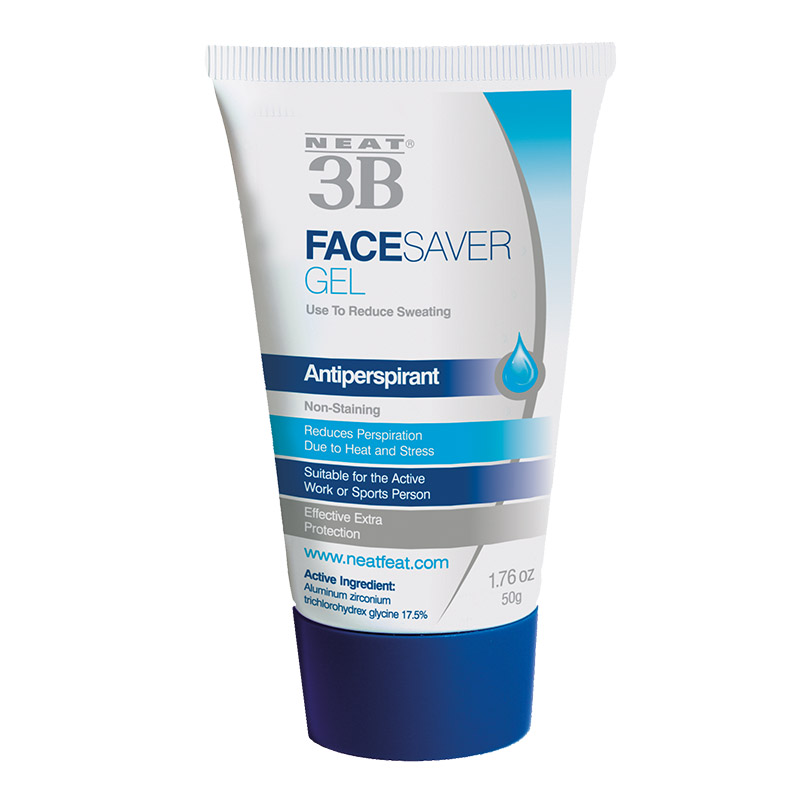 What Causes Excessive Sweating?
There isn't really any known cause for excessive sweating, but factors such as heat, stress and certain types of illness can play a factor. There are two types of excessive sweating, one called Primary Hyperhidrosis which occurs in the hands, underarms, face and feet, and Secondary Hyperhidrosis, which occurs all over the body and is triggered by underlying health conditions, medication, or excessive heat.
Why Use an Antiperspirant for the Face?
Not many areas on the body cause as much discomfort when sweating as the face. Uncomfortable and visible, it's the last thing you want before going into an important meeting at work, travelling home on a crowded train or relaxing with friends at the pub. But there is help at hand, and the Neat 3B Face Saver Gel is designed by experts to leave the face feeling fresh, comfortable and clean for many hours.
How Does the Neat 3B Face Saver Gel Work?
The 3B Face Gel works by creating a layer on the face that prevents sweating for several hours. It contains the active ingredient aluminium chlorohydrate that plugs up the sweat ducts to temporarily stop the flow of moisture from the skin. This is the most common ingredient in most over-the-counter antiperspirants, but the Neat 3B Face Saver uses specially evaporating gel to ensure comfortable application.
Features of the Face Saver Gel
Suitable for use before make-up and suncreen
Gel evaporates to leave face feeling comfortable and fresh
Plugs pores in the skin to prevent moisture from escaping
Suitable for use in low to extreme temperatures
Designed to leave no facial residue, deposit or stickiness behind
Easy to use and apply
Keeps the face looking fresh even in the hottest of weather
Designed to prevent irritation during use
Designed to prevent make-up and sunscreen from running
Can I Use Face Saver Gel?
The Neat 3B Face Saver Gel is suitable for use by anyone who suffers from excessive sweat. This can include people who suffer from health conditions, those who have long suffered from Hyperhidrosis, and those who sweat particularly badly in the summer. If you have an important event on the horizon and want to make sure you look and feel fresh, this product will leave you comfortable and cool for the duration while preventing make-up from running.
It's well suited to athletes and its longevity means that it will stay working for your entire training session or match. Do you live or plan to vacation in a hot country? The gel still promises to prevent sweating for many hours even in extreme heat. It is recommended that you skin test the product first, and keep the gel away from the eyes and scalp.
Don't Suffer this Summer
If you do suffer from excessive sweating, you are not alone. Many people do and 3B Face Saver Gel provides a much needed solution to a problem that affects thousands if not millions of people in the UK today. Don't believe us? Check out the reviews, guaranteed to keep your face cool during summer.
If you have any questions or want to make a comment regarding excessive sweating or the Neat 3B Face Saver Gel, you can add a comment below or find us on Facebook and Twitter. Alternatively if you would rather talk to someone, you can call us on 020 7720 2266!
Health and Care Expert Series, Hyperhidrosis, Sweating
Shop Related Products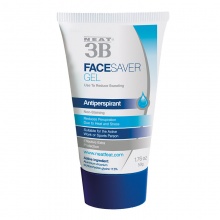 Antiperspirant gel that stops facial sweating
Ideal for hot weather, menopause, sports events and hyperhidrosis
Can be applied before makeup or sunscreen to help them last longer
Reduce stress in business meetings, social events and more