Best Non-Slip Socks 2022
Monday, 20 December 2021 | Paul
Care homes and hospitals will often use a plastic type material covering the base layer on the floor; while this is very hygienic, it can also be slippery for those who are less mobile. Indoor activities such as yoga and Pilates are often done in sports halls, where the floor too tends to be slippery. A solution to anyone who spends time slipping and sliding across the floor is non-slip socks, an increasingly popular type of sock that uses textured soles to provide grip without using shoes.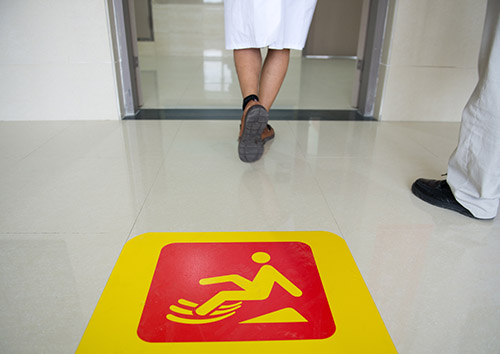 Hospital floors can be slippery to those who are less mobile
Here at Health and Care we have plenty of non-slip socks. Some are designed for serious use inside hospitals and care homes, and others can help you out in yoga, or around the house. If you're wondering which non-slip socks are suited to you, well you're in luck, as we've compiled this list of our Best Non-Slip Socks to help you make your decision.
Best Non-Slip Socks for the Elderly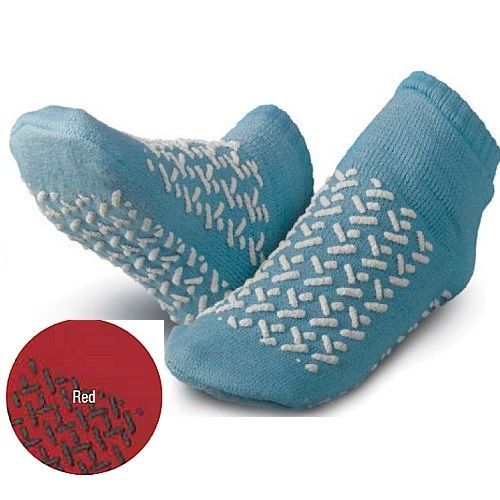 The elderly are most at risk in hospitals of slipping, which is why the Medline One Size Fits Most Double Tread RED Hospital Slipper Socks are a top choice among our non-slip socks. Used in hospitals across the UK, the Medline Double Tread Slipper Socks feature a special grip surface that prevents slipping even when walking in slippery environments.
They act as a cross between slippers and socks, providing outstanding comfort for most individuals who try them. With grip on all sides of the socks in case of twisting, these socks promise enhanced safety for those less mobile in hospitals and care homes.
Key Features: Slipper socks with grip on all sides; absorb perspiration from the foot; popular for use in hospitals and care homes.
Best Non-Slip Socks for Men and Women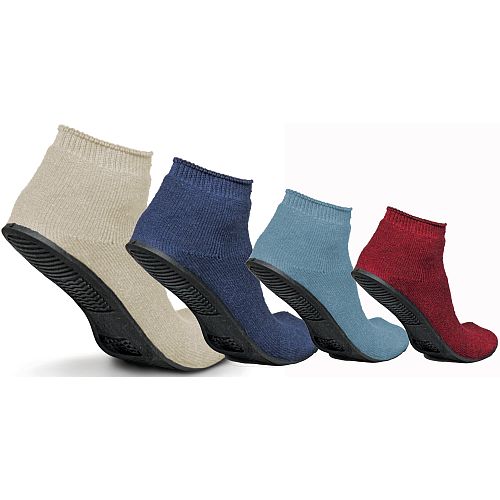 The Medline Terry Cloth Sure Grip Socks use a flexible and grippy rubber sole to prevent falls across hospital environments. Ideal for men and women these slipper socks can slip on comfortably, with their terry cloth interior providing excellent comfort while preventing an accident from taking place.
For women, we would recommend the Medium/Light Blue slipper socks and for men we would recommend the Extra Large slipper socks. If you're unsure of which size you need, click the shop now button below where you will find a choice of all four sizes.
Key Features: Extra grippy exterior prevents falling; comfortable interior ideal for use all day; supplied in a range of different colours and sizes.
Best Non-Slip Socks for the House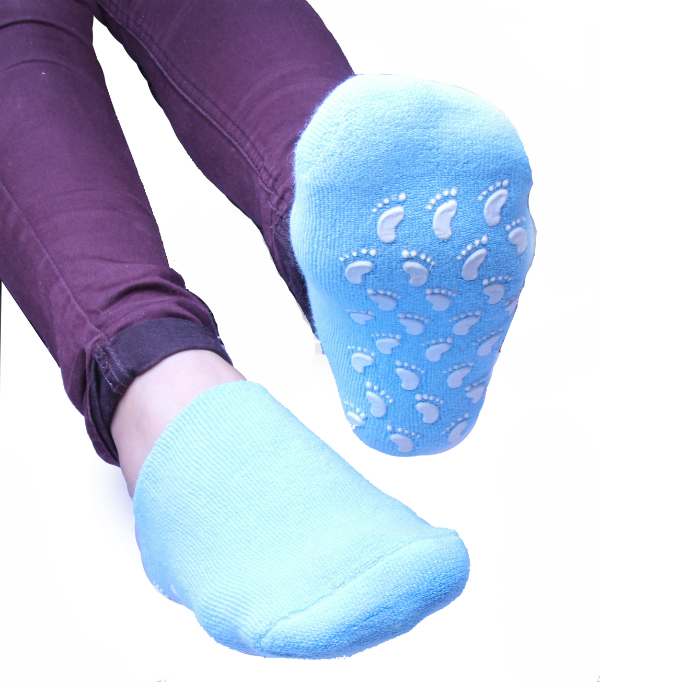 If you don't like wearing socks around the house because they make you slip, then the Pro11 Moisturising Socks are for you. While their non-slip patterned soles prevent slipping and provide grip, their vitamin enriched gel lining has been infused with essential oils to treat dry and cracked heels.
Acting both as moisture rich foot therapy and non-slip socks, these are the socks to choose if you want to treat yourself. Perfect for wearing around the house, these socks offer foot therapy and fall management at home.
Key Features: Grippy patterned non-slip soles for slip relief; vitamin-enriched for fresh feet; supplied in two different colours.
Best Non-Slip Socks for Toddlers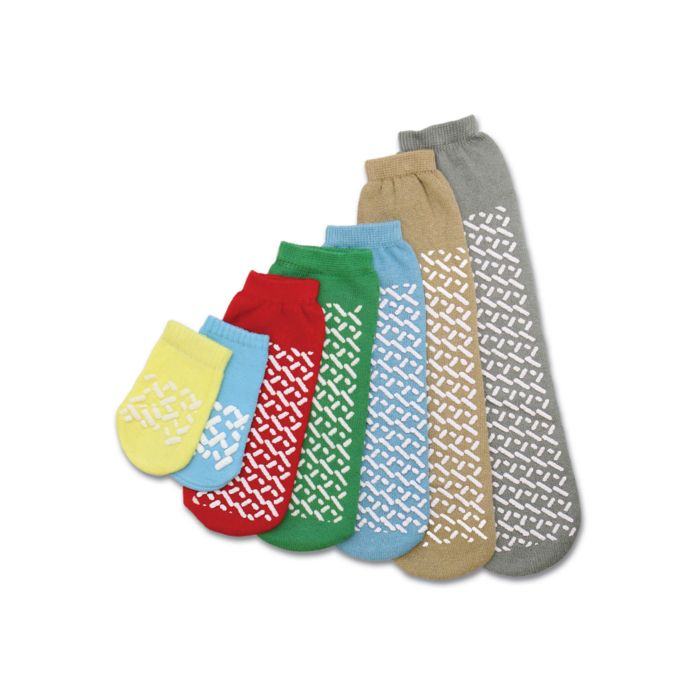 Young toddlers have only just learnt to walk, and it's common for a toddler to be a little unsteady on their feet. The Medline Single Tread Toddler/Teal Slipper Socks use a slip resistant sole to prevent slipping and sliding, which is perfect for a young child who has just mastered walking.
The comfortable interior that provides warmth is also designed to absorb perspiration, helping to keep the feet fresh even after all day use. These are the socks to choose if you're worried about your toddler having an accident on the slippery floor.
Key Features: Suitable for toddlers who have just learnt to walk; helps to prevent slipping on a slippery floor; cosy supple interior absorbs perspiration.
Best Non-Slip Socks for Yoga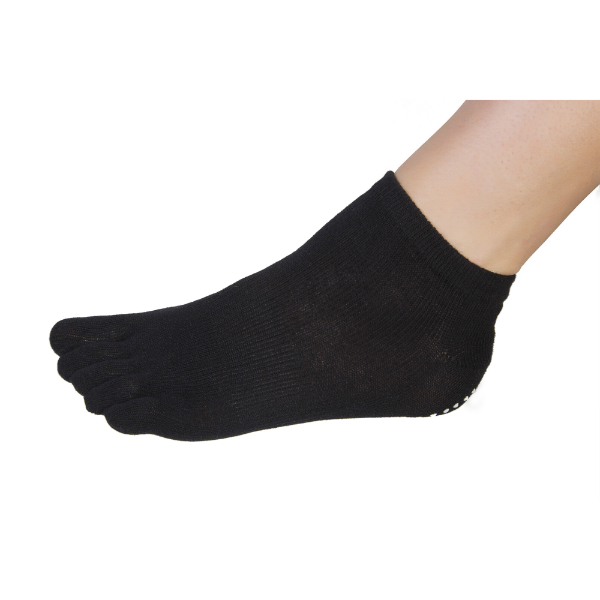 Specifically designed for use in yoga, the Pro11 Yoga Gloves and Socks are constructed from breathable cotton, and use a secure grip on the surface to ensure no slipping. With a pair of socks and gloves included in your purchase, the Pro11 Yoga Gloves and Socks are a must have for anyone who struggles with stability at yoga.
Their breathable design keeps the feet fresh during use, and while they are suitable for yoga, they can also be used for Pilates and barre. The socks don't just prevent you from slipping, as their breathable design encourages hygiene and their flexibility improves balance during use.
Key Features: Made from durable organic cotton; improve balance and traction; prevents slipping at yoga.
Don't Take the Risk
We recommend that if you do struggle with slipping yourself, or you take part in indoor activities such as yoga and Pilates, that you buy yourself a pair of non-slip socks. Slipping can cause a serious injury particularly if you're older or struggle with mobility, and with these products you can help to minimise the risk. For more fall prevention products, don't hesitate to take a look at our Falls Management range.
Do you have any questions about our non-slip socks? Share your thoughts below or find us on Facebook and Twitter!
Tags: Elderly Care, Fall Management, Mobility, Socks, Travel Aids, Wandering.
Shop Related Products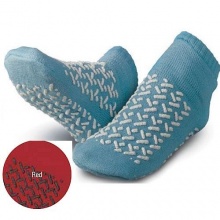 Provides patient comfort, absorbs perspiration
Used in hospitals across the UK
Easy to slip on and off
---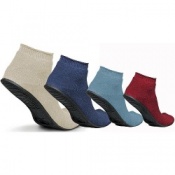 Flexible rubber sole helps to prevent falls
Terry cloth absorbs perspiration
Colour-coded red for easy size identification
Machine washable for ease of maintenance
---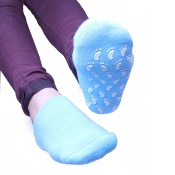 Moisturising socks with an enriched gel lining
Soften and nourish cracked heels and dry skin
Require no additional lotions or oils
Grips on the soles prevent slipping
---
Pair of anti-slip single tread slipper socks for toddlers
Ideal for little ones stumbling and taking their first steps
Helps to stabilise their feet by using an anti-slip design