Want a Bed Reading Pillow? Check out the Harley Bed Relaxer
Friday, 15 September 2017 | John
Reading in bed is a great ritual before nodding off, and it can even help you sleep better. But without proper support to your back while sitting upright, it can quickly become uncomfortable and negate the stress-relieving benefits a good book at bedtime can bring.
The Benefits of Reading Before Bed
Because of the value of sleep, it's important that you get into a regular night-time routine. Reading a book before bed is a great way to relax and disconnect yourself before entering the land of nod.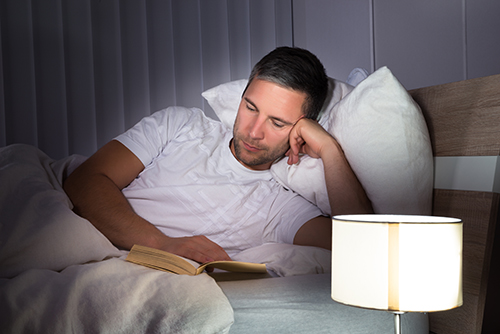 Reading in bed helps establish better sleeping habits and rituals
It gets you away from the potentially disruptive blue light of a phone or computer screen (so be sure to read a physical book and not a tablet), and can help reduce stress and anxiety – even if you're reading a heart-stopping, page-turning thriller!
But reading in bed is not without its possible pitfalls. Sitting up, with your back pressed against the headboard can quickly become uncomfortable and can actually make getting to sleep more difficult.
The Harley Bed Relaxer Wedge Pillow
A good reading cushion is a great way to upgrade your evening reading ritual, helping your back stay supported and keeping you comfortable as you get engrossed in a good book.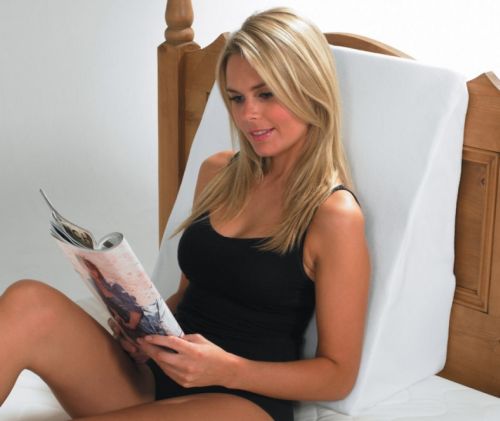 The Harley Bed Relaxer provides great support and comfort while reading in bed
The Harley Bed Relaxer wedge pillow is an ideal accompaniment to a late-night read. It's soft design and high angle makes it a fantastic bed reading pillow, providing exceptional support to your back while you read.
Soft and Comfy
Made using light and soft foam, the bed wedge pillow is fantastically comfortable against your back, and helps keep you supported at a perfect angle for reading. What's more, it even includes its own cover that feels great against your body.
Great for Reading and Sleeping
As well as being a great back support pillow in bed, making reading more comfortable, the Harley Bed Relaxer is also a great pillow for sleeping on. Placed horizontally in place of conventional pillows, it provides extra support to your head while you sleep.
This can have a number of benefits to the quality of your sleep. It helps your airways stay open, which not only helps you breathe more easily while asleep, but can also help to stop snoring – ideal for those accused of keeping their partners awake!
Buy the Harley Bed Relaxer from Health and Care
If you're interested in buying a Harley Bed Relaxer Bed Wedge Cushion, we've got a range of colours to choose from at Health and Care to best fit in with your style:
Even better, all products at Health and Care feature FREE UK Delivery, giving you peace of mind that what you see is what you'll pay.