The Best Wedge Pillow for GERD?
Friday, 29 September 2017 | John
Gastroesophageal Reflux Disease (better known as GERD or GORD) affects the ring of muscle between the oesophagus and stomach. It can cause the stomach's contents to enter the oesophagus, which is more commonly known as acid reflux or heartburn.
This feels exceptionally unpleasant and can irritate or even inflame the oesophagus, causing complications later on. Because of this, it's important that if you're suffering from GERD, you can do everything possible to prevent acid reflux. Wedge pillows like the Harley Bed Relaxer place your head at an incline, helping to prevent acid reflux.
How Do Wedge Pillows Help GERD?
By placing your head at an incline as you sleep, wedge pillows for GERD like the Harley Bed Relaxer uses gravity to help keep your stomach's contents out of your oesophagus. This helps you get your forty winks without walking up the next morning with an unpleasant-feeling throat.
The Harley Bed Relaxer – Comfortable Support
Fantastically soft, the Harley Bed Relaxer wedge pillow is made with comfortable polyurethane foam, helping your whole body sleep well. It even includes a soft cover made with a blend of velour and polyester fleece that both keeps the wedge cushion in top condition but also feels fantastic against your head.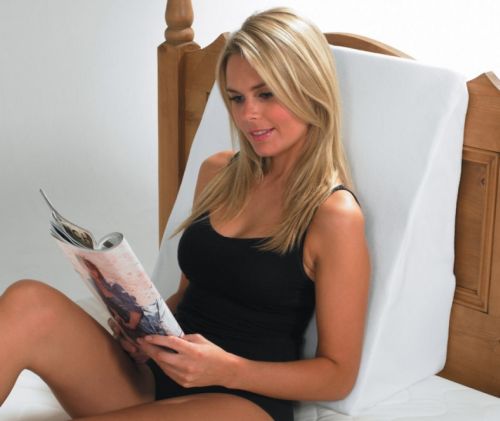 The Harley Bed Relaxer provides great support and comfort while sitting up in bed
As well as being a great sleeping pillow, the bed relaxer is also ideal as a backrest pillow for reading or watching TV in bed. Its comfortable design feels great against your back, and provides the support needed for sitting up in bed comfortably.
What Do Our Customers Say?
Don't just take our word for it, though. Many of our customers have found that the Harley Bed Relaxer has helped with digestive conditions like GERD, enabling them get a great night's sleep every night.
Jenifer - Delivery was very quick. Product exactly what I needed, really helpful in reducing gastric reflux and symptoms of hiatus hernia. Foam firm and supportive but does allow lying on side. Highly recommend.
Rating: ★★★★★
Kathryn – Very helpful for a good night's sleep if you have a breathing disorder or suffer indigestion.
Rating: ★★★★★
Barrie – Sleeping much better after years of digestive problems.
Rating: ★★★★★
Christine – It was either this or yet more antacid meds! I am delighted to say after getting the Harley Bed Relaxer I haven't had to take ANY antacids! This sounds a bit like a commercial!
Rating: ★★★★★
Linda – Delivery next day! Really helped with reflux problems and an added bonus helped stop snoring, thanks.
Rating: ★★★★★
John – Pleased with the product as it has stopped me choking on reflux during sleep. Good customer service, quick delivery, would purchase from company again.
Rating: ★★★★★
Buy the Harley Bed Relaxer from Health and Care
If you're interested in buying a Harley Bed Relaxer Bed Wedge Cushion, we've got a range of colours to choose from at Health and Care to best fit in with your style:
Even better, all products at Health and Care feature FREE UK Delivery, giving you peace of mind that what you see is what you'll pay. If you've found success with the Harley Bed Relaxer, let us know in the comments or find us on Twitter and Facebook!