Medi9: The Hand Sanitiser That'll Get Rid Of Flu Viruses
Friday, 18 December 2015 | John
With winter in full swing, more and more of us are at risk of contracting the flu. It's nothing to be sniffed at, and it's something we should all do more to stop spreading.
What is the Flu?
Flu is short for influenza and is incredibly common. Although the common cold is often called flu, the two are not the same. Flu is caused by an entirely different set of viruses and symptoms usually crop up more suddenly, last longer and be much worse.
The major symptoms of flu are:
High fever of 38°C or higher
Tiredness and weakness
Headaches
Aches and pains
Dry, chesty cough
These symptoms usually last a week, and can be so debilitating that you have to stay in bed until you're better.
What Causes the Flu?
Flu is caused by groups of different viruses. Because there are a huge variety of different strains and they mutate quickly, flu vaccines have to be tweaked every year and they aren't 100% effective. So it's important to take as many preventative steps as possible.

What Are the Dangers of Flu?
Alongside the obvious symptoms, there are some more serious dangers of flu. Flu outbreaks in hospitals can close wards, as well as cause staff to focus on infection control measures rather than treating patients.
Flu breakouts in workplaces and schools also have similar consequences, causing losses of productivity because of sick days.
How Can Medi9 Help Get Rid Of Flu?
Medi9 is one of the most comprehensive sanitising solutions on the market. Its unique formula kills 99.9% of germs and viruses, including the H1N1 flu virus. It also kills:
This makes it fantastic for both hospitals and workplaces, preventing the spread of flu and keeping people healthy.
What's more, Medi9 is available in a range of different forms to match your needs. It's available in:
Hand sanitiser
Surface spray
Floor cleaner
Antibacterial wipes
So that you can get the best level of care for your hospital, school, workplace or even your home; wherever you need it.
Not only does Medi9 kill a host of viruses and germs and is available in a range of forms, it does this while being alcohol and Chlorine-free. This means that it can be used without causing the issues that chlorine-based products do, and won't cause the cracking in hands that alcohol-based hand sanitisers can.
If you're interested in getting your hands on some Medi9 to beat the flu this winter, head on over to Health and Care and check out our range of Medi9 products.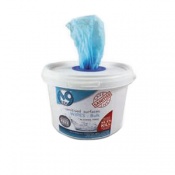 Trusted sanitising solution for use anywhere
Alcohol-free solution
Kills Norovirus, MRSA and 99.9% of germs
Bulk quantity ideal for hospitals/care environments