10 Motives Discount Codes: Save Money on 10 Motives E-Cigarette Refills
Monday, 29 June 2020 | Paul
10 Motives provide one of the UK's best selling cigalikes, available here at Health and Care supplied with many different flavours and strengths. Whether you've just started vaping or if you're looking to transition from smoking to e-cigarettes, you can save money through our 10 Motive Discount selection. Savings are already applied for you so you don't need to worry about any complicated 10 Motives voucher.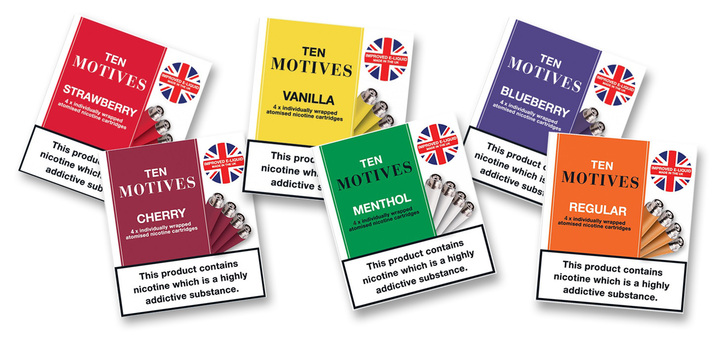 Which 10 Motives Discounts Are Available?
To help you save on 10 Motives e-cigarette refills, we've created a range of deals that allow you to save money on purchases of 5, 10, 20, 30, or 40 packs of 10 Motives refills. The more packs you buy, the more you save; this is ideal if you like to bulk buy your refills to help ensure that you never run out when you need them.
How Do I Get a 10 Motives Discount?
Each of the flavours available comes with a discount depending on the number cartridges that you buy. All you need to do is:
Click on your chosen flavour and strength below
Once you have clicked on your flavour click on the "please select" drop-down button at the top of the new product listing
Once you have clicked the drop-down menu, you'll see a choice of different pack sizes along with your chosen discount
Select "Add to Basket" and continue with your purchase
Click the Below Flavours to View Your 10 Motives Discount
How Does the 10 Motives Discount Work?
The number of packs you should choose will depend on how frequently you wish to purchase refills and how long it takes you to get through one pack. Each pack contains four refills, and each refill provides the nicotine equivalent of up to 25 cigarettes. Please see the table below for more information.
| Pack Size | Total Refills | Equivalent Number of Cigarettes* |
| --- | --- | --- |
| 5 Packs | 20 Refills | 500 Cigarettes |
| 10 Packs | 40 Refills | 1,000 Cigarettes |
| 20 Packs | 80 Refills | 2,000 Cigarettes |
| 30 Packs | 120 Refills | 3,000 Cigarettes |
| 40 Packs | 160 Refills | 4,000 Cigarettes |
*Based on the nicotine content per cigarette
Can I Use Any E-Cigarette to Get Money Off 10 Motives?
The 10 Motives E-Cigarette Refills are designed specifically for use with the 10 Motives Electronic Cigarette. By purchasing the e-cigarette and compatible refills, it will ensure that you can connect the battery and your cartridge without any issues.
If you're new to 10 Motives, then purchasing a starter kit will provide you with the device and a cartridge flavour of your choice to see if it's the right vape brand for you. The starter kit can be purchased as one of the following:
Can I Buy Just One Pack of Refills?
Yes! Each 10 Motives flavour is available to purchase as an individual pack of four refills. If you're just starting out with 10 Motives, you may prefer to purchase an individual pack of each flavour to help you to decide which vape flavour is right for you. Once you have decided on your flavours of choice, buying larger pack quantities will help you to save money in the long run.
Do I Need a 10 Motives Voucher?
You don't need a Ten Motives voucher to get a discount on your Ten Motives purchase. All you need to do is click on any of the flavours listed below, click on the pack size and choose the pack size with the discount for you.
Which Ten Motives Flavours Are Available With Money Off?
The following flavours are available for use with the Ten Motives E-Cigarette. Please click on the nicotine strength of the flavour you're interested in to view the money-saving discount levels on each product individually.
FREE Starter Kit Offer On 10 Motives!
To get you started on the right foot with 10 Motives, Health and Care is offering a FREE 10 Motives Rechargeable Regular E-Cigarette Starter Kit with any purchase of a 10 Motives product. This offer is limited to one per customer and/or household and is available ONLY to existing Health and Care customers who have not already purchased a 10 Motives product. Please enter your details below and we will offer you the voucher code to use at checkout.
Do you have a favourite 10 Motives flavour? Maybe you prefer one for during the day and another in the evening! Why not let us know in the comments below, or find us on Twitter or Facebook!