The Secret to Working from Your Bed Productively
Monday, 21 September 2020 | Paul
Have you ever tried working from bed? While a comfortable work environment can certainly do wonders for your productivity, bed's aren't really designed for this purpose and can actually have the opposite effect on your professional performance.
Luckily this doesn't have to be the case, and with some simple planning, you can create a bed-centred work space that boosts productivity rather than hindering it. So if you're ready to have your cake and eat it too, check out our simple tips below.
Our Top Tip: Support Your Back with the Harley Bed Relaxer
Our Must Have Product for Working in Bed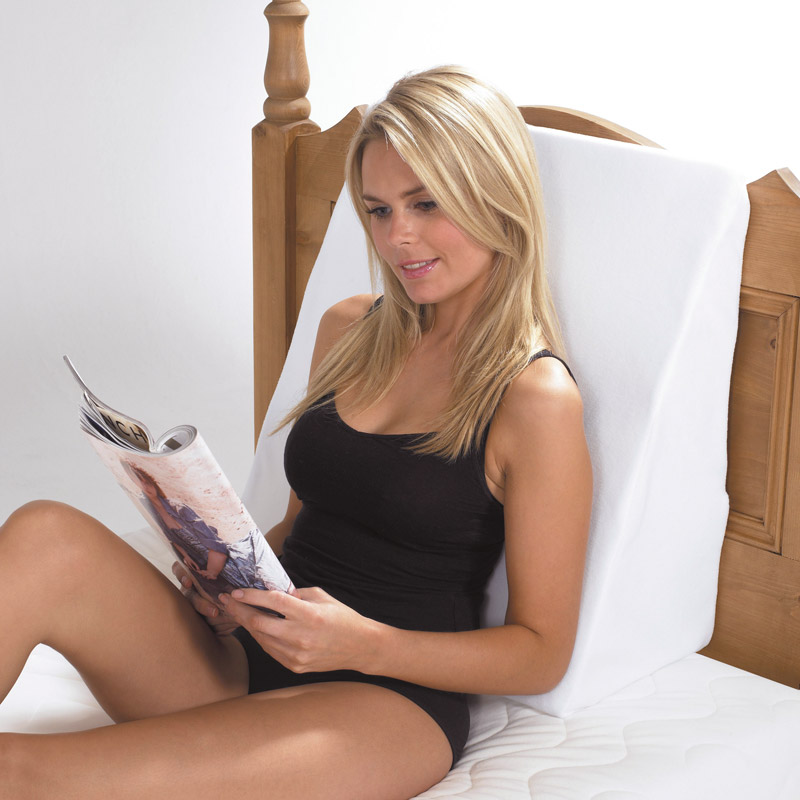 Why We Love it:
Perfect for supporting your back when sitting upright in bed
Wedge shaped design stabilises both your upper and lower back
Allows you to reach your keyboard without leaning forward
Polyurethane foam is both sturdy yet soft for optimal comfort
Compact enough to fit on most bed frames
You spend several hours sitting in your work space each day, so it's vital you properly support your neck and back to avoid pain and injury. Many standard pillows are too flimsy or poorly shaped to offer the level of support you'd expect from an office chair, which is why our experts recommend the Harley Bed Relaxer White Bed Wedge Pillow.
How Does it Work?
This pillow is specifically designed to support you when sitting upright and features a wedge shape which holds your upper and lower back in an ideal position to prevent strain. By tapering upward, the pillow keeps your spine straight while you lean back, so you can relax without twisting your muscles. This helps to reduce the risk of pain and injury and allows you to maintain a healthy posture at all times.
Made from soft yet sturdy polyurethane, the Bed Relaxer is incredibly comfortable to boot. It moulds easily to the contours of your body, so that you receive the perfect amount of cushioning comfort for you.
Once you add this feature to your work space, you won't have to worry about a stiff neck, sore shoulders or back pain again!
Tip #2: Use a Table
If your screen is too high or too low, you may end up straining your neck and back. It's tempting to keep your device on your lap, but this position is sure to wreak havoc on your spinal system, especially if you end up bending forward for most of the work day. By adding a laptop table, tray table or box to your setup, you can ensure your screen sits directly at eye level so your back and neck are kept in a healthy position at all times.
Tip #3: Take Breaks
Sitting in the same position all day is bad for the body even if your aren't lying in bed. To promote healthy circulation and stop yourself from getting stiff, we recommend you change your sitting position frequently, and that you take regular breaks throughout the day. You can stand up and have a stretch, take a short walk around your room, or even go to the kitchen to grab a drink.
According to the NHS, it's better to take short breaks more frequently, rather than longer ones that are more spread out over the day. This is because they allow you to relax your muscles more often so they don't become sore of strained.
Tip #4: Avoid Glare from Your Screen
Glare from a screen can be irritating, and may even be damaging to the eyes. If you suspect your screen has glare, you can check the direction it's coming from by holding a mirror in front of it. Once you've found the source of light, adjust your monitor so it's facing away from it, or remove the source of light entirely. This may mean closing your blinds or turning off an necessary lamp.
You can also adjust the brightness or contrast of your screen if it is too bright for your eyes.
Tip #5: Stick to a Set Routine
Last but not least, make sure you have a set work routine that you stick to so as to prevent the line between work and rest from getting blurred. This is especially important if you work in bed as you may develop stressful associations with your sleeping space, which can make it harder for you to switch off and get to sleep at the end of the day.
To keep work and rest firmly separate, try to wake up, get ready, and have breakfast at a similar time each day. Get dressed and make your bed so you can lie on top of the covers, rather than settling back into a sleeping position. Additionally, you can give yourself some time before you start working to wake up fully, perhaps by reading a book, writing in a diary or listening to music.
Finally, once the work day is over, cleanse your space of anything work related, and give yourself time wind down for the evening.
Works Like A Dream
We hope these tips have helped you improve your set up when working from bed so that you can get the most out of the experience. If you've found the Harley Bed Relaxer to be particularly effective, you can browse more supportive pillows for the bed, have a look at our full range of Bed Back Rests.
Did you find this article helpful? Let us know in the comments below, or find us on Twitter and Facebook.
Tags: General Health, Product Focus, Neck Pain