Best Massage Cushions with Heat
Monday, 22 October 2018 | Paul
Whether you spend the day on your feet, or hunched behind a computer, your body is likely in need of a relaxing massage more often than you would like to admit. The soothing combination of penetrating heat and deep-tissue massage is known to do wonders for rejuvenating muscles, relieving stress and restoring a natural balance to your system, and with the right massager, you can get the complete treatment in the comfort of your own home every single night.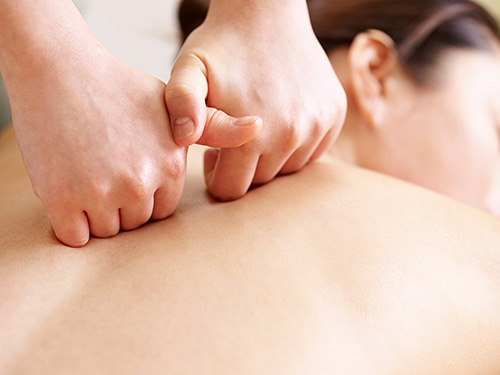 There is a broad range of heating pads and massage cushions available for you to choose from, yet finding a cushion that would combine the benefits of a relaxing massage with penetrating heat is not such an easy task. That is why we've decided to do a little bit of digging for you, and put together this list of suggestions for the Best Massage Cushions with Heat.
Shiatsu Massage Cushion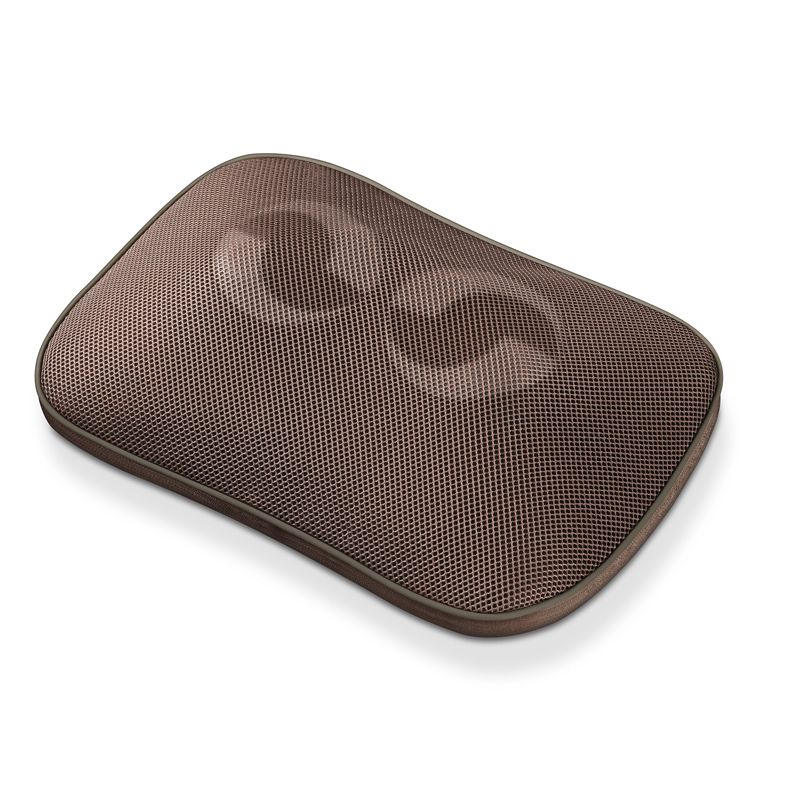 Shiatsu massage involves soothing and relaxing massage with the fingers, thumbs or palms. The Beurer MG147 Shiatsu Massage Cushion features four rotating massage heads that perfectly imitate the movements for a relaxing experience in the comfort of your own home. With its optional heating function, the cushion surpasses the traditional massage, as it keeps you warm and cosy throughout.
This massage cushion with heat can be used on any body part for targeted pain relief. It can help you relax your tired neck, shoulder, upper and lower back, as well as your legs, arms and even feet.
Key Features: Perfect imitation of shiatsu massage; four massage heads rotating in opposite directions; surface made of breathable mesh for added comfort
Portable Shiatsu Massage Cushion
Similar to the above massage cushion, but designed to be easy to bring with you wherever you want, the Beurer MG520 Portable Shiatsu Massage Cushion is small and compact, with an integrated battery that makes it suitable for use anywhere. The operating buttons can be found on the device itself, which means you don't have to worry about moving any cables or control switches.
The cushion features four rotating massage heads and two massage direction settings that perfectly imitate a traditional shiatsu massage, as well as a soothing heat function. It can be used for shoulder, neck, back and leg massage, while its portable design makes it ideal for relaxation and regeneration immediately after a workout.
Key Features: Ideal for travel; battery operated; operating element on the product; four massage heads and two massage direction settings
Back Nodger Massage Cushion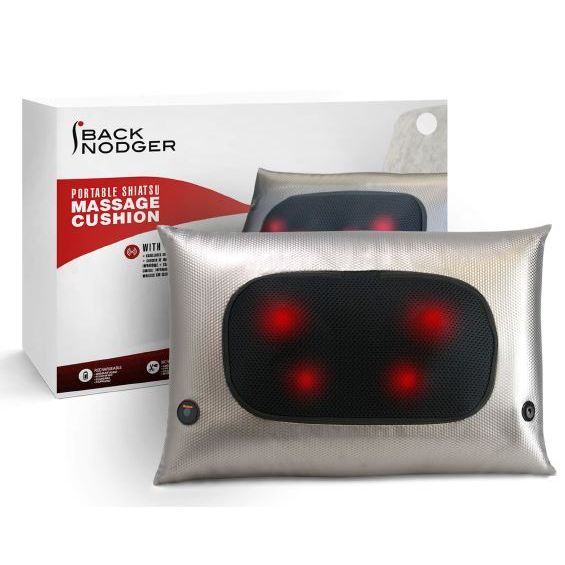 Unlike the massagers mentioned so far, the Back Nodger Massage Cushion doesn't imitate shiatsu massage, but features infrared deep tissue massage rollers that are perfect for relieving pain instantly. Small, practical and completely wireless, with a one hour battery life, this massage cushion is perfect for travel.
You can use the Back Nodger Massage Cushion to help you relax your upper and lower back, as well as your neck in cars, trains and aeroplanes, on sofas and in armchairs, office chairs, and beds. The cushion automatically switches off after 10 minutes of inactivity, which means you can safely use it even if relaxing massages tend to make you sleepy.
Key Features: Four deep tissue massage rollers; completely wireless; one hour battery life; can be used anywhere; automatic switch off function
Shiatsu Massage Seat Cover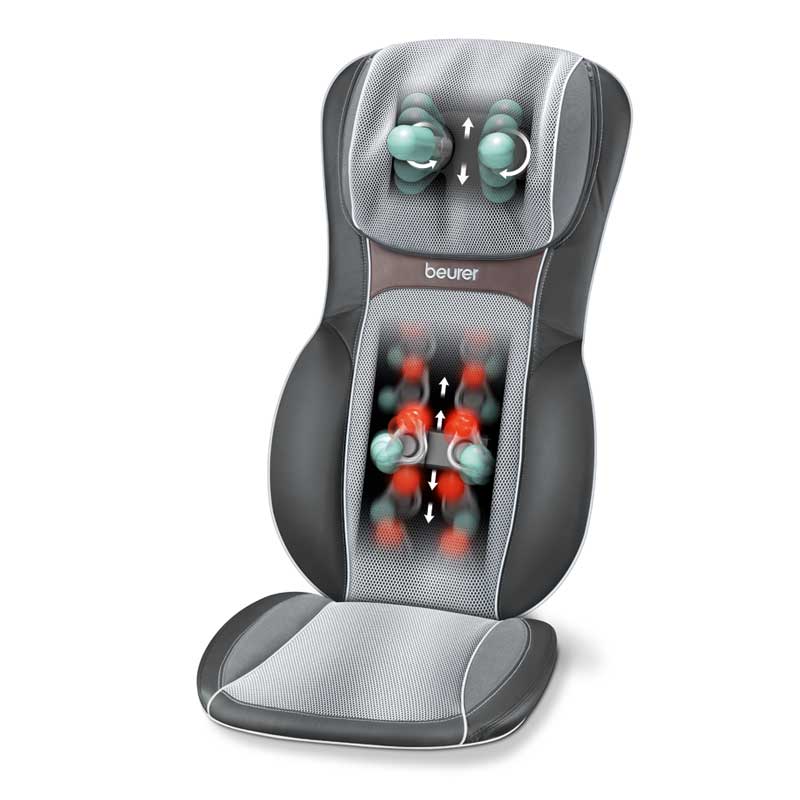 If you spend a large chunk of your day behind the wheel, whether as a part of your job or a long daily commute, the Beurer MG295 Shiatsu Massage Seat Cover can turn your journey into a relaxing adventure. The seat cover combines four rotating massage heads with heat functionality, delivering instant pain relief and soothing muscles.
The Massage Seat Cover is not restricted to use on your car seat, though. You can easily fit it on most seats, and enjoy a relaxing, deep-tissue, full-back massage anywhere in your home.
Key Features: Fits any seat, including car seats; offers deep, full-back massage along the spine; automatic switch-off after 15 minutes
The combination of deep-tissue massage and warmth is the perfect choice for tired evenings, especially during those cold winter months. If you find yourself feeling exhausted day after day, we strongly recommend giving one of these massage cushions with heat a try.
Have you tried the soothing combination of massage and heat yet? Let us know in the comments below, or find us on Facebook and Twitter!
Tags: Heat Therapy, Keeping Warm, Neck Pain, Shoulder Pain
Shop Related Products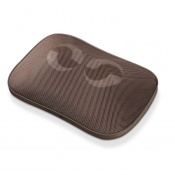 Shiatsu massage for your neck, back, shoulders or legs
Four massage heads rotating in opposite directions
Equipped with light and heat functions
Easy operation with manual control switch
---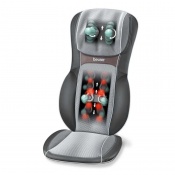 Penetrating 3D back massage, spot and shiatsu neck massage
Select clockwise or anticlockwise massage direction
Features four massageheads for complete relaxation
Comes with a switchable light and heating function