Best Heat Pads for Neck Pain 2022
Thursday, 23 September 2021 | Eugene
Neck pain can be caused by all sorts of things – from sitting at your desk all day to sleeping in an awkward position at night. Whatever the cause, neck pain can be extremely debilitating, making every facet of your life more difficult, so it's important to get it sorted out right away. At Health and Care, we stock a range of heating pads that are specially designed to tackle stiffness and pain in your neck, so if you're at your wit's end with neck pain, you're in the right place.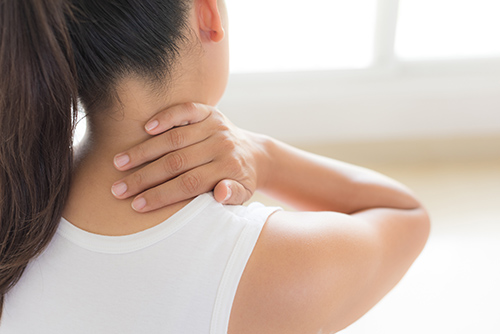 One of the best ways to instantly relieve neck pain is to apply targeted soothing heat to the area
About Neck Pain
While heat therapy is usually the most effective way to instantly relieve your neck pain and stiffness, there are some other effective methods that you can try beforehand. Here are our top tips for neck pain relief:
Try using an anti-inflammatory medication, such as paracetamol or ibuprofen to lessen the pain
Use a low, firm pillow while sleeping that fills the head-shoulder gap
Ensure your head is at the same height as the rest of your body when sleeping
Make a conscious effort to sit with better posture during the day (shoulders and neck back)
Avoid sleeping on your front, as this can cause awkward twisting of the neck
If all else fails, use a heat pad for instant relief
Best Electric Heat Pad for Neck Pain
Hot water bottles have dominated the world of soothing heat for years, but this old world method can be messy, clumsy, and won't hold its heat for long. Electric pads are the natural solution, as they can be tailored for each body part, and won't lose their heat until you turn them off.
Beurer Shoulder and Neck Heat Pad HK54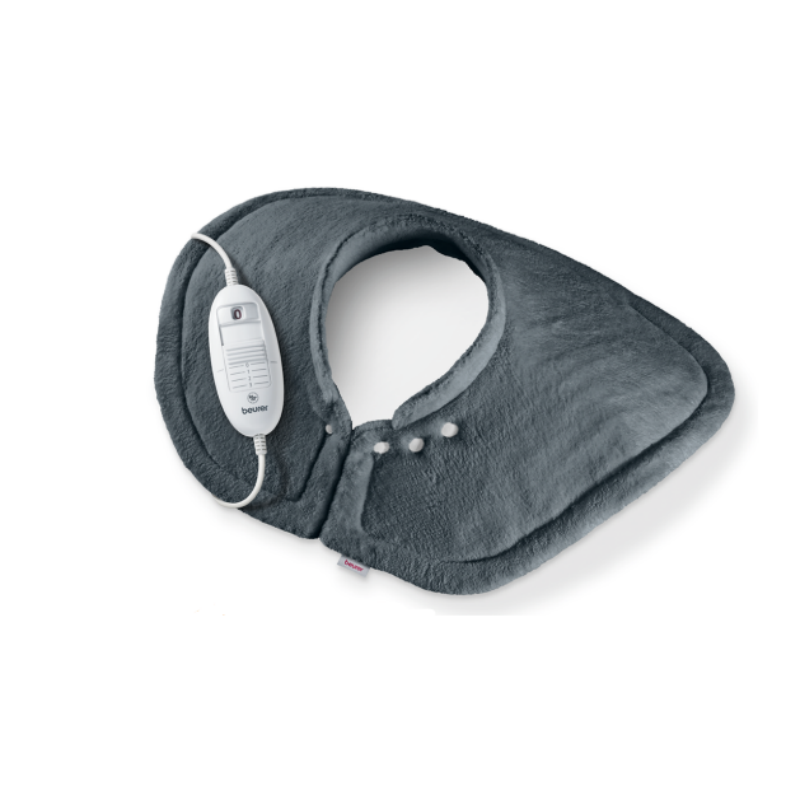 While we stock plenty of soothing and cosy neck warmers, it's hard to beat the consistent, long lasting heat that an electric heat pad can provide. The Beurer Shoulder and Neck Heat Pad HK54 is designed to comfortably fit around your neck, and is covered with a soft, cosy fleece lining for extra heat retention and comfort. With different heat settings that range from 50°C to 75°C, you can customise your relief to your needs and comfort, while a magnet closure ensure the pad is secure and easy to apply for soothing heat whenever you need it.
Key Features: Soft, breathable fleece lining with three heat settings
Hot and Cold Therapy for Deep Muscle Relief
Standard heating pads can provide effective heat therapy to ailing muscles, but for the most soothing relief, a combination of hot and cold therapies can provide exactly what you need. Cold therapy relieves pain and swelling, while heat therapy provides exceptional comfort and muscle relaxation.
Sissel Soft Touch Tri-Sectional Hot Cold Pack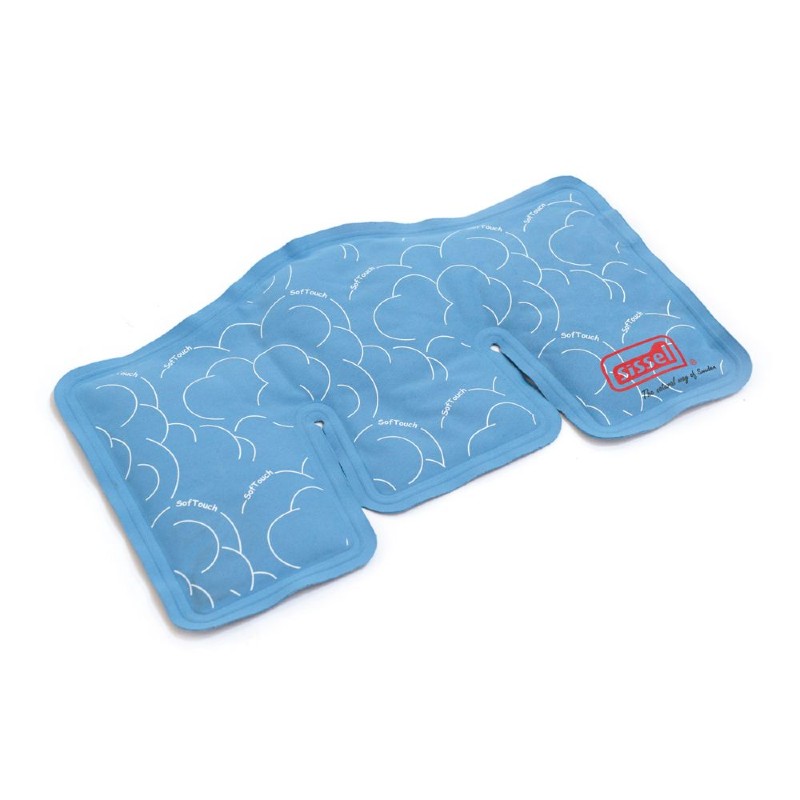 When neck pain strikes, there's no better way to combat it than with hot and cold therapies. The Sissel Soft Touch Tri-Sectional Hot Cold Pack is designed to provide hot and cold treatment exactly where you need it; targeting the hard-to-reach areas of your neck, upper back and shoulders for effective relief. Place either in the microwave or freezer depending on your desired treatment, and this pack will instantly provide therapeutic properties to provide relief from aching muscles.
Key Features: Provides targeted hot and cold therapy for the neck and shoulders

Natural Solution to Neck Pain
There seem to be all sorts of new and modern ways to treat simple problems, but some people will always prefer a more natural approach. If that sounds like you, why not try a method with an emphasis on the use of recyclable and natural products?
Sissel Vinotherm Hot Pad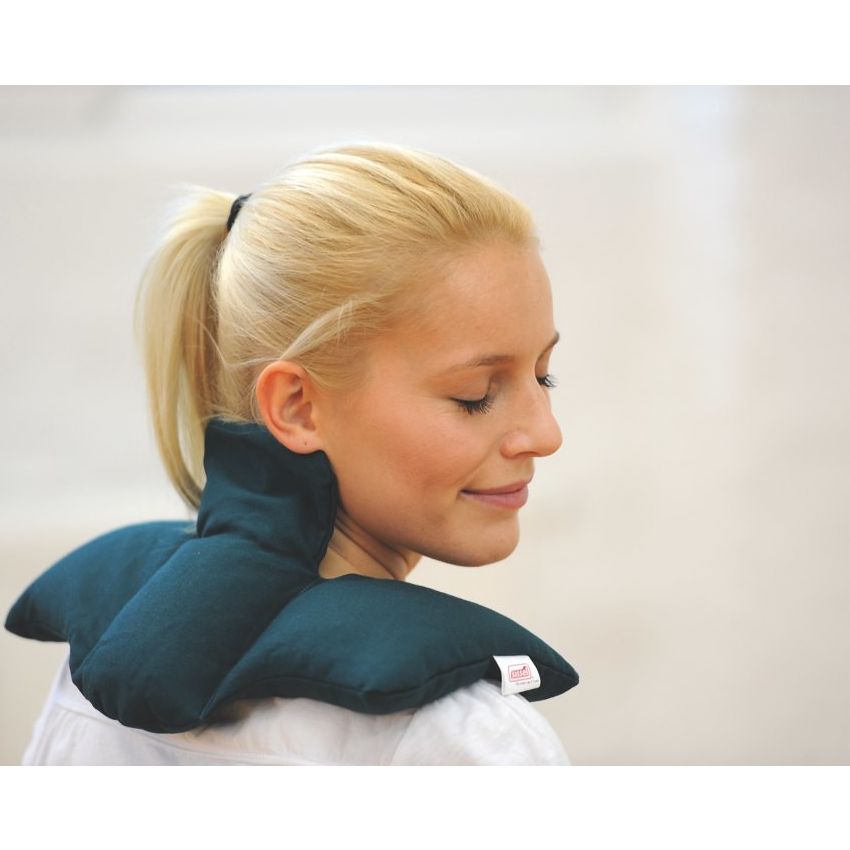 Made with 100% natural and recyclable materials, the Sissel Vinotherm Hot Pad is designed with a unique shape to allow you to target your neck, shoulders and virtually anywhere else you need relief from pain and stiffness. It's filled with all-natural grape seeds that are a by-product of the French wine industry, and feature exceptional heat-retaining properties. Simply pop the product in the microwave for 60 to 90 seconds, and enjoy long-lasting and soothing pain relief for your neck, shoulder and back.
Key Features: Filled with all-natural grape seeds from the French wine industry, and made with 100% recyclable materials.
Best Neck Pain Solutions
Don't see what you're looking for on our list? At Health and Care, we have all sorts of solutions for your pain, whether it's in your back, neck, shoulders or anywhere else. If you want to see all of our heat pads for neck pain, take a look at our Back, Neck and Shoulder Warmth category, full of all sorts of specially-designed solutions to target the area and have you feeling better. To see all the heating products we have to target pain in your body, browse our entire Heating and Warmth category, and we're sure there will be something there for you!
Do you have any questions about our heat pads for neck pain, or something to add? Share your thoughts below or find us on Facebook and Twitter!
Tags: Best Christmas Gifts, Great Gifts, Heat Therapy, Neck Pain, Pain Management, Shoulder Pain, Sleep Better