Mueller knee support, elbow supports, sports balm & ice packs
Monday, 20 August 2012 | Paul
Key product: Mueller HG80 Hinged Knee Brace with Kevlar

Mueller sport supports and sport accessories have been a popular choice for athletes since the early 1960's. Curt Mueller began his business in 1961 and it is now a family owned business known as Mueller Sports Inc. Health and Care are pleased to provide the fantastic range of Mueller sports supports and braces including the Mueller HG80 knee brace, Mueller Football Ankle Brace and the Mueller Lifecare Contour range.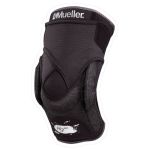 Mueller HG8- Hinged Knee Brace with Kevlar
Mueller knee supports are some of the most popular knee supports available and are worn by amateur and professional athletes alike. The Mueller HG80 Hinged Knee Brace with Kevlar is made from Mueller's exclusive moisture wicking fabric. This unique fabric latex and neoprene free, making it the ideal knee support for people who are sensitive to these materials. With its patented traxial hinges, the Mueller HG80 hinged knee brace provides maximum support and protection to the knee. This Mueller knee support also comes with an upper strapping system resulting in a tibial containment system which provides superior support.
Used by football teams worldwide, the Mueller Football Ankle Brace supports and protects the ankle with two sturdy plastic stays on both sides of the ankle. The Mueller Football Ankle Brace has been designed to fit securely into a football boot or trainer providing excellent support for weakened ankles. The easy to use lace-up design makes this football boot ankle support simple to apply and fit correctly. Also great for football from the Mueller range is the Mueller Sports Balm which provides a warming pain relief. This sports balm is a greaseless analgesic lotion which is ideal for warming up the muscles before exercise or for relieving muscles soreness after sports.
The Mueller Lifecare Contour range of supports has been specially designed for women to be a reliable and comfortable. The Mueller Lifecare Knee Support is ideal for women who are suffering from arthritis or tendonitis. This woman's knee support features a gel buttress which delivers targeted compression below the kneecap. Flexible springs within the knee support help to support both sides of the knee. The Mueller Lifecare Contour Wrist Support is designed to reduce stiffness and soothe wrist pain. This wrist support is ideal for women who are looking for a support to help them recovery from a wrist injury and also for those looking to prevent wrist injuries. The Mueller Lifecare Contour Ankle Support has been designed to conform to a woman's ankle with gel pads providing extra comfort for support. This Mueller ankle support is suitable for use as support for the recovery of an ankle injury and also for helping to prevent ankle injuries.
Along with supports and brace, Mueller are also market leaders in sport sprays, massage and pain relief creams and sports strapping tape. Mueller Hot Stuff Ointment is a top of the range muscle relaxing gel which uses a deep, penetrating heat effect. With its petroleum base the Mueller Hot Stuff Ointment provides long lasting optimal results. The Mueller Magic Grip Spray is a unique grip enhancer which forms a powdery film around the hand to help repel water and sweat. This Mueller Magic Grip Spray is ideal for all sports where a strong grip is required such as tennis, squash and badminton. This racket grip spray is not sticky or tacky and is suitable for use on gloves or hands and can be easily washed off with soap and water. Mueller Kinesiology Tape is one of the top selling kinesiology tapes available on the market. Mueller Kinesiology Tape is designed to maintain flexibility, improve circulation and relieve pain.
The Mueller Arch Support is an excellent support which has been designed for a common problem. This Mueller Foot Arch Support delivers targeted compression with a soft heel and provides a stable support. This innovative design comes with an adjustable strap and is ideal for fitting into a variety of footwear including trainers and football boots.