Meet Trion: Z's Pro Users
1 Comment
Thursday, 10 September 2015 |
Paul
At Health and Care we love hearing that our happy customers have been feeling the benefits of Trion Z's magnetic bracelets, so we know they're great for helping you get through your everyday pain-free, but did you also know the pros feel the same way?
Trion Z has a huge collection of professional sporting fans including Olympians and World Champions, from CrossFit champions to triumphant Triathletes, great Golfers to record Runners, and all of them agree that these tiny magnetic wristbands can make a huge difference to recovery and performance.
Perfecting Performance
Trion-Z users have reported that their magnetic bracelets not only reduce pain, increase energy levels and sharpen concentration but also combat the aches of arthritis and have helped them get back on their feet after injury. So how do this nifty little bands work?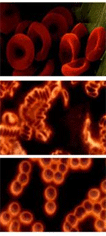 These are red blood cells and look like a doughnut without the hole. They contain the element iron and transport oxygen around the body whilst at the same time removing carbon dioxide. There are around 5 million per cubic centimetre of blood.
This is what is known as the "coinroll formation" effect, where strings of red blood cells stick together. This greatly reduces the available surface area of the red blood cells and in turn their capacity to absorb oxygen and nutrients to transport around the body.
This shows the effect of Trion Z's magnetism on the red blood cells. They have separated and are free to absorb more oxygen and take on more nutrients to transport around the body. This means that they can take the maximum amount of oxygen from the lungs and nutrients to the cells in the body, particularly those in need of regeneration and repair and remove toxins and carbon dioxide more efficiently.
Trion:Z's beneficial little bands really are capable of transforming your life for the better when injury or pain is intent on making it worse, and professional sport stars, whose fitness is key to their success, agree.
The Professional Choice
No sport is safe from the powers of negative ions! Cricket, Football, Martial Arts, CrossFit or Rugby, Trion:Z is not just able to make you reach the top of your game in any of them, they've already converted the pros to their magic magnets.


Cricketer James Taylor is one of England's brightest young stars with the bat, his batting stats have led him to be one of the most promising players in the country, no small feat for someone who was only 23 during his test debut, Taylor made no secret about his secret weapon, saying: "I love wearing the Duo Loop; I think it

looks great and massively helps with my recovery from training and matches."
Another cricket convert, and another James, is James Anderson, who is also happy to say that Trion:Z is key to his successful career, high praise indeed coming from Britain's greatest ever bowler! Having worn Trion:Z for many years, Anderson has credited the wristband with keeping injury at bay, and isn't reluctant to admit that his time wearing Trion:Z coincided with a very great period in his career. An integral part of some of England's greatest cricketing successes of recent years, Anderson has helped England win their Ashes series in Australia for 24 years, and their first test series in India for over 28 years.
If the greatest bowler in the country doesn't have you convinced, how about the fittest woman in the world? Sam Briggs, CrossFit champion, professional Fire Fighter and all-round serious sporting star, is a proud wearer of Trion Z. A prime example of try, try and try again, in the space of 4 years Sam went from twentieth place to being crowned champ of the 2013 Reebok Crossfit Games, embodying the true spirit of Trion:Z, to never let anything stand in your way.
Nick Matthew is also glad to squash doubts people may have about giving Trion:Z a go, three times Squash World Champion, World Number One and 2010 PSA Player of the Year, Nick is a great athlete with great taste when it comes to his performance-boosting accessories. Having been a fan for several years, it might be more than happy coincidence that Nick won the first two tournaments he ever wore his Trion:Z to.
Negative Ions for Positive Changes
Simple, stylish, effective, Trion:Z bracelets are a compact package of health benefits to keep pain away and make sure successes keep coming. With the world's greatest athletes glad to say their ion-balancing bracelets have led them to victory, who says you can't be next?
Visit Health and Care for our full range of Trion:Z Wristbands.