Medi9: Ultimate Sanitisation
2 Comments
Wednesday, 22 July 2015 |
John
The Medi9 range of sanitisation products is designed to be the best and most comprehensive on the market. They are made to be as versatile as possible in killing the germs and viruses that cause of the most dangerous infections and diseases.
Fully Certified
Medi9 surface products are certified to kill hundreds of bacteria, viruses and germs that cause some of the trickiest and most difficult illnesses to treat. These include:
MRSA
Norovirus
E. coli
Swine Flu
Bird Flu
Salmonella
Ebola
C. Difficile
Hepatitis
Because of this, Medi9 products are some of the best on the market for sanitisation and offer fantastic protection against outbreaks and spreads of viruses.
Alcohol-Free
All of Medi9's products are alcohol-free. Instead, they use a special solution that does what alcohol-based products do not. For one, alcohol-based products cannot kill spores or non-enveloped viruses whereas Medi9's solution can, making Medi9 products effective against C. Difficile and Norovirus.
Alcohol-based hand gels can also cause skin irritation, leading to cracks and bleeds. Medi9's solution won't dry your hands out, and it lasts for up to 30 minutes after application while alcohol has no residual protection. Additionally, some religions forbid the use of alcohol for any purpose; Medi9 products are great in these situations.
Same Solution For All Surfaces
All of Medi9's products use the same anti-bacterial solution, just in a different form. This means that the protection their surface cleaners offer can also be found in their hand sanitisers, so you know that you're getting the best possible protection.
Safer Than Chlorine
Medi9's surface sanitisers are not made with chlorine bleach or peracetic acid. This makes them much safer than products that utilise these chemicals, as chlorine bleach products release toxic fumes which can cause breathing problems. Additionally, these products need a time-consuming amount of preparation, whereas Medi9's products are ready to go imminently.
Their products have been certified to be non-hazardous to human health, and you don't need to wear protective personal equipment (PPE) when using any of them.
No Surface Damage
Unlike most surface cleaning products based on alcohol, Medi9's range of products will not damage surfaces after prolonged use. A damaged surface can become a breeding ground of bacteria and makes for an unsafe working environment in general, so it's vital that they stay as solid as possible for longer.
If you're interested in getting some Medi9 products for your hospital or workplace, simply search 'Medi9' on Health and Care to see our full range.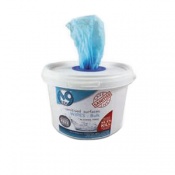 Trusted sanitising solution for use anywhere
Alcohol-free solution
Kills Norovirus, MRSA and 99.9% of germs
Bulk quantity ideal for hospitals/care environments