How to Prevent Varicose Veins
Thursday, 21 March 2019 | Paul
Varicose veins affect up to between three in 10 adults, with women far more likely to develop varicose veins then men. They usually take the appearance of being swollen, enlarged and may take a dark blue or purple colour. More often than not they will be lumpy, bulging and twisted, with other symptoms including aching legs, swollen legs, muscle cramps and dry skin.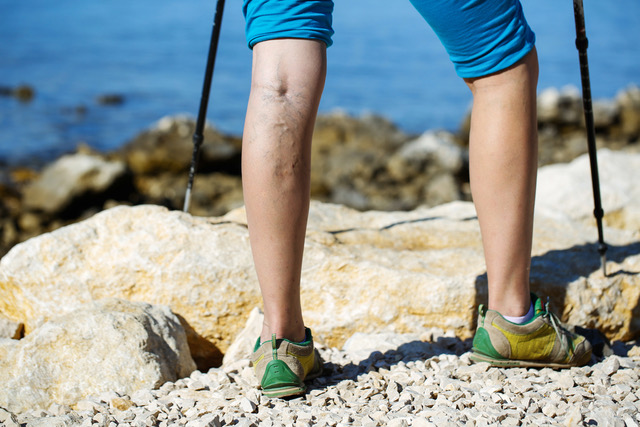 Varicose veins can look unpleasant however aren't usually dangerous
They aren't usually anything to worry about and are usually harmless, although certain factors can increase their risk. If you suffer from varicose veins, there are simple things you can do to reduce their impact and prevent them from spreading. This short article explains How to Prevent Varicose Veins, and explores a number of actions that you can take.
What Are Varicose Veins?
Varicose veins occur because of weak or damaged valves in your veins. Veins carry blood up your body back to your heart from your legs, meaning that they have to work against gravity to push the blood upwards. This works partly by muscles contracting, and partly by tiny valves that open and close to prevent the blood from flowing back downwards.
If these valves become weak, it means that blood can flow backwards and begin to pool, which has the knock-on impact of damaging the appearance of the vein. This will make the vein look twisted or bulged and take the appearance of what we call a varicose vein.
What Are the Symptoms of Varicose Veins?
If you're concerned about having varicose veins, you should look for certain symptoms. These include:
Dark blue and purple veins
Twisted and bulging veins
Aching or heavy legs
Muscle cramping
Itching
Skin discoloration
Am I at Risk of Varicose Veins?
There are people who are high risk of developing varicose veins, and people who are at low risk. Factors include:
Age: Older people are far more likely to develop varicose veins
Sex: Women are more likely because of hormonal changes during pregnancy, menstruation and menopause, while birth control pills can increase the risk
Pregnancy: An increased volume of blood increases the risk.
Other smaller factors that can impact your chance of developing varicose veins include family history, obesity and mobility. If you are concerned that your varicose veins are becoming worse and more painful, see a doctor as you may be at risk of a blood clot.
How Do I Prevent Varicose Veins?
There is no exact way to completely prevent varicose veins, however improving circulation and muscle tone can be a key way of preventing them from developing. Being more active, watching your diet, eating less salt and avoiding high heels are all ways that can reduce your chances. Other ways to reduce your chances of developing varicose veins are included in the list below.
Wear Compression Socks and Stockings
Sigvaris James Calf Compression Socks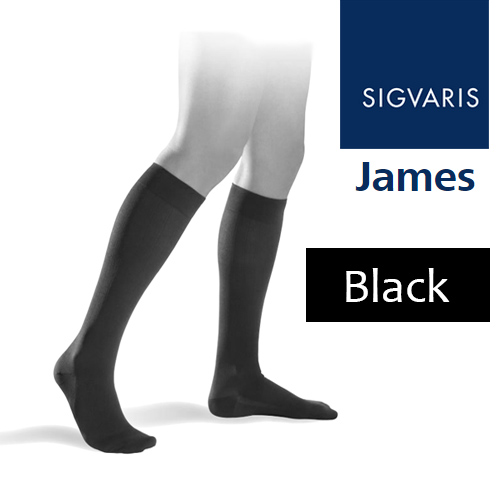 Compression socks and stockings are a great way to prevent varicose veins, as they are designed specifically to accelerate blood flow as it passes from your ankles to your knees. The Sigvaris James Calf Compression Socks are simple, everyday socks that offer excellent compression in your lower calves. This helps to ensure that blood keeps moving, preventing blood from clotting and preventing it from pooling – the main cause of varicose veins.
Elevate Your Legs
The Putnams Bed Wedge for Acid Reflux and GERD
Another way to prevent varicose veins is to keep your legs elevated while you are in bed, as this allows gravity to work with your body rather than against it. A simple way to do this is to use the Putnams Bed Wedge for Acid Reflux and GERD, a bed wedge that can fit at the end of your bed to keep your feet and legs elevated through the night. If you'd like to use it as a pillow, you can, helping to prevent acid reflux, glaucoma, heartburn and more.
Target Varicose Veins Early
Varicose veins can be prevented if you tackle them early and identify the key triggers. One of these triggers is pregnancy, which is why during pregnancy its recommended to wear belly belts or use bed wedges to boost your circulation. If you have a period of immobility (following an injury or surgery), then using compression stockings can prevent the blood from pooling in your feet which in turn prevents vein damage.
Alternatively, improving your diet and living an active lifestyle are key ways that can prevent the cause of varicose veins. For more compression stockings you can visit our Compression Stockings and Oedema Supports category, and for more bed wedges you can visit the Bed Cushions, Supports and Rolls category. Finally, if you are pregnant you can visit the Aids For Pregnancy category.
Do you have any questions about varicose veins? Please don't hesitate to let us know in the comments below, or find us on Facebook and Twitter.
Tags: Aids for Daily Living, Aids for Pregnancy, General Health, Health and Care Expert Series.