​Looking for an Easy Way to Clean Your Water Bottle?
Tuesday, 9 May 2017 | Paul
Having a reusable water bottle is great – you get endless refills from the tap for free and you feel like you are doing something good for the environment. But endless refills have the side effect that your bottle is continuously wet and a moist, dark environment is the perfect breeding ground for bacteria.
It is important to thoroughly clean your water bottle after every use, but that's easier said than done, since we are all painfully aware of the fact that reaching into those hidden corners of a water bottle can be next to impossible. The bottom corners of a water bottle can easily become a hotbed of grime and gunk and this can spoil your enjoyment.
Ways to Clean Your Water Bottle
Fortunately, there are numerous ways to clean your water bottle, for example, you can toss it in the dishwasher. However, this isn't a universal solution, since not all water bottles are dishwasher safe. You could wash it with soapy water and a bottle brush. But that's no guarantee you will get rid of all those nasty bacteria and germs. Or use vinegar, which is a natural cleaner that kills most bacteria, but comes with a very specific odour.
When all else fails, you can always buy some of those water bottle cleaning tablets, but be ready to spend money every single time you want to wash your bottle. Or, you can try out one of the Clean Bottle water bottles, the only water bottles in the world with a removable bottom for easy cleaning and drying.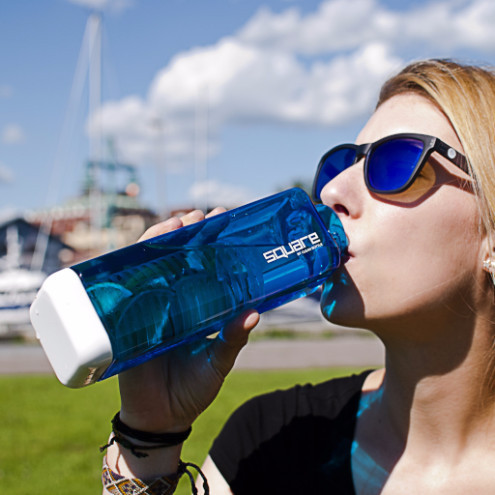 The Clean Bottle unscrews at both ends for greater ease
Why Use the Clean Bottle?
By simply removing the bottom of the bottle, reaching those dark, mouldy corners is no longer an issue
Includes a silicone seal on both ends, so you don't have to worry about what would happen if your water bottle leaked all over your bag anymore
Dishwasher safe for a sparkling clean bottle
Made of BPA-free materials to ensure the cleanest water
Designed for a perfect grip and suitable for most cup holders
With its lifetime guarantee, this is the last water bottle you will ever buy
What Types of the Clean Bottle Are Out There?
There is the basic sports Clean Bottle, which features the screw-off cap on both ends and a silicone seal for a leak-proof fit. If you're just looking for a run of the mill sports bottle that you can use in the gym or out and about, this is the ideal choice.
For those people that who want more awesome features in one bottle, there is the Clean Bottle Square Water Bottle. Want to add a touch of fruit to your daily drink? No worries, an infuser module is available for a delicious twist. Or if you're looking for a purer drink, why not try the Clean Bottle Water Filter? No matter what you need from a water bottle, the Clean Bottle Square has you covered and it features the same easy-clean design as its predecessor.
How the Clean Bottle Came to Be
Dave Mayer, the founder of the Clean Bottle, got the idea for a better way to clean your bottle after finding a disgusting, mouldy experiment at the bottom of his water bottle when heading out for a bike ride. Two years, three factories and 54 prototypes later, the Clean Bottle as we know it today was born.
But Dave still had no money for marketing, so he came up with the brilliant idea of dressing up as a water bottle and running alongside the the cyclists at the Tour de France bike race in 2010. His idea worked, he got the attention of the cyclist community, the producers of the ABC's show Shark Tank and, ultimately, investors. The rest is history.
Check out Dave running at the Tour de France, dressed as a water bottle, in the video below.
Have you tried the Clean Bottle? Maybe you've just had a bad experience with grime and dirt in your water bottle? Either way, we want to hear from you. Tell us all about it in the comments below or you alternatively, you can reach us on Twitter or Facebook.