Logic Compact Flavour Guide: Which Refill Flavour Should I Choose?
Tuesday, 22 September 2020 | Paul
The Logic Compact Vape Pen couldn't come with a wider range of flavours, satisfying your taste no matter if you have a sweet tooth or long for a traditional tobacco hit. Here at Health and Care, we stock all flavours from your favourite pocket sized e-cigarette.
There are a lot of flavours including four different types of menthol, meaning that you might be a little lost for choice. No matter, this flavour introductory guide has been created to help you choose the perfect flavour for you.
Your Favourite Pocket Sized E-Cigarette
The Logic Compact Vape Pen is a smart, pocket sized convenient vaping device that is compatible with all Logic Compact E-Liquid Pods. It is easily chargeable with a sleek magnetic battery that will charge your device in just 74 minutes. The pods fit into the end of the battery which is when you'll hear a satisying click, meaning that you're ready to go.


The stylish pocket-sized Logic Compact Vape Pen
Your Logic Compact Flavour Guide
Logic Compact Refills come in a range of flavours, including a choice of menthol flavours, traditional tobacco and a variety of sweet fruity alternatives. Below we take a look at each flavour. Logic Compact also have an intense range, extra strong refills with nicotine salts for a more intense flavour.
Tobacco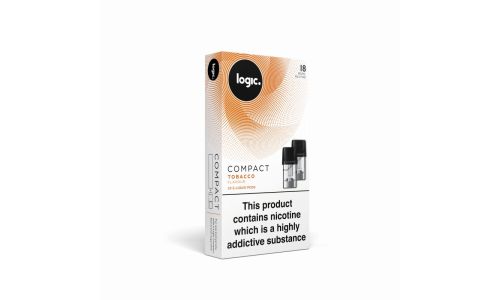 The Classic: Tobacco Logic Refills
Classic Tobacco: Classic Tobacco is designed to taste reminiscent of a traditional cigarette. It's a popular choice for those making the switch over from traditional smoking, or those who enjoy rich tobacco notes. Available in the following strengths:
Caramel Tobacco: Caramel Tobacco combines the traditional tobacco notes with a hint of smooth caramel. We recommend caramel tobacco if you enjoy tobacco, yet want a sweeter vaping sensation.
Intense Amber Tobacco: Logic's Intense range use nicotine salts to make the vape more intense. The Intense Amber Tobacco option taste just like normal tobacco, however the use of nicotine salts make the flavour more intense. Only use intense tobacco if you really do love the taste of an ordinary cigarette.
Menthol​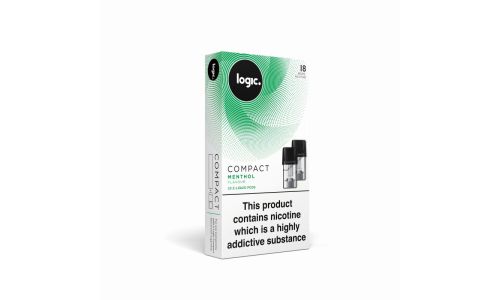 Menthol: Our Menthol Range Comes in Four Flavours
Classic Menthol: Classic Menthol tastes similar to that of a traditional menthol cigarette. It has hints of tobacco, but not overpowering and not enough to out-taste the refreshing minty notes.
Polar Menthol: Polar Menthol is just menthol with a stronger menthol flavour and no tobacco. This is for the menthol lovers, not someone who likes a traditional menthol cigarette. It is also available in intense, giving you an extra strong menthol hit.
Spearmint Menthol: Spearmint Menthol is slightly sweeter and more subtle than peppermint and normal menthol. This is ideal for those transitioning from traditional menthol but want a sweeter taste. Also available in intense, for those who want a stronger hit.
Peppermint Menthol: Peppermint offers a more traditional minty flavour, slightly cooler with more menthol. It comes only in intense, meaning that you get a strong tobacco hit along with the minty notes.
Fruit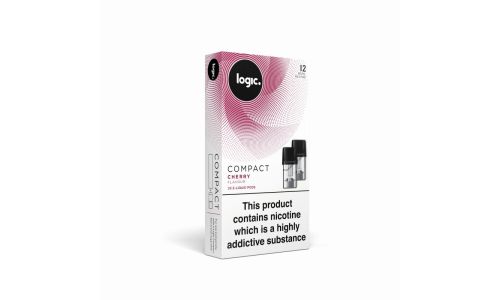 Cherry is One of Many Logic Compact Fruity Flavours
Berry Crumble: Berry Crumble offers a fruity berry flavour with notes of buttery sweet crumble. It is your ideal choice for anyone who loves a sweet, dessert flavour.
Berry Mint: Berry Mint offers the sweet taste of berries with a fresh mint undertone. It's fruity yet cooling, perfect for satisfying a sweet tooth.
Cantaloupe Melon: Cantaloupe Melon is sweet and fresh and not too strong. Tasting like a cantaloupe melon this pod is refreshing and perfect for a hot summers day.
Cherry: Cherry is just like it says on the tin. Sweet, refreshing and offering everything you could possibly ask for from a fruity vape. Tasting just like cherry, this can satisfy any vaper.
Strawberry: Strawberry is full of flavour, giving you a medium strength hit full of strawberry notes.
Chai Latte: Chai Latte can satisfy those who like a little spice. A mild cinnamon flavour is combined with smooth latte, a perfect start to your day.
Banoffee: Banoffee is reminiscent of a sweet banoffee pie, combining favourite flavours banana and toffee. A great choice for those who love a sweet tasting vape.
Berry Ripple: Combine a fruity berry hit with tobacco undertones. Coming in high strength, this is an ideal option for anyone who's after a refreshing fruity hit with a slight note of tobacco
Where Do I Buy Logic Compact Refills?
Logic Compact Refill Flavours can be viewed on our website at the Logic Compact E-Cigarette and Refills category hub. Below, you can view a full Logic Compact buying guide, and if you want to browse more, click the big yellow button for the full range.
Buy Logic Compact Now
Logic Compact Refills are available to purchase on our website today. Remember, all of our refills come with discounts depending on the quantity that you buy your refills in.
Do you have a favourite Logic Compact strength? Do you have any questions to add or are you unsure about what flavour you want? Why not let us know in the comments below, or find us on Twitter or Facebook!
Tags: E-Cigarettes, Smoking Alternatives, Brand Focus
Disclaimer
Please be aware that the products mentioned contain nicotine, which is a highly addictive substance. E-cigarettes are not intended as an aid to smoking cessation and are only intended as an alternative to other tobacco products.