Legal Responsibilities of Workplace Safety Signs
Tuesday, 23 May 2017 | Paul
Safety signs are important communication tools that are used to quickly and effectively indicate certain hazards or precautions to be taken in the workplace. The likelihood of you seeing a safety sign in a public building is highly probable, as they are displayed everywhere that poses even the slightest threat of harm. No smoking and fire exit signs are so commonplace that they have become a part of our everyday language. Here at Health and Care, we thought we would explain what responsibilities employers and duty holders are required to fulfil in order to safeguard everyone on the premises.
What is the Legislation on Safety Signs?
Even if you take all the appropriate measures in order to keep your workplace safe, you simply cannot account for everything. Employers must provide safety signs wherever the risk of threat is posed, even if all measurements have been taken to prevent said risk. Safety signage should be used to warn or instruct all persons on the premises about the methods or procedures that need to be taken in order to reduce significant risk, such as taking care to watch out for low ceilings, or to wear personal protective equipment (PPE).
The official legislation for this is called the Health and Safety (Safety Signs and Signals) Regulations 1996, which applies to all places of work covered by the Health and Safety at Work Act 1974. You can find the full version of this documentation on the Health and Safety Executive's website.
Can I Just Use Any Sign?
As tempting as it may be, makeshift signs won't do. All safety signs used in the workplace need to be in compliance with the European Norms (EN) ISO 7010, which requires the UK and other European countries to adopt official safety colours and safety signs that they have set out. This standard ensures that all safety signs and symbols are universally recognised; and that anyone, regardless of their language ability, can look at a sign and immediately know what action to take or which hazards are presented.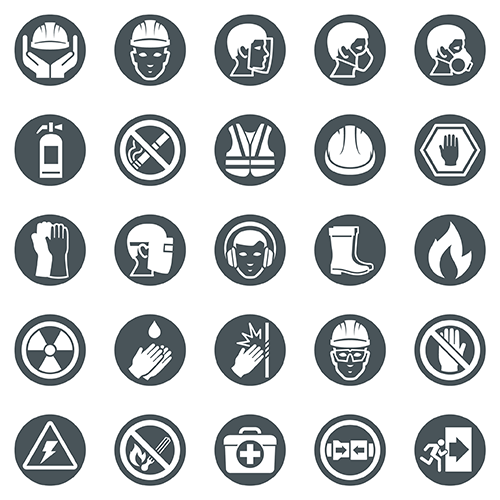 The Basics of Safety Signs
The main health and safety signs boil down to four different types; each type follows a necessary course of action that needs to be taken, and corresponds to a colour below:
Red - Red signs, commonly used for fire safety, emphasise unsafe areas, forbidden action, or designate areas for emergency devices such as fire-fighting equipment. Red is also used to prohibit behaviours that are likely to cause risk to health and safety, such as smoking.
Yellow - Yellow warning signs are used to notify workers that they need to take caution or be aware of certain hazards, such as high voltages or slippery surfaces, in order to reduce the level of threat posed to them.
Blue - Blue is used for mandatory safety signs to indicate particular actions or behaviours that need to be taken, such as wearing personal protective equipment (hard hats, gloves, shoes, eye goggles, etc), in order to safely navigate an area.
Green - Green signs are known as safe conditions signs, which are commonly used to designate the location of emergency facilities (such as eyewash stations or showers), equipment (such as first aid kits), evacuation routes, fire exits, escape ladders, or assembly points.
How Will I Know What Safety Signs I'll Need?
Every business needs to undergo a risk assessment in order to properly identify any hazards presented in the workplace. At the very least, every single workplace will need to display Fire Safety Signs, in accordance to the Regulatory Reform (Fire Safety) Order 2005, so that employees and visitors are properly able to indicate the location of emergency exits and escape routes.
In accordance to the Smoke-free (Premises and Enforcement) Regulations 2006, all public places, such as workplace or buildings that are used by the public, are also required to display appropriate No Smoking signage at the entrance of every smoke-free designated property. If your workplace has an allocated smoking area, you may also wish to display a Smoking Area Sign to alert others where is it safe to smoke without posing a threat to others.
Other commonplace signs include First Aid Signs, which indicate the presence of a first aid kit or list the names of the first aiders in the building, as well as how to reach them. Buildings which operate closed circuit television cameras will need to display CCTV Signs in order to make the public aware that CCTV is in operation.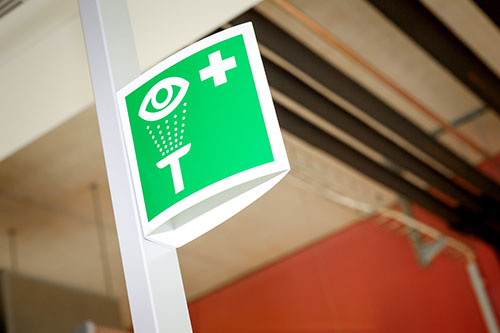 The Higher the Risk, the More Signs Required
Of course, high risk facilities will need more signs in order to properly inform everyone who navigates the premises. Warehouses, construction and demolition sites, and anywhere that operates heavy machinery, will naturally pose a higher threat to staff and visitors, as will factories, laboratories, and anywhere that handles dangerous chemicals or high voltage electricity.
It will become apparent which signs you will require around the premises during your risk assessment, which should take place frequently. Nothing stays the same forever, and while there is no legal time frame for when you review your risk assessment, for the sake of your employees' safety, you should endeavour to do so at least once a year.
Here at Health and Care, we have a plethora of warning, safety and mandatory signs for the workplace in order for you to properly adhere to Health and Safety Regulations. Shop our range today and carry on keeping your workplace safe.