Best Arthritis Crutches 2022
1 Comment
Monday, 20 December 2021 |
Eugene
Standard crutches will put a great deal of strain on the hands and wrists, making them painful to use for arthritis sufferers. As this is a common problem, a number of manufacturers have sought to solve these problems, designing a range of crutches and mobility aids with the aim of reducing the stress on the hands and wrists to make them more suitable for arthritic joints. In this article, our product experts have consolidated the information from these design teams, putting together a list of the very best crutches for arthritis sufferers.
How Should I Choose My Crutches?
If you suffer from arthritis, there are a few key points to look out for when selecting your crutch:
Where is My Arthritis Centred? – Some arthritis crutches, such as the iWalk listed below, will offload your weight to a different area of the body. This is ideal if your arthritis is affecting your hands alone, but may not be the solution if your arthritis is more widespread.
How Severe is My Arthritis? – For less severe arthritis, a crutch that includes a contoured or soft handle may be all that's needed to reduce pain. For more severe arthritis, a crutch that offloads the pressure onto your forearms will be best, such as the M+D Crutches below.
How Much Support Do I Need? – Depending on the level of support you require, you may need a pair of crutches, or only one. For many users, a single Arthritis Walking Stick may be all that's needed.
Best Crutches for Severe Arthritis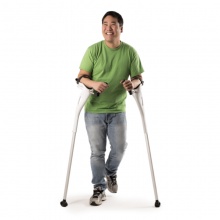 Comfortable crutches designed to reduce pressure on hands and wrists
Ideal for anyone who finds regular crutches uncomfortable
Arm cradles evenly distribute your weight along your forearm and elbow
Designed with hinged armrest and swing-away grips for ease of use
Why They're Our Pick: Loaded with features, these crutches completely remove pressure from the hands and wrists
Main Drawback: More expensive than most forearm crutches
Best Crutch for Mild Arthritis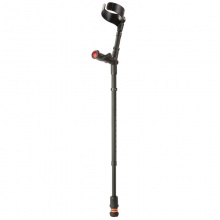 Closed cuff crutch fitted with Flexyfoot ferrrule
Makes it safer to walk on rough terrain
Anatomical soft grip handle for maximum comfort
Height adjustment to enable an exact fit
Why It's Our Pick: Shock-absorbing base and soft handle combines to reduce strain on the joints as you walk
Main Drawback: Handle still requires some grip strength, which isn't ideal for more advanced arthritis
Best Crutch for Single Leg Injuries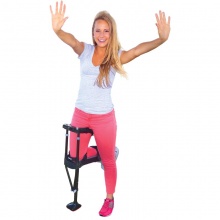 Innovative hands free crutch for speedy rehabilitation
Great for achilles tendon injuries, sprained ankles, broken feet and more
Allows you to maintain your mobility and independence
Designed to be used on either leg, and easy to don
Why It's Our Pick: Unique design leaves the hands completely unencumbered and strain-free
Main Drawback: Requires good balance and healthy lower body muscles and joints
Best Arthritis Walking Stick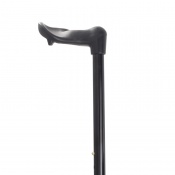 Orthopaedic handle designed to perfectly fit your right hand
Fitted with a discreet, non-slip rubber ferrule for added safety
Features a shock absorbing mechanism that reduces jarring
Height adjustable between 77cm and 100cm (30" - 39")
Why It's Our Pick: Combines an orthopaedic 'Fischer' handle with shock-absorbing shaft (also available for the left hand)
Main Drawback: Best used when only partial support is required
Give Your Hands a Break
Whether you're recovering from an injury or require support in your daily life, getting around without pain should always be a priority. We're confident each of these crutches and walking sticks will be effective to reduce pain in the hands and wrists, and hopefully make your mobility easier and more enjoyable. If you'd like to see all of the options we currently have available, feel free to browse our Arthritis Crutches, or our vast array of Arthritis Walking Sticks.
Do you suffer from arthritis, and have you found crutches that allow you to walk without pain? Let us know in the comments below, or find us on Twitter and Facebook!
Tags: Aids for Daily Living, Arthritis, Learn About Conditions, Mobility, Walking Sticks