Kneehab Knee Rehabilitation
1 Comment
Monday, 6 February 2012 |
Paul
Kneehab Knee Rehabilitation
The Kneehab XP Knee Rehabilitation System is a clinically proven quadriceps muscle rehabilitation device can help sportspeople at all levels to accelerate their recovery from knee injury and to improve quadriceps strength and stability.
Neurotech, manufacturer of the Kneehab XP, is a world leader in the provision of innovative devices for pain relief and rehabilitative health. With over 40 years of clinical experience and investment in scientific research and development, their expertise has enabled them to deliver clinically proven solutions to improve patient outcomes.
This article showcases the experiences of elite sportspeople using the Kneehab XP across a variety of disciplines, including professional football, rugby, Olympic figure skating, Gaelic games, Olympic track and field and triathalon, to aid their recovery.
You will also find summaries of clinical studies utilising the device for particular injuries and recovery phases.
The Kneehab XP Is Clinically Proven To Accelerate Recovery
As part of Neurotech's commitment to provide clinically proven innovative solutions for rehabilitative health it regularly submits its products for clinical trials. The most recently published study in the American Journal of Sports Medicine is entitled "The Effictiveness of Supplementing a Standard Rehabilitation Program with Superimposed Neuromuscular Electrical Stimulation After Anterior Cruciate Ligament Reconstruction". This study shows improved recovery for patients who utilise Kneehab XP as part of their rehabilitation program following ACL reconstruction when compared to those who complete exercise rehabilitation alone.
The study, which demonstrated significant impact on patient outcomes, found that patients that utilise Kneehab XP to aid postoperative rehabilitation:
Achieve significantly better strength and functional results at each time point (6 weeks, 12 weeks and 6 months) in recovery.
Return to pre-operative knee extensor strength and to strength of the uninvolved leg within 12 weeks, attaining pre-operative shuttle run speed by week 6 - twice as fast as other groups in the study.
Return to work up to 7 days quicker (2.7 weeks vs 3.7 weeks) than patients who complete exercise rehabilitation alone.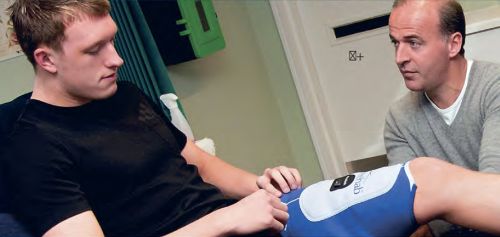 Phil Jones, Footballer for Manchester United FC
Physiotherapist David Fevre usesThe Kneehab XP to Treat Professional Football Players
" Kneehab XP has been extremely useful in the early post-op stages of rehabilitation when muscle contraction is difficult to initiate due to surgical pain. It is easy to apply and reapply and the hand held unit is remarkable simple to use. In professional sport, where injury prevents competitive parcitipation, Kneehab XP has become one of the may tools available to keep 'injury time out' to a minumum."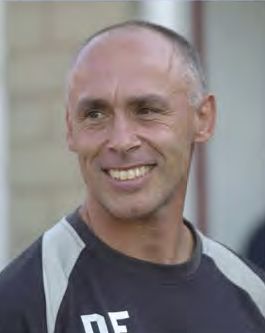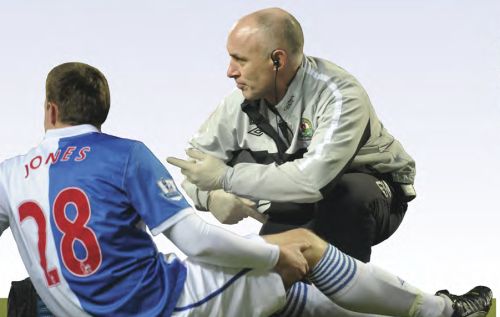 David Fevre, MSc MCSP SRP is a Senior Chartered Physiotherapist at Blackburn Rovers Football Club.
Manchester United and England Football Star Phil Jones used Kneehab XP Following Major Knee Surgery
" Following my knee injury and subsequent operation to repair my meniscus in the 2010-2011 season, I used the Kneehab XP unit in the first 6 weeks of my rehabilitation. It was easy to use and helped to reinforce the gym-based rehabilitation programme provided by the Blackburn Rovers medical team. The back-up support from Neurotech was great when I needed extra application pads and I would recommend the unit to anybody in early-stage rehabilitation following knee surgery."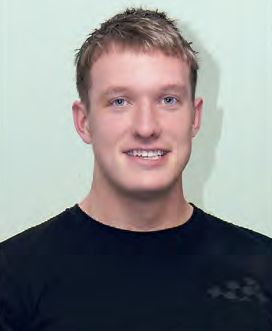 Phil Jones, Manchester United and England Footballer.
Professional Olympic Snowboard Athlete Zoe Gillings used Kneehab to Effectively Recover from Cartlidge Surgery
"I injured my left knee while competing in the winter Olympic Games in Vancourer in 2010. I had strained a ligament but the main problem was I had damaged the cartlidge. I had surgery on my knee to remove a loose body which was floating around and plave an artificial plug into the hole in my cartlidge. I had already lost some muscle in my quads and the operation disrupted my whole knee quite a bit, so I was unable to do anything with the leg for a whole two weeks, I couldn't walk on it, bend it tto far, I couldn't even lift my leg without it hurting!"
"As a pro athlete who's always active this didn't make me feel very good at all, lying around not being able to do anything and knowing my muscles were getting weaker by the day. The one thing I could do was to keep my quads strong using the Kneehab XP. It worked great at keeping my muscles going and kep me from feeling really helpless aswell. Once I was back up and walking I continued to the use the Kneehab XP until my leg was back to full strength again."
"It is a great piece of kit, no question. It works wonders and I would recommend it to anyone with knee problems."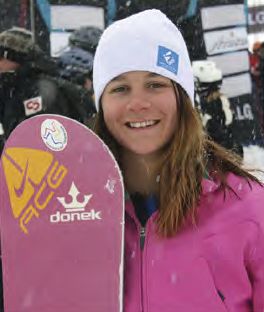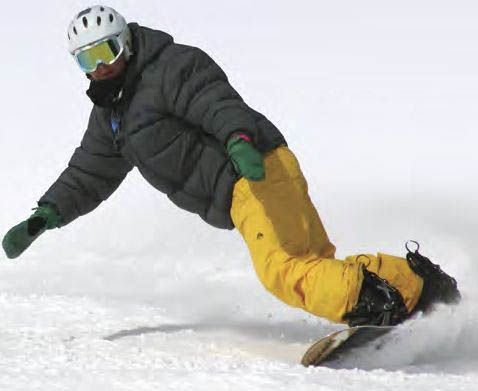 Zoe Gillings, Olympic Snowboarder. Zoe went onto achieve third place ath the LG Snowboard FIS World Cup Finals in Arosa, Switzerland in March 2011.
Olympic Gold Medalist Christopher Dean uses Kneehab XP to Manage Pain and Reduce Swelling in the Knees
"Someone of my age and body shouldn't be skating as much as I do. If you tally the distance I have skated in my career, I most probably would have skated 3 or 4 times around the world."
"Skating is performed in a semi-flexed position, so the constant stress on my knees is immense. Ove the past 5 years I have suffered a lot of pain in both knees, because of various reasons, impact, constant use, tears etc."
"This past year I tried out Kneehab XP from Neurotech and found it very useful. I was able to manage pain and reduce swelling, thus keeping me going through an intense work period. It was so easy to use. When I was actually working, or just relaxing, Iwas getting the benefits from its use. Kneehab XP will now become part of my skating kit, because I believe it managed my knee issues. Along with my very knowledgeable physio, we overcame knee issues before they escalated into something less manageable."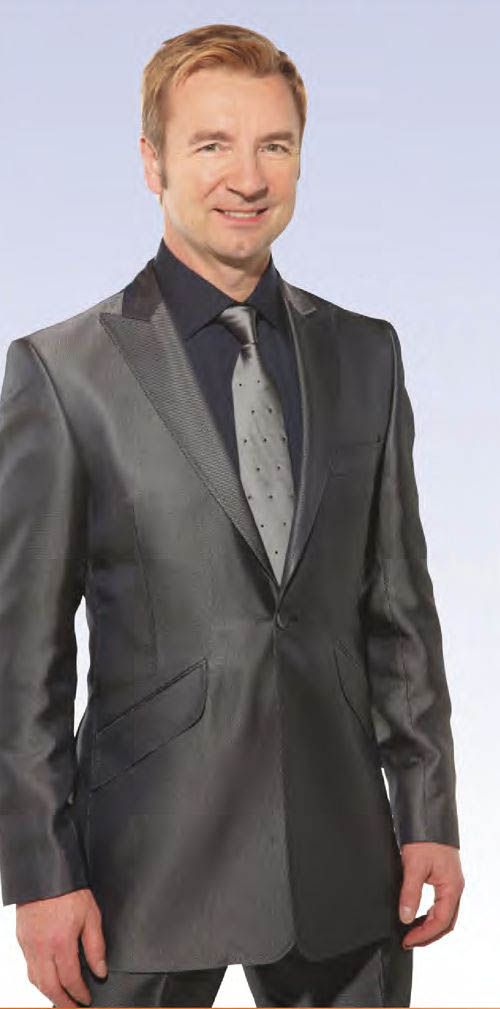 Christopher Dean OBE, Olympic Gold Medalist & Professional Ice Skater.
David Knight, 4-time World Motocycle Enduro Chamption Successfully used Kneehab XP after Surgery on both Knees
"After having surgery on both knees at the end of last year, I used the Kneehab XP straight away and the results were amazing. Keeping my muscles working was definitely a lot better and easier when I go back on my bike. Now, after having surgery on my hips, I am also seeing the benefits of using Kneehab XP. Thanks guys."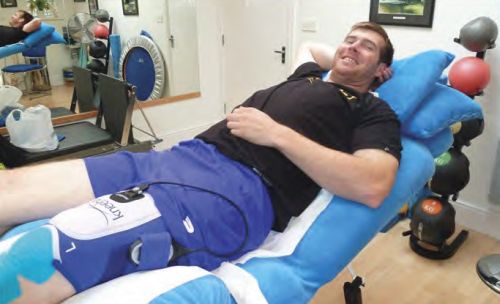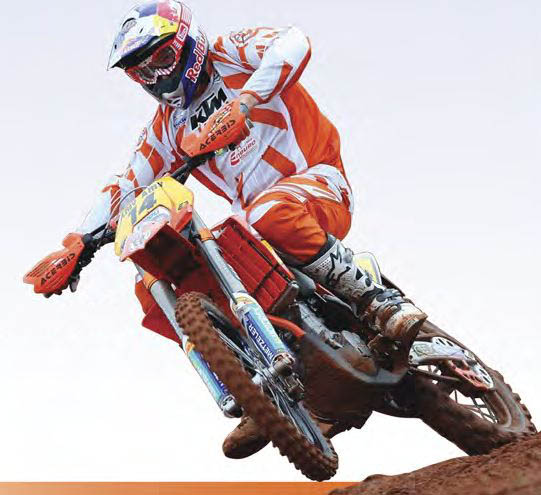 David Knight, 4-time World Motorcycle Enduro Chamption.
Munster & Ireland Rugby Player, David Wallace, used Kneehab XP to speed-up Recovery from Serious Knee Injury.
"I was playing against England in the final warm-up game before the squad flew out to New Zealand for the Rugby World Cup, when I took a heavy hit. Before I even hit the ground, I was fully aware of the consequences of the tackle and what had happened. I ruptured my medial ligament, I ruptured my cruciate ligament and I broke off my meniscus - the spongy bit at the top of your fibia that takes the impact - and I dented the upper part of my knee as well."
"After having surgery to repair the damage, my physio recommended that I use Kneehab XP to keep the quad muscles activated while I couldn't walk or exercise fully. Kneehab XP was east to use, comfortable and very effective. I used Kneehab XP in the early stage of my rehabilitation, I found it excellent for strengthening the weakended muscles and I am now back excercising regularly."
"The customer service from Neurotech was great and I would recommend Kneehab XP for all sportspeople who are determined to make successful return from serious injury.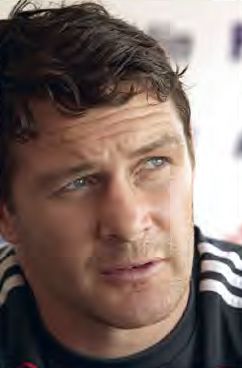 David Wallace, Ireland and Munster Rugby Union Player.
Isla Scott of the Scott Physiotherapy Clinic, Isle of Man used Kneehab XP to help treat Janes Ellison, British Superbike racer.
"I had the privilege of working with James Ellison, aleading competitor for the 2010 British Superbike title, James had the misfortune of suffering a serious crash whilst competiting at Thruxton this April, sustaining a compund mid-shaft fracture of his right femur.
"Following surgery involving IM nail and interlocking screws, James visited the Isle of Man for twice daily hyperbaric oxygen therapy and intensive daily physiotherapy with me. James' initial progress was slow despite his dilligent commitment to the rehab programme, hampered as it was by tethering around the fracture site telescoping towards the bone. Nearly complete quadriceps inhibition had been present from the onset of treatment and there was a quads lag of 30 degress."
"At my suggestion James incorporated the Neurotech Kneehab XP quadriceps muscle stimulator into his physiotherapy regime and he was keen on the idea to say the least! Jonothan, the Neurotech clinical specialist provided ongoing technical support to push the protocol as agressively as possible, liaising directly eith James between physio sessions with advice on treatment progession."
"The Kneehab XP performed brilliantly in addressing James' inhibition issues enabling him to overcome the quadriceps lag. I am very happy to say that in the space of five short weeks James made an almost superhuman recovery! He acheived full range of movement, very good quadriceps strength for this stage, and is even riding his mountain bike!"
"James continues to use his Kneehab XP in increased weight bearing positions and has described the equipment as 'awesome'. Both the surgeon and I are delighted with Jame's progress and it was an incredible achievement for him to be able to return to racing so quickly at Mallory Park in July.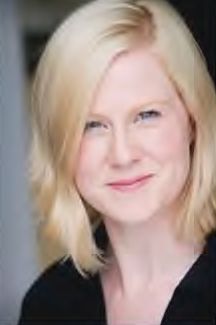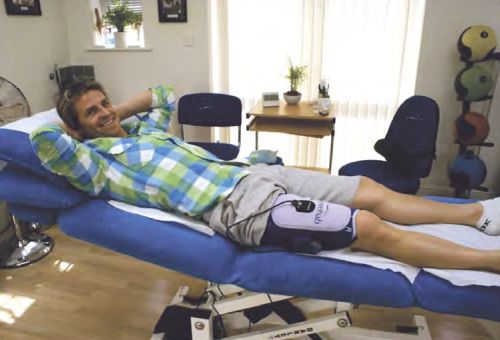 Isla Scott, Scott Physiotherapy Clinic, Isle of Man. James Ellison, British Superbike Racer (above & below).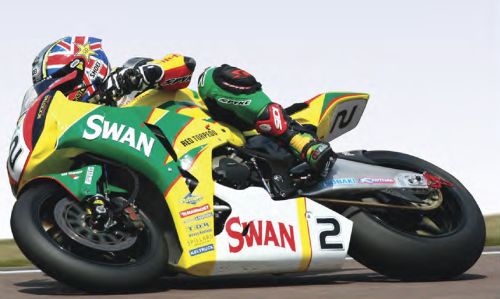 Neil Mellor, Preston NorthEnd Footballer, successfully used Kneehab XP to Treat Problems in Both Knees.
"As a professional footballer I have struggled for five years to gain full match fitness due to severe inflammation of the knee tendons. Several knee operations including micro-fracturingin 2006, eased the symptoms, but I was left with sever muscles wastage of the quadriceps and extremely poor control of both knee joints."
"My physiotherapist informed me that a global muscle imbalance, continual pain and low-grade swelling was prolonging the irritation. The, in May 2008, she recommended that I use the Kneehab XP muscle stimulator. She believed this would enable me the achieve a targeted muscle re-education of the VMO (the muscle on the inside of the knee) which, she stated, was vital to regaining dynamic control of my knees."
"I used the Kneehab XP twice a day on both legs for six weeks - with excellent results! I found the main benefits to be increased knee stability and control when running, as well as increased power (without pain) when kicking a football."
"At a time when I sitll found it too painful to use the gym equipment to strenghten my legs, it was great to know that I was getting a focused and effective workout for my quadriceps muscles."
"Throuhgh a combination of physiotherapy and Kneehab XP, I am now the fittest I have been in five years. I believe that many of my fellow professionals would benefit greatfly from using Kneehab XP as an aide to returning to full fitness following injury."
"I found Kneehab XP both comfortable and easy to use and would not hesitate to recommend it to anybody wishing to accelerate their return to the sport they love."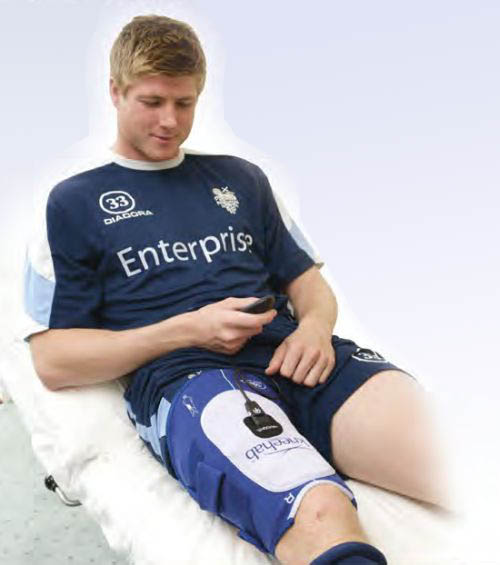 Neil Mellow, formerly of Liverpool FC and now playing for Preston North End FC.
Finnish Volleyball Captain, Tuomas Sammelvuo, used Kneehab XP to Recover from Major Knee Surgery
"I had an operation in January 2011. My knee had been bothering me for a long time and I could no longer kneel down, let alone jump. The tendon above the kneecap had to be cleaned if I was to continue my career at the top level of volleyball. The doctors had to open up the tendon to remove the calcerous growths and osteophytes inside and alongside the tendon. It was therefore a major operation which sidelined me from the sport for at keast 4-5 months."
"Immediately following the surgery, the former osteopath for Team Finalnd recommended I use Kneehab XP and I decided to start using it. That was a great decision. Kneehab XP allowed me to begin strenghthening my muscles soon after surgery and I consider it an important part of my rehabilitation. Based on my own experiences, I can recommend this product to everyone who has undergone a knee operation."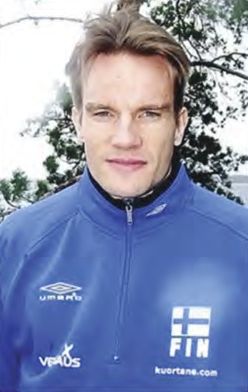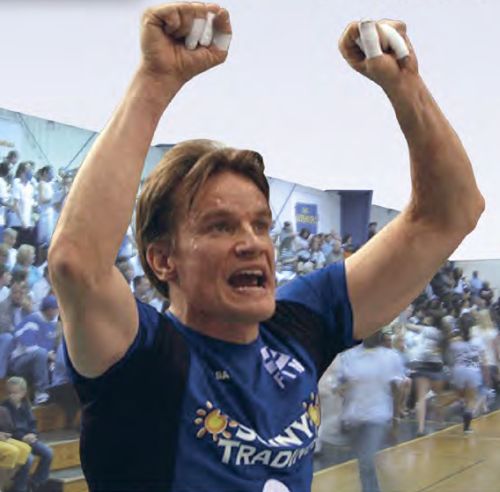 Tuomas Sammelvuo, Captain of the Finnish Men's Volleyball Team.
International Irish Triathlete, Bryan Keane, used Kneehab XP to get back in the Game Following Surgery
"When racingis your day job a serious injury can have a major impact on your life. Last September, coming off a 7th place finish at the ITU Triathlon World Sprint Championships in Lausanne, I was knocked off my bike while out ttraining. I sustained a shattered right patella and a very abrupt end to my season. Two surgeries and a lot of rehab later, Iwas back racing and only 4 months after my second surgery. An incredibly quick turnaround."
"Thankfully I was given the right support and medical attention that I needed and began using my Kneehab XP only 12 weeks after the accident and this has helped me get back racing quickly . I was in a leg brace for 12 weeks unable to bend my leg."
"After the accident, I had lost a serious amount of muscle on my leg through muscle atrophy. Ineede to build my leg back up again, but not being able to run or cycle, there was not a lot I could do to build the muscle back up. I had severe restriction in my leg, which meant even gym work was impossible. Thankfully this is where the Kneehab Xp really helped me out. Being able to do something to improve your condition while out injured helped me no end, both mentally and physically."
"I have used my Kneehab XP throughout my recovery and even now, 11 months after the accident, I still use it on a daily basis to help me regain lost muscles strength in my leg. From the first few days I could see an improvement in my quads, with the muscles mass beginning to increase. Kneehab XP has helped me get back racing quicker, which has meant that the down time has been as short as possible away from my day job of training and racing."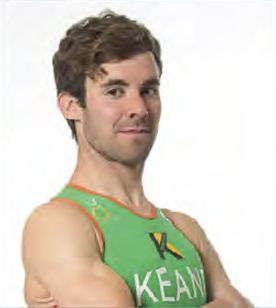 Bryan Keane, International Irish Triathlete.
Olympic Hammer Thrower, Eileen O'Keefe has used Kneehab XP to Recover from Injury
"As an Olympic Athlete, who sustained a serious knee injury, it was important for me to undergo the rehab process as soon as possible post surhery. Kneehab XP has played a major role in helping me get back on the road to recovery and has given me the hope that I can get back to competing at the highest level again in the near future. I would highly recommend it."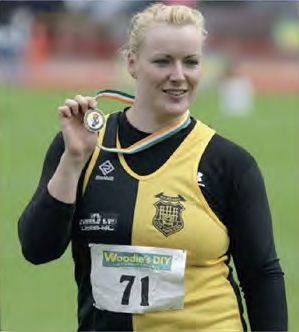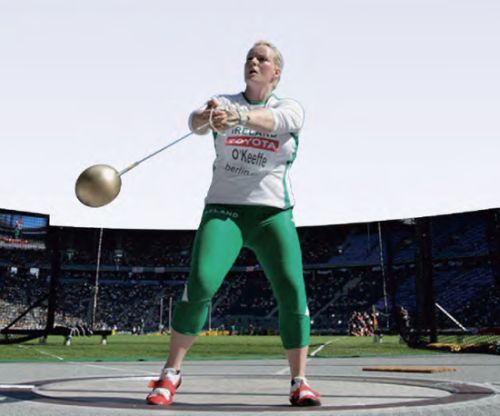 Eileen O'Keefe, Irish Olympic Hammer Thrower, 2008. Eileen went on to win the National Women's Hammer title at the Senior Track and Field Championships of Ireland in August 2009.
Kneehab XP Helping GAA Players Recover
The Gaelic Games of football and hurling are two of the most widely played sports in Ireland and are enjoying growing popularity around the world, with over 300 clubs outside of Ireland. These fast-paced intensely physical field games require an extraordinary level of fitness and strength, made all the more impressive when the amateur status of even the most elite participants is considered.
As in other field sports, such as association football and rugby, there is a high risk of injury to the player, with a recent report from the Gaelic Athletic Association finding that knee inuries were the second most common injury sustained across both codes int eh years 2007 to 2010. Kneehab XP has been used by players from both football and hurling to rehabilitate from serious knee injuries, and here, a number of players describe their experiences, and how Kneehab XP aided their recovery.
Colm O'Neil, Cork County Footballer uses Kneehab XP following ACL Reconstruction
"I injured my knee playing against Galway in the league earlier this year and had to undergo surgery a couple of weeks later. Since the surgery, I have been using Kneehab XP to complement my exercise programme. I use it 2 or 3 times a day and I find it has improved muscles contraction and strength in my quads. It is helping me to return to normal activities quicker than I expected and is proving to be an important part of my recovery. Using Kneehab XP as a major part of my rehabilitation, I hope to return to the Cork squad for the 2012 season."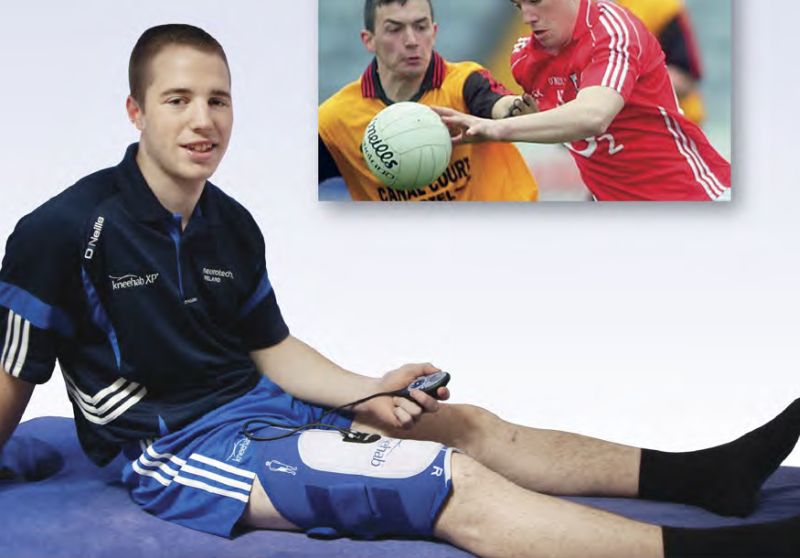 Colm O'Neil, All-Ireland Senior Football Championship Winner, 2010.
Gaelic Football Coach and Fromer Player, Lorraine McCaffrey, Uses Kneehab XP as a Vital Part of her Rehabilitation
"I sustained a serious knee inury while playing a club football match in 2009, which resulted in a reconstruction of my cruciate and repair of my medial ligament. I underwent a rehabilitation program. However, 9 months into that program, I began to suffer several setbacks, including knee pain, hamstring problems and most worryingly, severe quadriceps muscle wastage.
I had visited several physiotherapists, but nothing seemed to be improving and if anything, the pain grew worse, to the point where I had problems walking up the stairs. Almost 14 months later I had all but given up, but I visited the physiotherapist who had treated me prior to my operation and she suggested I try the Kneehab XP. She suspected that my quads wastage was a result of problems with my neural system and that this was contributing to the knee and hamstring problems.
Within 1 week of using Kneehab XP I could see an improvement. Kneehab XP had helped to kick start the neural system in my quads and the muscle mass was beginning to increase. I have just completed week 3 using Kneehab XP and I have regained an amazing 2cm of muscle mass on my quads. The knee and hamstring pain have all but disappeared as my quads' strength increases. I am delighted with my recovery to date and fully intend to continue to use Kneehab XP along with a rehab program until I regain full fitness.
I cannot recommend Kneehab XP highly enough, there is no doubt that Kneehab XP played a vital part in my rehabilitation. It is very simple and easy to use and most importantly, very effective. I certainly wouldn't be sitting here pain-free without it."
Lorraine McCaffrey, Gaelic Coach and Former Gaelic Player.
GAA All-Star, Paddy Bradley, sed Kneehab XP to Speed-up Recovery Follwing Surgery
"Two weeks after my cruciate ligament operation I started using Neurotech Kneehab XP. I used it consistently for 1 month, 3 times a day. I found it greatly increased the strength and muscle definition in my quads which helped me progress through the early stages of my recovery quicker. It has been an important part of my recovery andI would recommend it to anyone. In my most recent consultation, my surgeon felt I was weeks ahead in my recovery and I have no doubt that Kneehab XP played a major part in this."
Paddy Bradley, GAA All-Star & Inter-County Footballer.
Miriam Downey, Chartered Physiotherapist, Exwell Medical, Dublin
"Kneehab XP has been a very valuable adjunct in the management of many of my patients' knee injuries. I recommend it for post ACL repair, particularly for people who have difficulty building strength or are under pressure to return to a high level of sporting performance. We also see many patients with anterior knee pain of patella femoral origin who have great difficulty recruiting VMO. The Kneehab XP unit accelerated their recovery."
Miriam Downey, Chartered Physiotherapist, Exwell Medical, Dublin
Johnson McEvoy, Chartered Physiotherapist, Ireland
"EMS for knee rehabilitation is an excellent adjunct to any home exercise programme for quadriceps atrophy and inhibition. The ability to use it at home allows time at the clinic to be optimised for clinician dependent treatment. Electrical stimulation, as part of a multimodal approach, should enhance patient care, while the ease of use of the Kneehab XP garment increases patient compliance and satisfaction. EMS is a serious therapy that should be given due consideration in rehabilitation."
Johnson McEvoy, Chartered Physiotherapist, Ireland
Mr Richard Creedon, Consultant in Orthopaedic Surgery
"I have been recommending Neurotech's Kneehab XP to my knee injury patients for over 12 months and find it to be a very effective adjunct during rehabilitation. Kneehab XP is a product that can aid rehabilitation across a range of knee injuries and conditions. My patients have found Kneehab XP to be very effective in overcoming their quadriceps atrophy and their compliance has increased due to the convenience and ease of use of the product. By simplifying the application of stimulation to the quadriceps, Kneehab XP aids patients in returning to their normal lifestyle as soon as possible."
Stephen Darcy, Irish Long Jump Champion, 2007
"Kneehab XP sliced months off strenuous and tedious weight lifting programs for me. Whilst not a complete substitute for actual strength programmes, I would highly recommend Kneehab XP for forming a strong, suitable base on which to return to your former muscle size and strength. I owe my fast and effective recovery to the strength Kneehab XP gave my knee."
Stephen Darcy, Irish Long Jump Champion, 2007
Dan Connor, Former Ireland Under 21 Goalkeeper
"As a professional soccer player my fitness is my life. Injuries are a part of soccer, but it is how you recover that is the key. Kneehab XP helped me by reducing muscle wastage thus reducing my recovery time. I have recommended Kneehab XP to my team."
Dan Connor, Former Ireland Under 21 Goalkeeper
Kneehab XP - Advanced Therapy for Knee Rehabilitation
Kneehab XP is an innovative and clinically proven Neuromuscular Electrical Stimulation (NMES) system designed to deliver strong, comfortable quadriceps contractions to strengthen muscles. A unique, convenient and easy-to-use treatment, Kneehab XP features Multipath stimulation technology, a highly-advanced form of muscle stimulation that accelerates injury rehabilitation. Clinical research proves that NMES is an effective treatment for atrophy of the quadriceps, which is associated with various types of knee injury. Benefits of Kneehab XP:
Easy to use: Kneehab XP is an "all-in-one" garment-based device that makes it easy for patients to use and comply with their individual treatment program. Patients simply wrap the garment around the thigh, attach and turn on the rechargeable controller.
Targeted Stimulation: Kneehab XP can specifically target the inner part of the quadriceps (Vastus Medialis), which helps to stabilize the knee.
Convenient: Kneehab XP is portable to make it easy to use at home or work. It is designed
to be easy to use and enable repeatable home treatment for maximum patient compliance.
Advanced Therapy for Knee Rehabilitation Comfort
The incorporation of Multipath technolog enables comfortable and effective muscle stimulation or contractions.
Pre-op/Post-op Strengthening: Kneehab XP can be used both pre-operatively and post-operatively to prevent muscle atrophy and to speed-up recovery.
+ Pre/Post TKR
+ Post-Fracture
+ Arthroscopy
+ Post-stroke
Kneehab XP can be used to treat quadriceps atrophy for a variety of surgeries (pre and post), injuries and conditions:
+ ACL Reconstruction
+ Anterior Knee Pain
+ Acute and Chronic Arthritis
+ Patella Dislocation
+ General Weakness