IQOS MESH Vape Pen vs. Nicocig E-Cigarettes
Wednesday, 21 November 2018 | Paul
Nicocig Is No Longer Available for Purchase
We're sorry to say that Nicocig is no longer available for purchase. The makers of Nicocig, a US based manufacturer, have taken the decision to remove the brand from their production line. The brand will no longer be available for sale anywhere in the UK.
We understand how much you value Nicocig, so we have spent a lot of time finding a suitable alternative that we believe will satisfy your Nicocig taste. 10 Motives is a British based brand that produces a cigalike that offers the same touch, feel and taste as Nicocig.
For more information on 10 Motives, the discontinuation of Nicocig and about what you should do next, check out our Nicocig Discontinued - What Do I Do Now? guide.
You might have heard whispers about the IQOS MESH Vape Starter Kit and its abundant range of features – we certainly have! If you're wondering how this new device compares to the Nicocig Rechargeable Electronic Cigarette Starter Kit, read our guide below.
IQOS Mesh vs. Nicocig At a Glance
Are you in a rush? See the list of key features that we think are most important in an e-cigarette below and find out how Nicocig and the IQOS MESH compare!
| Feature | IQOS MESH | Nicocig |
| --- | --- | --- |
| Cheaper than traditional cigarettes | ✔ | ✔ |
| Easy to use | ✔ | ✔ |
| Long battery life | ✔ | ✔ |
| Size of a cigarette | ✘ | ✔ |
| Hygienic design | ✔ | ✔ |
| Rechargeable battery | ✔ | ✔ |
| Button-free vaping | ✔ | ✔ |
| Range of flavours | ✔ | ✔ |
| Hassle-free vaping | ✔ | ✔ |
| Spill-free design | ✔ | ✔ |
| User friendly | ✔ | ✔ |
| Automatic shut-off | ✔ | ✔ |
| Empty refill detection | ✔ | ✘ |
| Battery protection | ✔ | ✘ |
| Fast charging | ✔ | ✘ |
| Swap flavours mid-cartomiser/pod | ✔ | ✔ |
An In-Depth Look
Both the IQOS MESH and the Nicocig Starter Kit are closed e-cigarette systems, meaning you don't have to deal with the mess of manually adding e-liquid to either device. But despite this similarity, they differ quite dramatically in many ways! Take a look at how below.
What's the Biggest Factor That Sets the Two Kits Apart?
In our opinion, the biggest difference between the IQOS MESH and the Nicocig Starter Kit is that the IQOS MESH Starter Kit uses new technology to provide you with a consistent vape every time. The IQOS MESH has undergone four years of scientific research and development in Switzerland to provide you with an innovate new product and experience. This helps improve the overall taste satisfaction and durability of the product.
So while the Nicocig Starter Kit is the same size as a cigarette and ideal for users looking for a realistic alternative to smoking, the IQOS MESH Vape Pen offers a smoother taste. This smooth taste is only enhanced by the fact that the device doesn't allow overheating, which helps prevent the burnt taste that is a common feature with other devices using older technology.
How Do the Flavours Compare for Each Device?
Both the Nicocig and the IQOS MESH Starter Kits offer a number of different flavours for your enjoyment. Below we have sorted the flavours by their closest equivalent; for example, if you usually use Nicocig Menthol Refills, we would recommend trying the VEEV Cool Peppermint Flavour Caps.
Rich Tobacco:
Menthol:
Light Tobacco:
Fruit Flavour:

Nicocig Berry (16mg)
IQOS VEEV Red Berry (11mg, 18mg)
The IQOS VEEV Flavour Pods are specifically designed to offer five stars in taste satisfaction. Designed with a mesh heater, the device offers even heating for consistent levels of vapour and flavour. If a low level of liquid is detected by the smart device, it prevents you from vaping altogether, which in turn eliminates potential liquid burn. This offers you a smoother flavour without the harshness that is a part of other vaping devices.
Can I Change Flavours on the Go?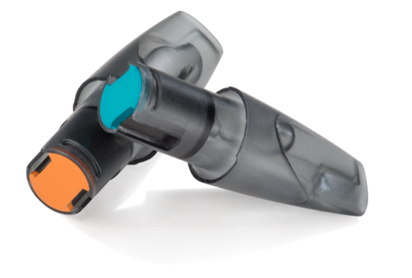 The IQOS VEEV Flavour Pods can be changed on the go whenever you feel like it. Simply take a couple of flavours with you while you go out and change the flavour when you want. The device has even been designed in such a way that it prevents what we call "flavour bleeding," i.e. that nasty in-between flavour you get when you swap flavours on most older devices.
Nicocig Refill Cartridges are also designed to be able to swap on the go, allowing you to change between flavours as you use the Nicocig device. The Nicocig, however, has not been designed to prevent flavour bleed to the same extent as the IQOS Mesh Device.
How Long Does the Battery Take to Charge?
While the Nicocig E-Cigarette Device takes four hours to charge fully via USB cable, the IQOS MESH Vape Pen takes 90 minutes. The IQOS MESH Device sacrifices size for a faster charging battery, however, which is why the new product is so much larger than its Nicocig counterpart. As a result, if you're a modern busy user, the IQOS MESH is ideal as you don't have to wait around for too long before the device is fully charged.
How Durable are Both Devices?
The Nicocig E-Cigarette Device is small and lightweight so it can fit in your pocket without a second thought. Consequently, the device might not be as durable as some other, bulkier electronic cigarettes, so the type of device you prefer will depend on what you want from your vaping experience. If you want to replicate the feel of a traditional cigarette, Nicocig is perfect for you.
On the other hand, the IQOS MESH features an aluminium body that looks and feels a lot sturdier, but this benefit is somewhat counteracted by the size of the device (although the IQOS Mesh is still pocket-sized). If you're looking for a vape pen that can last up to two years, however, this device is for you. The starter kit also features a compact and powerful battery for reliable performance over long periods, and has been designed with battery protection to prevent overheating, short circuiting and the build-up of pressure.
How Many Cigarettes Is Each Cartomiser or Pod Equivalent To?
Each 2ml IQOS VEEV Refill Pod is equivalent to 40 cigarettes, meaning you get the equivalent of 80 cigarettes with each refill cap pack. A single cartomiser for the Nicocig E-Cigarette, on the other hand, is worth 20 conventional tobacco cigarettes. As each pack includes three refills per box, each box is the equivalent of 60 traditional cigarettes.
IQOS MESH and Nicocig at Health and Care
The IQOS MESH Vape Pen and the Nicocig E-Cigarette are both excellent products with their own strengths and weaknesses. Luckily, something they have in common is that they are both available to purchase online via Health and Care! Read more about each on their individual product listings and decide which one you prefer.
Which device is your favourite, and have you tried both? Let us know in the comments, or find us on Facebook and Twitter.
Tags: Brand Focus, Electronic Cigarettes, Smoking Alternatives.