Introducing the CurrexSole Range
Wednesday, 6 June 2018 | Paul
Björn Gustafsson's impressive resume covers everything from professional athletics to academia. However after the Olympic triathlete's sporting career came to an abrupt end at the premature age of 23, Björn Gustafsson vowed to create the ultimate insole. This drive and vision manifested in the CurrexSole range of insoles. These high performance insoles pair innovative German engineering with cutting edge sports science in creating the ultimate performance enhancing insoles. Cool and dynamic, the stylish and contemporary CurrexSole range of insoles were developed with the ambition of achieving perfection – an aim towards which Gustafsson is constantly striving.
Currex RunPro
Worn by World Champion runners from around the globe, the CurrexSole RunPro insoles have, as of now, served over one million satisfied customers. With rates of complaint lying below 0.5%, the success of the CurrexSole RunPro range of insoles speaks for itself. Available in three different profiles for all shapes of foot, the CurrexSole RunPro's act to reduce injuries and optimise performance while providing unrivalled levels of comfort.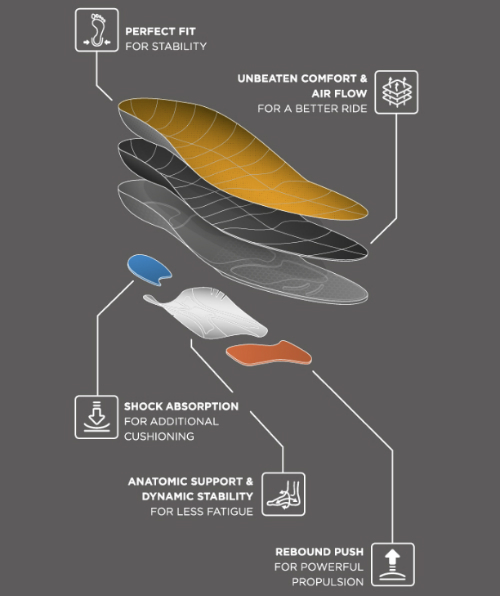 3D DAT: Three Dimensional Dynamic Arch Technology
Traditionally insoles have used hard materials in supporting the arch of the foot. This can not only cause discomfort but it may even restrict movement and affect performance. The CurrexSole range of insoles utilise 3D DAT technology manufactured using a high performance Nylon-6 composite for ultimate effectiveness in optimising performance. The DAT technology stores and releases kinetic energy allowing for propulsion when running for the utmost efficiency.
Triple-Layer Design
The CurrexSole's triple layer design provides superior levels of comfort. The additional support and increased air circulation allow for a cool and comfortable fit for increased wellbeing. While the microfibre top layer provides support for the sole, the Freelex Memory Foam mid layer impregnated with high-quality bamboo charcoal, adapts to the foot for an optimal fit. Finally the bottom layer, constructed from a unique blend of natural rubber and EVA, provides a supportive base for comfort and enhanced performance. The three layer design acts to cool the foot thus reducing sweat and odour – and the possibility of blister formation too.
Insoles for Every Foot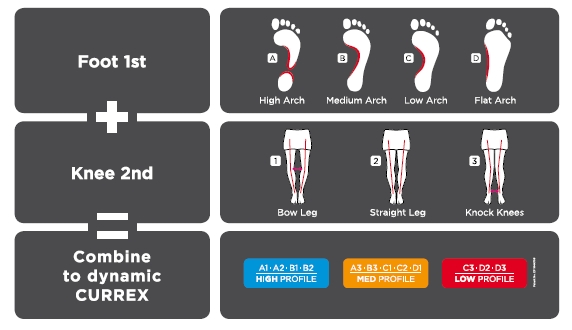 Every insole in the CurrexSole range is available in three different profiles meaning all types of feet are catered for. The multi-profile variety eliminates the need for time consuming moulding processes while allowing you to gain an immediate advantage. With High, Medium and Low profile insoles on offer, the CurrexSole range allows you to choose the insole that's right for you!
Tags: Brand Focus, Foot and Ankle Pain, Foot Care, Insoles, Running
Shop Related Products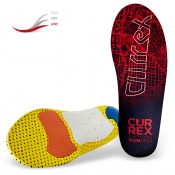 Lightweight insoles ideal for running
Provide a high level of shock absorption
Designed for supportive comfortable fit
Enhances performance and increases efficiency
---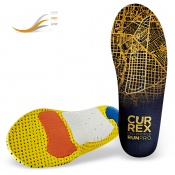 Running insoles with lightweight design
Specifically designed for medium/normal arches
Provides a high level of shock absorption for protection
Available in six size to allow a better level of fit
---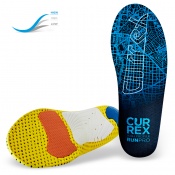 Extreme light-weight design
High level shock absorption
Designed for supportive comfortable fit
Enhances performance and increases efficiency