Instructions for the Donjoy Reaction Web Knee Brace
Monday, 20 August 2018 | Paul
If you've recently received a diagnosis for osteoarthritis of the knee, you've likely come across the Donjoy OA Reaction Knee Brace, which is designed to help you get used to wearing a knee support during the early stages of the condition. However, with two different models and a multitude of sizes available, knowing which version to order can be difficult – and the confusion only continues when it comes to fitting the support. Find out all this and more by reading our blog, which provides Instructions for the Donjoy Reaction Web Knee Brace.
Choosing Your Donjoy Reaction Web Knee Brace
The two options for the Donjoy Reaction Web Knee Brace are as follows:
Lateral vs. Medial Support
While the medial refers to the parts of your body that are closest to its centre, the lateral refers to the areas that are closest to its sides (and therefore furthest from the middle). The model you choose will depend on the compartment in which your osteoarthritis is located. Please refer to the list below to find out which version you require:
Finding the Right Size for Your Reaction Web Knee Support
The OA Reaction Web Knee Support is available in seven different sizes to provide you with a tailored fit, which in turn improves the level of support you are given. Finding out which size you need is easy; simply measure the circumference of your thigh 15cm above the centre of your kneecap and consult the table below.
| Size | Thigh Circumference (cm) |
| --- | --- |
| Extra Small | 33 - 39cm |
| Small | 39 - 47cm |
| Medium | 47 - 53cm |
| Large | 53 - 60cm |
| Extra Large | 60 - 67cm |
| XX-Large | 67 - 75cm |
| XXX-Large | 75 - 81cm |
Fitting the Donjoy OA Reaction Knee Brace
The OA Reaction Web Knee Brace is designed to be as easy to fit as possible. Please follow the instructions below to apply the support, or follow along with the video below.
Pull the knee sleeve over your knee, with the lower hourglass section over your kneecap. This improves the compression and comfort of the knee support.
Apply the brace over the sleeve, with the circular patella section directly over the kneecap.
Bring the straps through on the calf and the thigh, at first applying gently before tightening for an improved and supportive fit.
Why Should You Choose the Osteoarthritis Reaction Web Knee Support?
Now you know how to choose and fit your OA Reaction Web Knee Brace, but you might still be wondering why you should invest in a Donjoy OA Reaction Web Brace. If you suffer from early or mild osteoarthritis, this support is an excellent and discreet solution to your needs that allows you to return to an active lifestyle. Gone are the days when you have to feel like an osteoarthritis patient or sufferer!
Maintain and Regain Your Mobility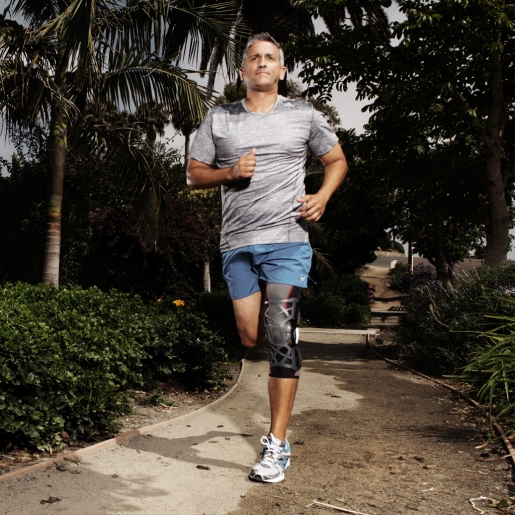 Regain your active lifestyle with the OA Reaction Web
This support allows you to continue going about your normal activities without fear of discomfort. The Reaction Web Knee Brace is even suitable for those who enjoy participating in mild activities, allowing you to hike, jog, or play tennis or golf!
The support uses silicone web technology that is scientifically designed to absorb shock and relieve anterior knee pain while also treating osteoarthritis of the knee joint and patella. This helps prevent your knee joints from deteriorating further, allowing you to remain active for longer periods of time.
Discreet Design
Low in profile and easy to wear without requiring minor adjustments throughout use, the Donjoy Reaction Web Knee Brace is an excellent way of keeping you supported without drawing attention to your condition. Unlike most osteoarthritis knee braces that are rigid in design, this knee support can easily be worn under trousers, skirts, or exercise clothing as a discreet solution to your discomfort.
Ideal as a First OA Knee Brace
As a result of its silicone construction and lightweight design, the Web Reaction Knee Brace is perfect as a knee brace when you're first diagnosed with osteoarthritis. The support allows you to grow accustomed to wearing a knee support before your condition worsens to such an extent that a rigid knee support is required. Alternatively, the comfortable support can be used when you simply want a rest from your rigid knee brace or you are in a setting where you don't want to draw attention to your condition.
Tags: ACL Injuries, Donjoy Reaction Web Knee Brace, Health and Care Expert Series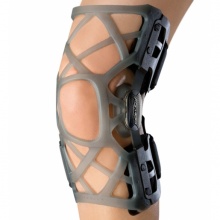 Discreet solution for beating osteoarthritis pain
Lets you stay active by playing golf, walking and more
Works by offloading pressure onto the other side of the joint
Suitable for outer right knee pain and inner left knee pain
---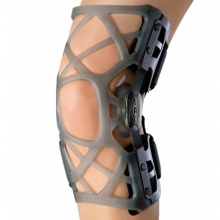 Discreet solution for beating osteoarthritis pain
Lets you stay active by playing golf, walking and more
Works by offloading pressure to the other side of the joint
Suitable for inner right knee pain and outer left knee pain