Best Insoles for Plantar Fasciitis 2020
Thursday, 11 July 2019 |
Eugene
If you often suffer from heel pain at the base of your foot, you may be suffering from plantar fasciitis. While this condition may sound odd and abstract, it's actually extremely common, and is a result of the plantar fascia (the tight band of tissue that makes up the arch of your foot) becoming inflamed, leading to irritation, pain and a disruption to your gait. While common, this condition can be treated with the right pair of shoe insoles or inserts, which can help to reduce your pain and speed up your recovery time.
Do I Have Plantar Fasciitis?
Just because you suffer from pain in your heel doesn't mean you have plantar fasciitis, and you should always consult your podiatrist to make sure. In the mean time, here are a few symptoms and risk factors that can help you narrow it down:
Sharp Heel Pain - Plantar fasciitis pain is usually quite sharp, and forms directly underneath the heel. This pain is typically worst in the morning, and can lessen over time, and then worsen after prolonged exercise or standing.
Stress on the Foot - Plantar fasciitis is most common in athletes and runners, and can also be associated with rapid weight gain. Since the plantar fascia transmits weight across your foot as you move, it's highly reactive to extra stress.
Relieved with Rest - Plantar fasciitis pain, unlike other common heel pain, will often quickly subside with rest. If your pain persists after a long period of rest, you may be suffering from a more severe condition.
Best Shoe Insoles for Plantar Fasciitis
Luckily, plantar fasciitis can be treated relatively easily, and the right pair of shoe insoles can go a long way to lessening your pain and speeding up the healing process. Shoe insoles come in all shapes and sizes though, so you'll need to make sure you pick the right pair. To help you out, we've had our insole experts put together a list of the best shoe insoles for plantar fasciitis, helping to ensure you get the right one for you.
3/4 Insoles to Target Plantar Fascia Pain
Sof Sole Plantar Fasciitis Orthotic Insoles
We'll start off with a pair of footbeds that's been specifically designed to target the arch pain associated with plantar fasciitis: Sof Sole Plantar Fasciitis Orthotic Insoles. These insoles are available in two versions: one for men's feet and one for women's feet, both of which feature a plantar relief bridge to provide sturdy support along the length of your arches. A heel cup provides stability, while the gel heel provides cushioning to boost your comfort with every step.
Insoles to Prevent Over-Pronation
Powerstep Pinnacle Orthotic Insoles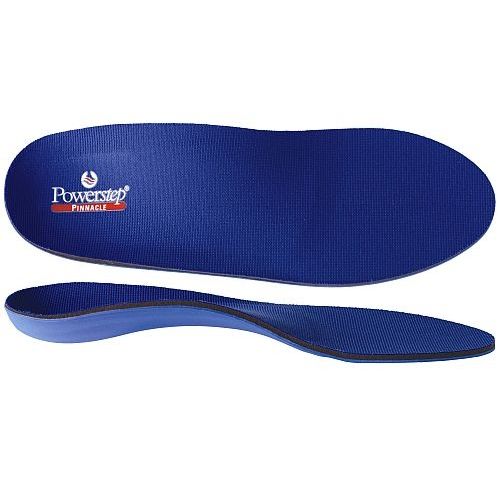 One of the leading causes of plantar fasciitis is the tendency for your foot to roll inwards as you walk, also known as over-pronation – something this next pair of insoles is designed to prevent. The Powerstep Pinnacle Orthotic Insoles provide a high level of arch support and cushioning, helping to remove the strain along the entirety of your plantar fascia. Also ideal for anyone with fallen arches, these insoles will reduce foot strain throughout the day, allowing your inflamed fascia to repair themselves.
Best All-Round Arch Support Insoles
Superfeet Green Performance Insoles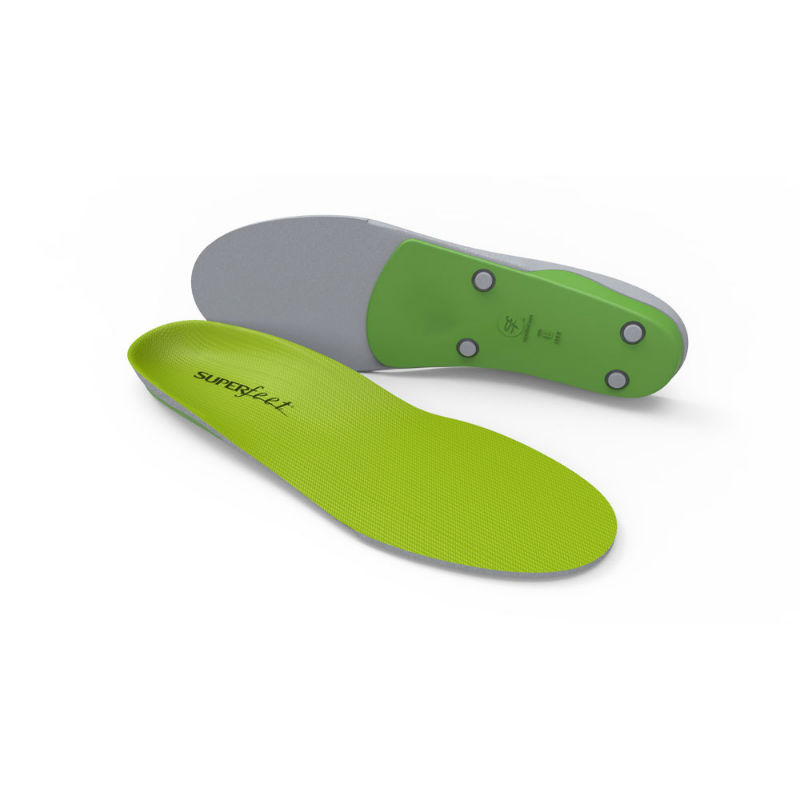 When it comes to relieving plantar fasciitis with shoe insoles, the main things to look for are arch support and cushioning, and this next pair of insoles is a top option in terms of both. The Superfeet Green Performance Insoles are our best-selling and best-reviewed insoles, providing stability, arch support and shock-absorption to make every step more comfortable. Ideal as an everyday or sports insole, these insoles feature an antimicrobial coating to ensure they stay fresh, intact and working for longer.
Best Plantar Fasciitis Insoles for Athletes
Sorbothane Shock Stopper Double Strike Insoles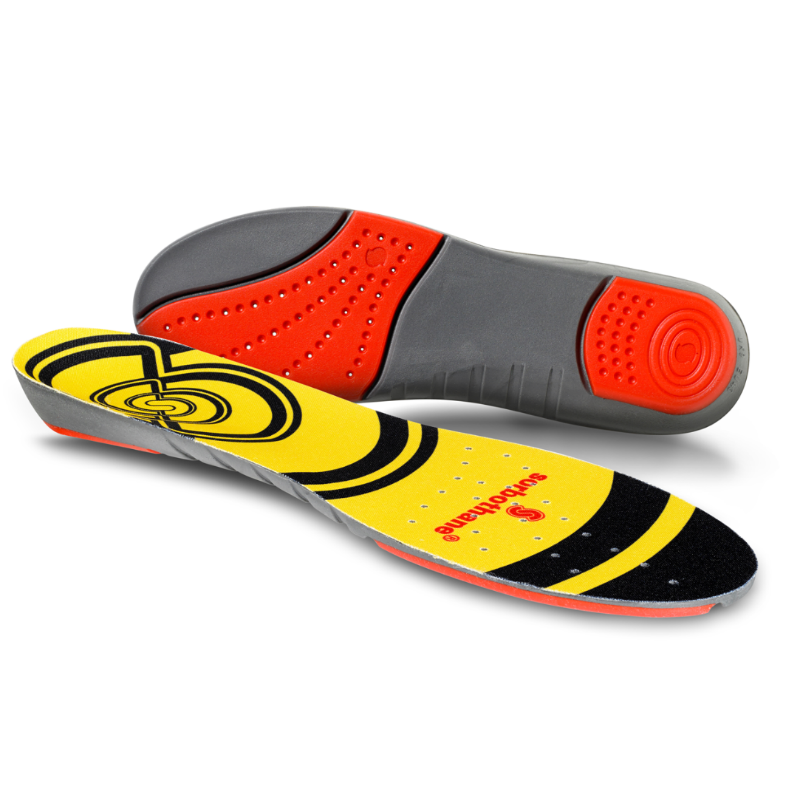 Plantar fasciitis commonly affects athletes, so we've included an insole designed specifically for plantar fascia support in sports. The Sorbothane Shock Stopper Double Strike Insoles are the best option for anyone who often subjects their feet to high-impact activities such as intense sports. The lightweight insoles are moulded to the contours of the foot to provide natural support to the arches as you walk or run. Dispersing shock away from your heels, these insoles are perfect for the athlete with plantar fasciitis.
The Best Plantar Fasciitis Insoles Around
Our insole experts have painstakingly reviewed our extensive range of shoe insoles to come up with this list, targeting the arch support and shock-absorption necessary to relieve your plantar fasciitis. We believe all of the insoles mentioned here can provide an excellent plantar fasciitis solution, and each has their own unique benefits depending on what you'd like to get out of them. If you'd like to take a look at the entire range of insoles we stock to provide plantar fascia relief, take a look at our Insoles for Plantar Fasciitis category!
Do you have any questions about our insoles for plantar fasciitis, or some of our insoles for other foot conditions? Let us know in the comments, or find us on Facebook and Twitter!
Tags: Foot and Ankle Pain, Foot Care, Insoles, Running
Shop Related Products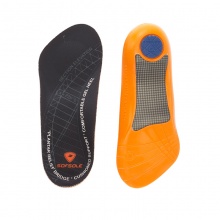 Pair of insoles for plantar fasciitis pain relief
Comfortable solution for men with plantar fascia pain
Relieves heel spur pain thanks to gel in the heel
Fits most footwear types thanks to a ¾ length design
---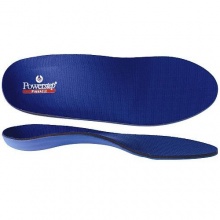 Powerstep insoles for medical-grade foot support and stability
Helps to eliminate pain in the heel, ankles, knee and lower back
Suitable for sportspeople, workers, elderly and more
Provides a solution to prolonged foot pain
---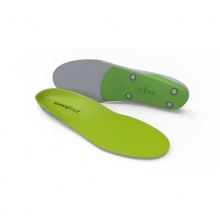 Professional-grade orthotic support with improved fit and feet
High-profile shape to help stabilise and support the foot
High-density closed-cell foam for cushioning and comfort
Designed to eliminate odour-causing bacteria for freshness
---
Features targeted Sorbothane protection with moulded heel cups and arch support
Ideal for any activity where the forefoot and heel are subject to the most impact
Suitable for all sports, hiking, walking, leisure activities and everyday use
In-built arch support prevents and alleviates arch pain and fallen arches