In Depth: The MSA S-Cap Smoke Hood
Thursday, 17 September 2015 | Alex
A Smoke Hood With A Wide Field of Vision
The MSA S-Cap Smoke Hood For Escape From Fire has a wide visor or lens area to enable a wide field of vision in an evacuation situation. The nose cup inside of the smoke hood adapts to a wide variety of head and face sizes.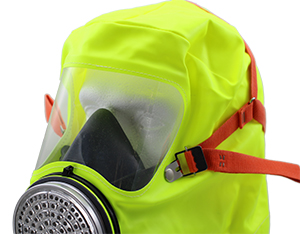 The nose cup is fitted with an exhalation valve for better respiratory comfort while you are wearing the smoke hood. This means that when you breathe out, there is less resistance from the filter enabling you to breathe more easily in a natural way.
Multipurpose Filter Provides A Broad Protection Range
The nose cup inside the smoke hood is directly connected to a multipurpose filter that provides protection from a broad range of toxic, eye-irritating and harmful contaminants such as:
carbon monoxide
acrolein
hydrogen chloride
hydrogen cyanide
sulphur dioxide
particles of harmful substances (P2)
The filter is designed for a rated service time of 15 minutes, depending upon the concentration of contaminants. This time is adequate for escape from buildings under normal evacuation conditions.
The single use design of the smoke hood assures a user of full filter capability without prior use compromising this filter time.
As with any filtering device, the MSA S-Cap Smoke Hood For Escape From Fire should only be used in areas where there is an adequate level of oxygen, as required by local regulation.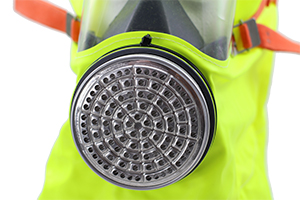 Adjustable Straps Provide a Secure Fit And A Safe Seal
The nose cup of the MSA S-Cap Smoke Hood For Escape From Fire is directly attached to the head adjustment straps. The head harness can be tightened on both sides of the head for a secure and close fit.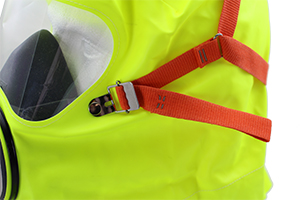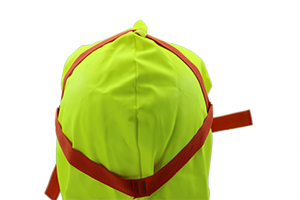 Materials That Are Resistant To Heat And Short Flame Contact
The bright yellow material of the hood is clearly visible. This material, as well as the harness and lens, are resistant against heat and short flame contact.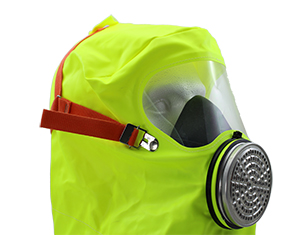 Comfortable Elasticated Cotton Neck Seal
The MSA S-Cap Smoke Hood For Escape From Fire is donned quickly by placing your hands into the opening of the smoke hood in a "prayer" position and lifting the smoke hood up and over your head.
This means that it takes only a second to put the smoke hood on and protect yourself in an evacuation situation. It is easy to put on even if you are wearing glasses.
The smoke hood does not require any further activation and provides protection straight away.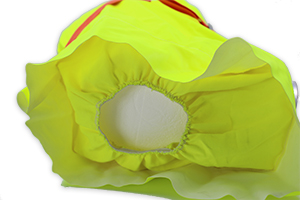 The image above shows a view of the smoke hood from below. You can clearly see the "skirt" or inner layer of the smoke hood with an elasticated seal for a close and comfortable fit.
Please visit Health and Care if you're interested in the MSA S-Cap Smoke Hood