Improve Your Gardening Vitality with These Handy Mobility Tools!
Tuesday, 4 April 2017
With National Gardening Week right around the corner and the sun finally hinting at the promise of warmer weather, now is the perfect time to head outdoors and give your garden the tender care it deserves following the chill of winter. For many people, gardening is a pleasurable hobby that provides enjoyment year after year, but for anybody with restricted mobility that which once may have been a favoured activity can quickly become a painful task.
Here at Health and Care we stock a wide range of tools and equipment that can help restore your independence and revitalise the enjoyment you receive when spending time caring for your garden.
Reducing Stress on the Wrist
One of the main problems encountered while gardening is the strain placed on the wrist. This can be caused by positioning the wrist uncomfortably and for lengthy periods of time, so using tools with handles that have been specially designed for easier holding can significantly help to reduce this stress.
The Easy Grip Garden Tool Cultivator, for example, features an upright handle at the end of the cultivator that is both easy to hold onto and helpful for keeping the wrist in a more natural position. There is a wide range of easy-grip gardening tools available, such as the Garden Tool Trowel and the Garden Tool Fork, so you can find the right tools for you.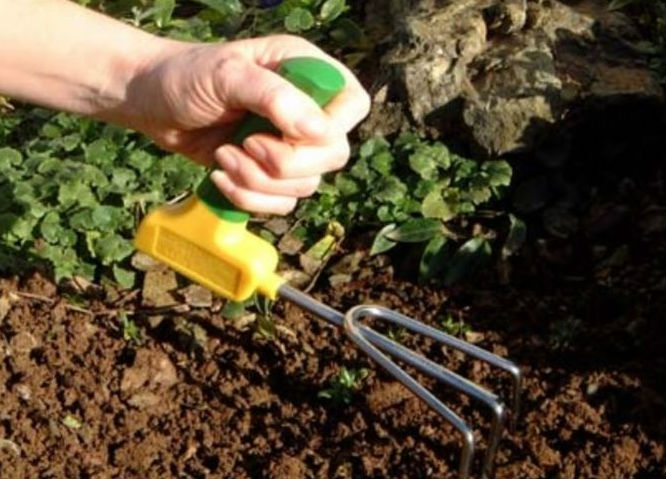 Choosing What's Right for You
If the Easy Grip Tools don't quite offer the correct angles for you, gardening tools such as the Natural Radius Grip Tools provide curved handles that will be ideal for anybody who finds it easier to bend the wrist downwards when working in the garden. The non-slip grip also means that you can hold onto the trowel or weeder without worrying about it becoming loose from your grasp.
If your current gardening tools are already trustworthy and you'd rather not replace them, you can buy Add-On Handles, which can then be fitted to the tool's own handles to enable easier and more comfortable use. This way, you don't have to give up your favourite hoe or trusty rake but can still enjoy the benefits of handles with easier grips and more gentle angling.
Longer Handles for Reduced Bending
If the constant need to bend down to reach soil or plants is a burden, than tools with longer handles can significantly reduce this requirement, and subsequently make the experience of gardening much more enjoyable. Tools such as the Vitility EZ Garden Cultivator and the Vitility EZ Garden Fork include longer bodies that eliminate the need to crouch or bend down to reach lower to the ground.
Additionally, the angled handles further reduce the pressure on the body by allowing the wrist to work in a more natural position. Whether you prefer to stand up while gardening, or if you are seated on a stool or in a wheelchair, tools with longer handles offer you a more comfortable and practical approach to gardening.
Reducing Back Strain with Flexible Seating
Gardening can be a time-consuming activity, especially if you enjoy spending time planting flowers and trimming topiary. Ensuring you have supportive seating at hand, either for frequent relief or constant use during gardening, can help to reduce back pain and allow you to relax more.
For patios and smooth surfaces outdoors, wheeled seats such as the Vitility Gardening Seat with Wheels and the Garden Stool on Wheels will be useful for resting and for enabling you to move around more. They also feature storage space so you can keep all of your tools in one handy location. Alternatively, you may favour stability without wheels, in which case the Vitility Gardening Seat will do the trick.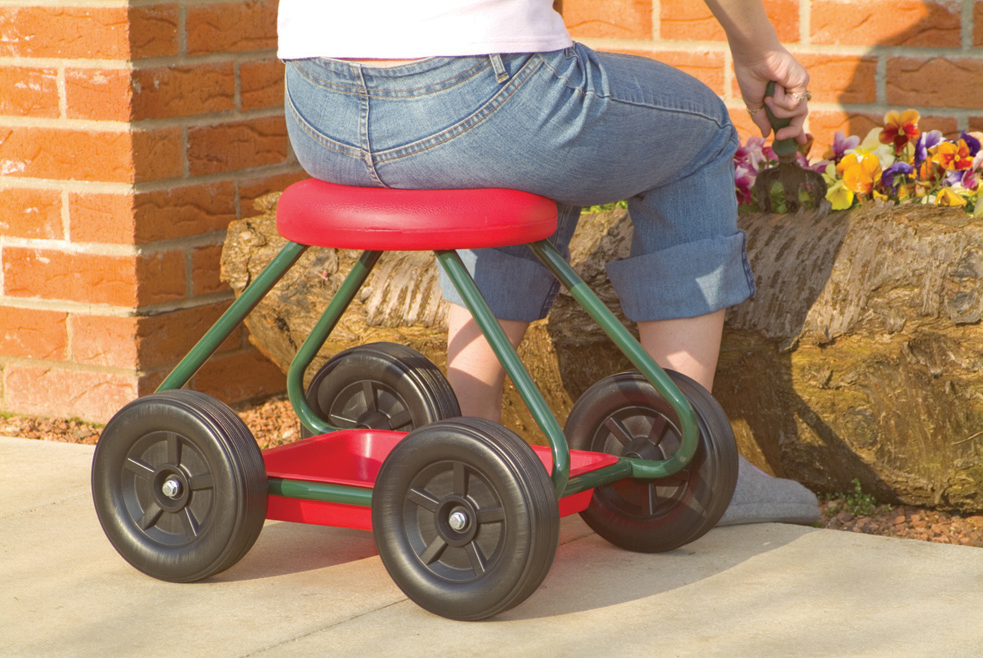 Don't Let Dewy Grass Dampen Your Day
If you don't wish to stand, but feel that sitting down will not provide you with the reach you need to use your dibber and plant your seeds, then a kneeler may be the perfect option for you. The Garden Kneeler is both durable and comfortable with a foam pad on which you can rest your knees.
Not only will the Garden Kneeler provide your knees with a supportive padding to prevent sores while gardening, but it will also mean you don't have to let last night's bad weather hinder your pleasant day in the garden. It provides a reliable layer between your knees and the wet grass, preventing your clothes from becoming damp or even stained.
Cleaning Up When the Sun Goes Down
While gardening can be a rewarding hobby, one of the plights following an enjoyable afternoon of potting hydrangeas and preening floral displays is the need to clean up your gardening tools. However, if tools are made from the right materials then this can become a much less burdensome task.
By using tools made from stainless steel, such as the Vitility EZ Small Garden Cultivator and Large Garden Trowel, you can help reduce the amount of soil that sticks to the tools, making it easier to quickly wipe them down after use. This will both save you time and ensure that you can have clean and cared-for tools the next time you decide to spend some time in the garden.
How Does Your Garden Grow?
Whether you're looking for tools that are kinder to your wrists, longer handles to help reduce back strain, or supportive seats for comfort outdoors, our range of gardening products can enhance your hobby and make gardening a more pleasurable task.
Do you enjoy gardening? Perhaps you prefer blooming flowers with their bright petals or enjoy the nourishing tastes of home-grown vegetables? Let us know in the comments what you most like to grow!