How to Use the Logic Pro Vape Pen
Wednesday, 12 February 2020 | Eugene
You may have heard the buzz around the Logic PRO, as it's taking the vaping world by storm with its simplicity and convenience. Referred to as either a vape pen or e-cigarette, the Logic PRO is often touted as a 'mess-free' vaping device, and aims to remove some of the complication and hassle associated with the previous generation of vapes. But just how easy is it to use, and how exactly does it work? We'll break it down in this short review.
Is the Logic PRO Really More Convenient Than Other Vapes?
While this question may seem a bit subjective, we feel the answer is yes, and here's why:
Pre-Filled Capsules - Anyone who's had to manually fill a vape with e-liquid knows it can get messy, but the vapour in disposable vapes often doesn't stand up to open tank refillable devices. Logic PRO have changed the game, providing pre-filled e-liquid capsules to provide the reliability and quality of an open tank vape with the convenience of a disposable. Simply pop in a new capsule and go.

Built-In Coils - Pod vapes often fall down when the coil wears out, leading to a need for maintenance and replacement parts, and an unappealing 'burnt taste' as a result of the old coil. To avoid this, each Logic PRO capsule is made with a brand new built-in coil, meaning no maintenance, and no burnt taste.

A Battery that Lasts - If your vape doesn't last you all day long, it's simply inconvenient. The Logic PRO includes a powerful 650mAh battery, providing a full day of vaping on a single charge. Finally, a vape you can really rely on.
How Do I Use the Logic PRO?

The Logic PRO has been designed with pure mechanical simplicity and reliability in mind. To get started, just follow these steps:
Unscrew the battery from the capsule case
Remove the silicone tips from your refill capsule and pop it into the capsule case
Screw the battery back on and hit the button 5 times to turn your device on
You're done. Hit the button and enjoy mess-free vaping!
How Do the Refill Capsules Work?
The unique design of the Logic PRO flavour capsules keeps the most important component (the heating coil) in the capsule so you know you're always getting a top quality vaping experience. The e-liquid inside each capsule is made up of a 50% vegetable glycerin and 50% propylene glycol base liquid, helping to ensure maximum flavour distribution and consistent vapour. Once the button is pressed, the heating coil vapourises the e-liquid at the optimum temperature to produce thick and satisfying vapour clouds.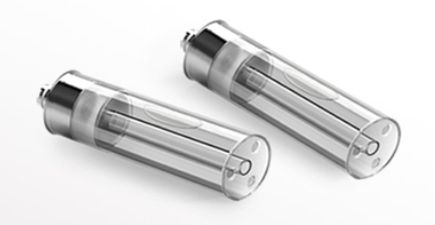 How Do I Charge the Logic PRO?
The Logic PRO E-Cigarette is supplied with a USB charger, meaning you can charge it just about anywhere. Simply plug it into the USB socket on your computer or wall charger and enjoy a full charge in around 100 minutes.
Get Your Logic PRO Today
If you'd like to get your hands on a Logic PRO device, or browse the entire Logic PRO range, you can see everything we offer on our Logic PRO category page – all available with FREE UK delivery from Health and Care!
Do you have any questions about Logic PRO? If so, let us know in the comments below, or find us on Facebook and Twitter!
Tags: Electronic Cigarettes, General Health, Product Focus, Smoking Alternatives